Tuesday, September 15, 2009
Disabled girl pleads for home 'makeover'
Family hopes to be on TV show, get a house to help 12-year-old
Delores Flynn and Aja J. Junior / The Detroit News
Canton Township -- Since the age of 2, Erinne Williams has been hospitalized 19 times for 11 surgeries on her spine. But even with another five scheduled, she remains cheerful and positive.
"You just have to roll with the punches," the 12-year-old said. "But it would be nice not to have everyone do things for me."
The Canton Township resident suffers from spinal muscular atrophy, a progressive neuromuscular disease that requires her to use a wheelchair. Diagnosed at 14 months old, she was not expected to live past 8.
Erinne has only neck and finger movement, which allows her to play video games, the only activity that puts her on par with her peers, mother Suzanne Williams said.
Routine needs like getting to the bathroom or kitchen leave the Red Wings fan in pain. Erinne's wheelchair lift doesn't fit down her apartment's narrow hallway so she has to be physically moved.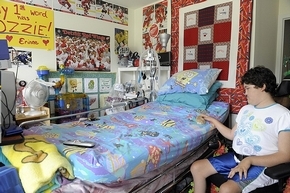 Erinne Williams, 12, has trouble navigating her narrow hallways in her wheelchair. Her mom hopes "Extreme Makeover" will help them. (Charles V. Tines / The Detroit News)
"If we had a house with ceiling lifts and more space, it would help our family out tremendously and give Erinne some of the independence she craves to do things on her own," said Williams, who also has a son, 18. The family reached out more than two months ago to the show "Extreme Makeover: Home Edition" for help. The show selects deserving individuals and, with a team of experts, renovates the home to meet specific needs.
"I wish I could give her a house and a new car. She is just a kind person, who at the drop of the hat would help anyone else," said family friend and nominator Kristy Hetzel.
When Williams lost her job at Ford Motor Co. in 2007, the family rented a home in Westland before having to move to an apartment in Canton Township. It's not conducive to all the necessary medical equipment for Erinne's care -- a wheelchair, breathing machine and helper dog.
Williams, who has never completely healed from an ankle injury in 2007, lifts her daughter out of bed or her wheelchair numerous times a day and has stumbled with her on occasion. As Erinne grows, this becomes harder for her to do. As a result, Williams would like to secure a better residence place so Erinne can maneuver safely and not have to be placed in a nursing home in the future.
The family hopes its letter to "Extreme Makeover" can help it build a handicapped-accessible home. Williams is prepared to purchase land or a foreclosed home
if it means the show would respond. She has many supporters in the community backing her plea, including township officials who are searching for suitable land to help aid with the "Extreme Makeover" process.
"Erinne is such a wonderful young lady. We are going to look under every stone and into every opportunity we can to help because it's such a worthy cause. It's helpful with a show like this if the applicant already has a home or some land," Township Supervisor Phil LaJoy said.
Township Financial Director Rick Eva said if the family qualifies, it could be part of the Neighborhood Stabilization grant, which provides funding to buy foreclosed property, rehabilitate it and sell it to prospective families. It would also provide training for budgeting and loan counseling. To date, there has been no confirmation from "Extreme Makeover" executives. There is no time frame for when the show picks families to help.
In the meantime, the Williams family continues to make do.
"They say it takes a village to raise a child. I'm hoping and praying the community can come together and help raise this child. It would be tremendous if Erinne could be able to do simple things like wash her hands and just be a normal kid. A new home would help with that," Williams said.