During a recent visit to her orthopedic surgeon, Erinne Williams heard another young girl sobbing uncontrollably in another room, and decided she might be able to help.
So Williams, a 12-year-old seventh-grader at East Middle School in Plymouth, went into the room to comfort the tearful patient, who faced a surgery that had her frightened. By the time the visit was over, the girls — complete strangers just minutes before — had exchanged e-mail addresses and become good friends.
What made the visit most poignant — and, it turns out, completely characteristic — was Erinne's own medical history. As a patient suffering from spinal muscular atrophy (a form of muscular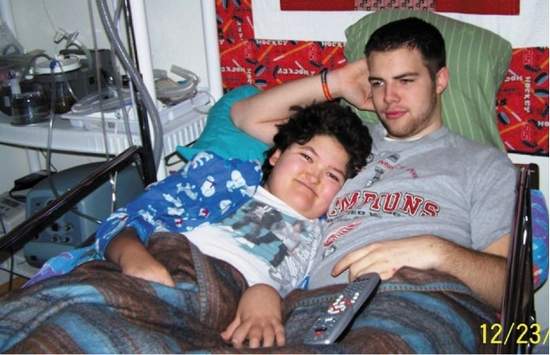 Erinne Williams got some good cuddling out of big brother Kevin Yopek after her December 2009 surgery.
dystrophy), she's been in the hospital 18 times, had 12 surgeries to correct severe scoliosis and has four metal rods in her back. Confined to a wheelchair, Erinne has already confounded doctors' expectations; they said she wouldn't live past the age of 8.
"Here's Erinne in her wheelchair, the other girl has very different reasons for her problems," said Dr. Michael Mendelow, Erinne's surgeon. "I didn't think they'd connect that way, but they did. That's an amazing connection to watch."
BEATING ODDS
It's a connection Erinne's mom said her daughter makes with everyone. She was diagnosed with SMA, a disease her mom calls "Lou Gehrig's disease for little kids," when she was 14 months old. She has been near death — "She coded six times in one hospitalization," her mom said — to the point where one doctor suggested ceasing life-support efforts.
Erinne's most recent surgery came Dec. 22. She came home the next day and was hanging out with friends the day after Christmas.
"She just doesn't let these hospitalizations slow her down," said Suzanne Williams, a Canton resident. "She's just go, go, go. She knows her diagnosis is terminal, and she hasn't let that affect her life. She's the first to say doctors said she wouldn't live past age 8, but 'Look at me now.'"