KAYLA
---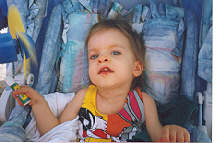 God saw you were getting tired and a cure was not to be so he put his arms around you and whispered "Come with Me".

Kayla was born March 25, 1996.
Kayla past away July 27, 1997.
She was 16 months old when she became a beautiful Angel.
Kayla was my niece. I started babysitting her in October 1996. This was a job I loved doing. Everyday I looked forward to seeing my beautiful niece. I also have a 4 year old daughter, Amber, that loved being with Kayla everyday.
Kayla was a very happy and loving baby, although she was physically unable to play you could see in her Big Blue Eyes she was playing through our daughter, Amber. Amber always included Kayla in her daily activities.
Let me tell you about Kayla and the reason she past away.
January 1997, Kayla was diagnosed with the disease, Spinal Muscular Atrophy (SMA) Type II.
You ask, What is SMA?
Families of SMA Home Page
This hyperlink will tell you about it, but I will go ahead and tell you a little. It is a disease that effects your cells that are located in the Spinal Cord. SMA effects the voluntary muscles for activities such as crawling, walking, head and neck control, and swallowing.
Kayla never was able to roll over, crawl, or walk. After a few months she lost all head control.
In April 1997, the reality of this disease Kayla had really hit home, this was the beginning of her battle. Kayla developed pneumonia, which caused half her right lung to collaspe. (common in SMA patients) Doctors at this point gave Kayla less than a year to live, she was a fighter, her will to live was more than doctors ever could expect.
Kayla was in and out of the hosiptal for the next four months, up until her finally battle. July 21st Kayla entered the hosiptal for the last time. The doctors told us Kayla would not be able to recover, for she had become to weak to continue to fight. July 27th the good Lord took Kayla as he saw fit, in her mother's arms.
Everyone needs to know of this horrible disease, for babies are dieing everyday from it.
Update::: I wanted to say Thank you to everyone for the wonderful support that has been shown to me through the times of need. Kayla has been gone now for close to 2 years. What a sad time coming up, but I know in my heart she is still here watching over. I do have great news to annouce. Kayla's mother is going to have another baby due in Mid Nov... I am also proud to say that she is having a healthy baby Boy, his name will be Coty Wayne Sheets.
As for SMA. I will continue to do the best that I can to help in anyway that is needed from me.
I have joined the SMA NC Chapter. Which I have met wonderful loving people there, and it is a wonderful support group. Done many fundraiser, as for helping others with their's or going out and doing my own.
With lots of help the first fundraiser was a Tupperware Fundraiser. Made over $500.00
2nd was Candle sells. Not as great as I wanted, Only did $60.00 there but at the same time I was in the middle of another fundraiser I planned. Selling BBQ plates, bake goods and having a raffle all on the same day here at the local lake. I must say with that fundraiser made a wonderful $1041.35. If ever you have a fundraiser idea feel free to tell me about it, I would love to give it a try.
Once again I would like to say Thank you for the support. Thank you for the visit to this site that means so much to me, and please take the time to go to the Links where you will find more of Kayla and more of SMA Children and information..

CRlDDY's SMA LINKS
This will link you to Kayla's other pages where you can see beautiful pictures of Kayla from newborn on up. Also there are links to other SMA pages. Of other children that have SMA.
Please visit and see all the wonderful sites.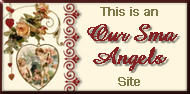 Supported by SMA Support
Next Site
This Spinal Muscular Atrophy (SMA)site owned by Christie Dickerson.
{Previous} { Random } {List } Click here to Join