Where to send fundraiser donations and what we need...
See full flyer for more specific details.
Our first MAJOR GOAL is to get as many donations for raffles/prizes as possible. If anyone is interested in helping with the fundraiser, can donate or gather donations, please let us know. We need to get as many big (and small) prizes as possible so that we can create a flyer listing some of them to pre-sell raffle tickets. Thanks in advance for any help/donations!!!!

ALLYSON FUND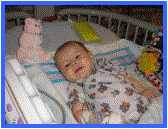 Dear Family, Friends, and Local Businesses:
We need your help! You can help in a variety of ways. Please share this info with others.
One way to help is to contribute to the Angel Allyson Fund, NFP, our EIN# is 68-0633736
We are IMMEDIATELY seeking donations that include but are not limited to gift certificates, monetary donations, merchandise and/or silent auction items for this event. We are also starting an ad-book to distribute. PLEASE contact Sandi (847-875-5304 or slm721@prodigy.net) immediately if you are interested in helping with the fundraiser in any way or would like to be a part of the committee. August is National SMA Awareness Month, so you may want to donate a small amount that will be sent to Families of SMA, NFP & SMA SUPPORT INC. We will be collecting throughout the fundraiser & will write a check to Families of SMA (www.curesma.com) and SMA SUPPORT (www.smasupport.net) from the Angel Allyson Fund for all the help and support they have given us since Allyson was diagnosed with this disease.
PLEASE CONTACT SANDI FOR PICK UP -
HOME# 847-587-8678 OR CELL# 847-875-5304
TO SEND ITEMS AND CHECKS, PLEASE MAIL TO:
SANDI POTEMPA
120 SCENIC ROAD, FOX LAKE, IL 60020
MAKE CHECK OR MONEY ORDER PAYABLE TO:
ANGEL ALLYSON FUND, NFP