Harrison Neil Persinger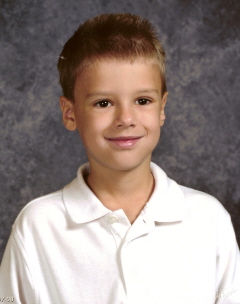 Harrison Neil Persinger was born in late 2000. He was a surprise baby--one of the best surprises that we have ever had. He weighed 6 pounds, 13 ounces and was 20 inches long, a real lightweight compared to his little sister. Harrison was so serious as an infant. He rarely cried unless he was hungry or tired, but didn't smile too much either. He was simply taking everything all in.
Harrison is patient, empathetic, creative, polite, kind, quiet, and easygoing. He is an exceptional kid, and marches to the beat of his own drum. Harrison loves school and books, but the best things in his little world are garbage trucks.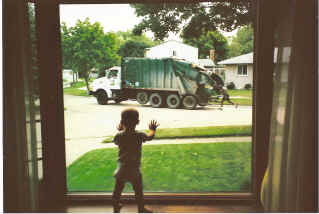 My son loves loves loves garbage trucks. Brian & I are not quite sure how this happened, but I remember taking a picture of Harrison when he was about 9 months old, standing in our bay window, watching the garbage truck pick up our trash. In 2004, Brian took him to Touch-a-Truck at Heritage park where he was actually able to operate a real.....live.....garbage truck. I guess it was all downhill from there.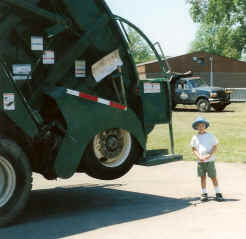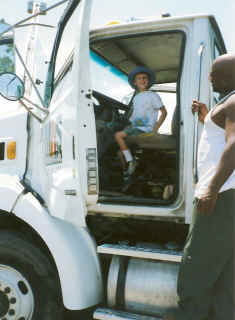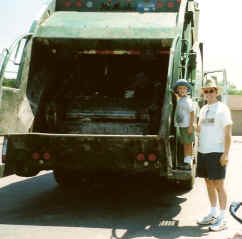 As of January 2006, Harrison has three Bruder garbage trucks (the German equivalent of Tonka), three Tonka garbage trucks, a large Matchbox garbage truck, four or five small Matchbox garbage trucks, a garbage truck made out of K'nex toys, quite a few videos, and numerous books just about garbage trucks. That doesn't count all of the books that we have which have pages about and/or pictures of garbage trucks, as well as the coloring pages which I have printed off of websites. I even started a binder for him, labeled 'Harrison's Garbage Truck Book'. Harrison puts all of his coloring pages and various other pictures, collectibles, stories, and information about his beloved garbage trucks. Oh yeah--he has lately begun making paper/tape/sticker models of garbage trucks. Sigh...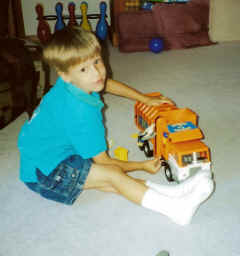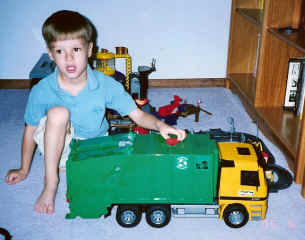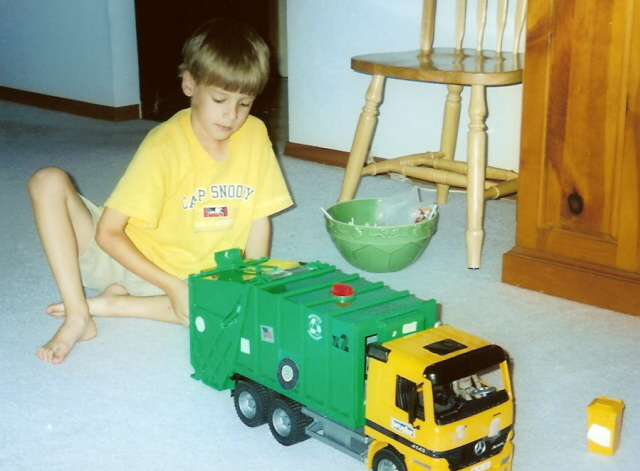 ...and I bet you'll never guess what he wants to be when he grows up.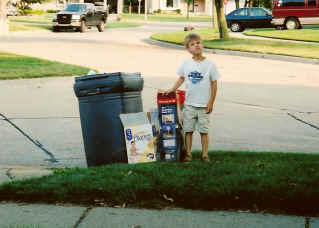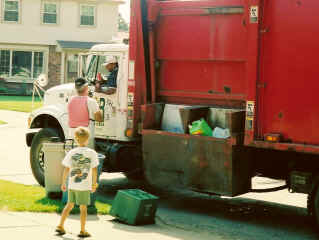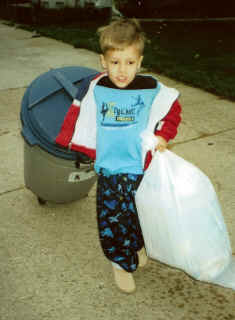 Anyway...
Harrison loves his baby sister to pieces. When we first told him that he was going to be a big brother, he surprised us by asking if we were having a girl. I had just assumed that he would want a boy baby to play with, but he absolutely insisted on a girl, saying that if we had a boy we should give him back, and that he wouldn't love a brother as much as much as he would a sister.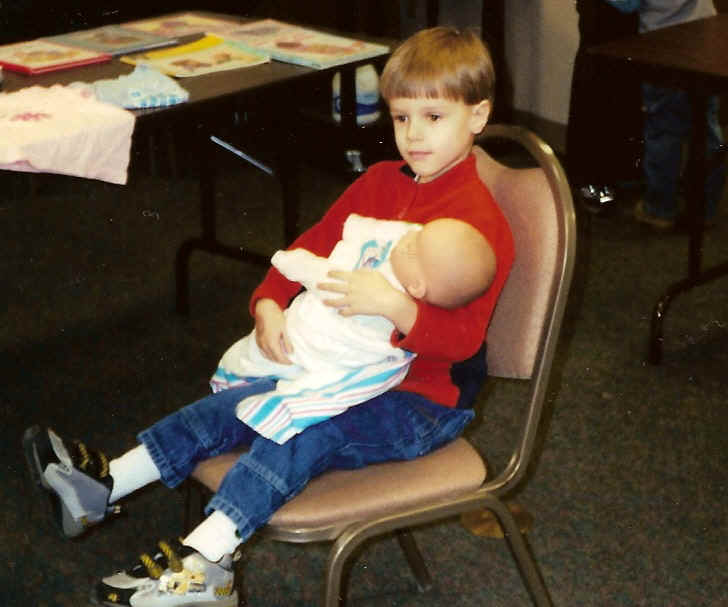 Harrison got his wish. Brian & I were on pins and needles during the ultrasound, and expected that we would have to pick up our tantrumming firstborn off of the floor if the technician discovered that we were having a boy. When she announced that the baby was a girl, Harrison proudly yelled, "I am going to have a SISTER!"
Our first two babies are almost 4 1/2 years apart, and couldn't be closer. Harrison is protective of our Autumn, and patiently waits when he is required to go along on her physical therapy and doctor's appointments. He explains to those who don't know that she has SMA--he says that's short for Muscular Dystrophy--and tells them that she is like any other baby, but won't ever walk or crawl.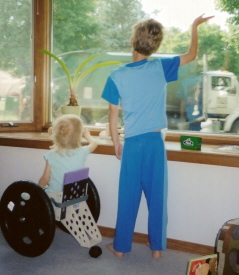 (Mom's note: when we explained SMA to Harrison, we told him that Autumn probably wouldn't be able to throw bags into the garbage truck that he would be operating when he grew up, but she would be able to drive with hand controls. He got the message immediately.)
Baby Aaron was born when Harrison was almost 7. Harrison really wasn't very opinionated about whether he wanted a boy or a girl this time, but he was very happy when he found out we were having a boy. As was the case before, Harrison has proved to be an outstanding big brother. Early on, when Aaron was crazy-fussy, I told Harrison that when Aaron was a bit older, he would be fun. Harrison's response was, "Mom, he's fun now."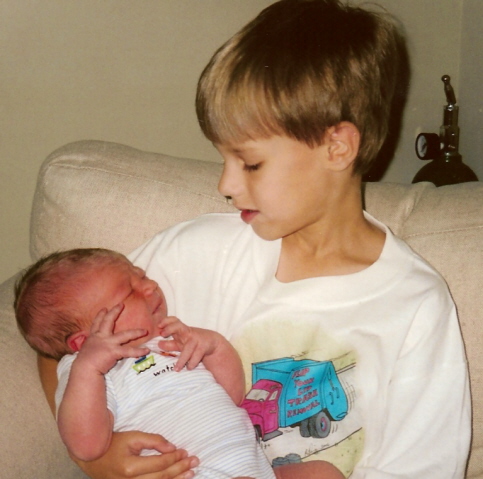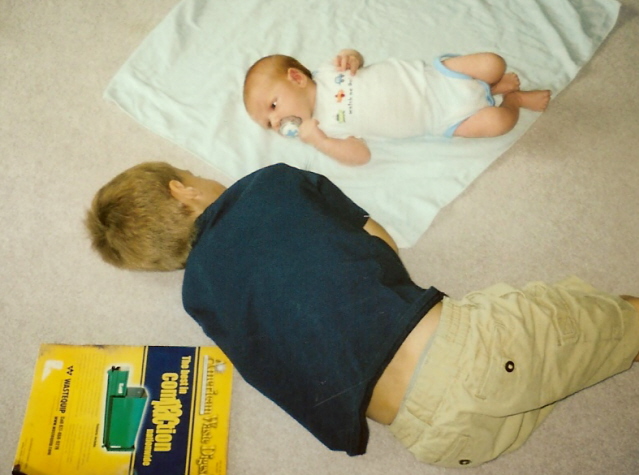 Harrison will be a whopping eight years old this year. He is in second grade, and excels at almost everything that he does. He loves reading, drawing pictures of (guess what) garbage trucks, and has been bowling on a children's league since he was 3. Harrison is the sweetest boy on the face of this earth, and we are so fortunate to have him as our first-born son.
Harrison's Happenings
I am so proud to have this child as my son. After another MDA event, Harrison went home and was busy busy busy in his room. When I came in to see what he was doing, he showed me this 'bulletin board' that he made under his loft bed out of blue paper. The border around the bulletin board read 'YAY YAY MDA' over and over again. Harrison told me that the bulletin board was for the shamrocks and eggs that he was going to sell to raise money for MDA. He got the idea for the border because that was what Autumn said before going to an MDA event. He told me that he wants to help MDA find a cure for SMA. Now, this was all of his own doing. I bought an egg, and wrote Autumn's name on it (blanks were provided).
What kind of child does that? Brian and I are honored to have such a special child.