Journal 2007

Sunday March 30, 2008

Today, Abby and I took Charlie to his friend Ben's birthday party. It was at Pump it Up (they have giant inflatables). Charlie had so much fun, but Abby and I are pooped. We took Charlie in both of the jump houses and he was laughing so hard. But it was so tough getting him in and out of those. Then I helped push Abby and Charlie up a huge step ladder to take him down the big slide. Thankfully, once was enough for Charlie. We are all tired. Charlie fell asleep the second his pappy was on (even though he wined and said he didn't want to take a nap LOL).

Lily had her second soccer game of the weekend. We stopped by on the way home from the party and I was able to watch a little of the game! She did so well. I've never seen her be so aggressive and play so well. She was a star today for sure.

Friday, March 28, 2008

We took the kids bowling today. The kids had a good time and even beat me – I played so poorly LOL. It's the last official day of Spring Break for Lily. It's been a fun, but long two weeks. It will be hard to get back in the school routine thought :0)

Monday, March 24, 2008

We made it home today and found that the Easter Bunny left eggs and baskets for the kids to find. We had a fun time hunting eggs and seeing all our Easter basket goodies. Then it was back to reality and unpacking . . . It's good to be home.

Sunday, March 23, 2008

Today we got up to go to church. It was freezing and such a shock after the gorgeous weather in Florida . We went an adorable little Lutheran Church for Easter service. The congregation was so welcoming. It was a nice way to spend Easter away from home. We got on the road after church and made it to Mount Vernon , IL . Tomorrow we'll make it home.

Saturday, March 22, 2008

Lily awoke and started crying because she was so sad that we were leaving. It was a magical week and everyone was sad to leave. We packed up the car, cleaned up the house and got on the road to head home. We made it to Dayton , GA today. We plan to stay here and go to church tomorrow for Easter.

Friday, March 21, 2008

Today is our last full day in Florida . We gave the kids the choice of what park they might want to go to, but they decided to go back to Magic Kingdom . They love riding all the rides. It's the best part of Disney – they allow us to hold Charlie on so many rides. Last year, when we went to Universal there wasn't even one ride Charlie could do. So the kids love Disney. Again, we spent the whole day going from one ride to the next. It was a great last day in Florida .

Thursday, March 20, 2008

Today we went to Sea World in the morning. We saw the Dolphin show and the Shamu show. The kids also fed the sting rays and Charlie got to feed the Sea Lions. Lily had a blast jumping on this trampoline ride. The put her in this belt that was attached to two large bungee cords and then bounced her on the tramp. She loved it! We also saw the sea turtles and the penguins. We didn't want to stay too long, because we wanted the kids to have naps because we were planning on going back to Magic Kingdom tonight to watch the light parade and fireworks.

After the kids nap, we headed back to Magic Kingdom . We started in Fantasy Land and rode all of the kids' favorites. We then worked our way to Tomorrow Land . We missed it for some reason last year and heard from friends that there is a great Buzz Lightyear ride there. We ended up riding it three times in a row! It was too much fun. After that we rode the fun rocket ship ride. Again, we were treated like royalty on every ride. We grabbed a quick dinner so that we could make it to the light parade. Unfortunately, we were late to the handicap viewing area and all the good spots were taken. John and I took turns holding Charlie up so he could see. Finally, some nice people let me sneak in front of their mom's wheel chair so I could sit on the ground and watch the parade with Charlie. Charlie was so excited because Snow White came over and held his hand and Cinderella smiled and blew him kisses again. He loves pretty girls!!! After the parade, it was a zoo trying to get out of the park. The kids were so tired and ready to go home. We saw some of the fireworks on the way out, but the kids were too tired to care. It was a long, wonderful day.

Wednesday, March 19, 2008

Today we decided to stay home and swim. Everyone slept in. We played games, swam and took naps. It was a lazy day, but we still had fun.

Tuesday, March 18, 2008

Today we headed to Magic Kingdom . It truly is a magical place. Everyone who works there must take sensitivity training, because they know how to treat special kids like Charlie. It's a wonderful place and they all make it so easy and special for families like ours. I thought it might be a different experience from last year's wish trip, but it wasn't. The characters and employees of Disney still went overboard to make our visit to Magic Kingdom special. We arrived at the park just in time to get a great spot for the parade. Charlie got so excited that the princesses waved and blew kisses at him. After the parade, we went to Fantasy Land because the kids wanted to ride all the rides that we could. Charlie's favorite was the Adventures of Winnie the Pooh where you bounce along like Tigger does. After riding Dumbo, the Peter Pan ride and Snow White Scary Adventures, we went to get some character signatures. We saw Donald Duck, Pluto, Minnie Mouse and Goofy first then we went to see the Princesses. Charlie was too cute and was actually blushing when Cinderella was talking to him. Her kiss about put him over the edge! We then rode some more rides. We spent about 5 hours at the park today and were all beat and ready for dinner and bed.

Monday, March 17, 2008

Today we all slept in. It was nice to get caught up on some sleep and not have pressure to hit the road. We decided to have a mellow day and we went to visit Give Kids the World. This was the resort we stayed at last year for Charlie's Make A Wish trip. It was fun seeing it again. We found the paver we bought last year. It says "The Sykora Family March 2007" Unfortunately; a transformer blew that brought power to GKTW so the Merry Go Round and wishing well didn't work. Those were two of the things Charlie and Lily wanted to do. We did eat lunch and have ice cream at the ice cream shoppe. We were also able to drive the toy boats and ride the train. While it was fun to visit, I don't think you can ever replicate the feelings that you have when staying there for a Wish. We came home and went swimming and cooked dinner.

Sunday, March 16, 2008

We made it!!! After two and a half days of driving, we are finally settled in the house in Kissimmee .

Friday March 14, 2008

Today we left to head to Florida for Spring Break. We rented a house in Kissimmee and plan to go to Disney World! Everyone is very excited. We are in Clarksville TN tonight after a good day of driving. Everyone was so good – even Emma. I was worried about travelling with her, but she's been easy so far. Charlie and Lily are seasoned travelers and did great as well.

Sunday, February 17, 2008

Has it really been so long since I've updated. We had quite a few mellow weeks of hanging close to home and not really doing much because it's been so cold and Charlie's been a little 'off', but we've had a fun last week.

Emma, Nurse Lori and I took Charlie to his class Valentine's day party – all of his friends were so excited to see him. It was so much fun seeing Charlie have fun again at school. Then Emma and I went to Lily's school for her Valentine's Day party. I'll be sure to post photos when I can.

Yesterday, we took the kids bowling with Grandma and their cousin Taylor. We had a lot of fun. Charlie and Lily got cool bowling shirts from good friends for Christmas. It was so cute seeing them wear them at the alley.

Today, we are hunkered down again – getting lots of snow. It's pretty out there but we'll stay warm and stay inside.

I do need to share a few great Daddy and Lily outings. Last weekend, John was "father of the year" when he took Lily to Chicago with 5 other mom's and their daughters to go to the American Girl Doll place for the show and luncheon. They had a great time and it was so wonderful that John went in my place (it was too much with Baby Emma to try to go). Then on this Friday night, Lily and Daddy went to a Father Daughter Dance with a few of Lily's Friends.

On a bad note, it's been an awful winter for so many of our SMA friends. Influenza and RSV is every where. Our good friend MJ is still in the hospital after 21 days. Please pray for her and for all our other SMA friends that we can get through this winter safely.

Saturday, January 25, 2008

Wow! Do I have a lot to catch up on. For those of you who didn't know, we were expecting a new Sykora. We went into the hospital on January 3 to be induced. Emma Rose Sykora was born at 3:15 p.m.. She was 7 pounds 5 ounces and 19 inches long. The kids were so excited to meet her. They came to the hospital that evening to meet their new little sister. Here is a link to a ton of photos of Emma's first few days. Photos

Emma and I came home on Saturday January 5 and it was so great to be home with all of the family. It's been a whirlwind few weeks of little sleep, lots of diapers, a lot of time being a human pacifier, but it's also been loads of fun. Lily and Charlie are such great big siblings. They both enjoy holding her and playing with her. It's so fun to see.

Emma's first big outing was to visit Lily's class at school. Wouldn't you know that when we planned it all out – it ended up being a rainy day! Pouring actually. But we went ahead with our plans and Lily loved showing Emma off to her teacher and friends. That weekend, we took the whole crew including Charlie and Emma to Lily's basketball game. Emma was barely over a week old but she enjoyed watching her big sister as much as Charlie did (ok, not really, but as long as she was held what did she care).

Charlie is doing well. He had another playdate with his friend Mackenzie – this time at her house. We loaded up Emma and Charlie and headed over there on Friday. Charlie loves playing with Mackenzie and told me we could just leave him at her house.

Today, Emma and I went with Lily to her basketball game, but Charlie stayed home with John. Chars was a little gunkier than normal this morning, and we don't want to wear him out. Lily has had a horrible cough and runny nose for more than a week now, so we are hoping Charlie doesn't get that cough.

We have too many SMA friends who are really sick with RSV this year! It's been a horrible year already. Sophia and MJ, two of our closest SMA friends are both really sick. So say some extra prayers for them. There are too many other SMA friends who are sick to even mention. I pray that we can keep RSV out of this house. It would be horrible for either Emma or Charlie!

Hopefully, I'll get better at updating - at least photos of the kids with their new little sister. She's already growing to fast !!!

Sunday, December 30, 2007

What a Christmas celebration month we've had. The kids had so much fun with their cousins all last weekend but Charlie and Lily were so sad when they left on Monday morning. Good thing that Grandma and Grandpa stayed until Thursday morning. The kids were so used to 24 hour play mates and attention. We had a wonderful Christmas Eve. I love going to church on Christmas Eve. We went to the children's service and sang all the old Christmas songs and then everyone lit a candle and we turned down the lights and sang Silent Night. It always gives me chills.

We came home, had a nice dinner and then opened one gift from Mommy (matching PJs – I know, I'm a dork). Then it was off to bed to dream about Santa coming. Charlie woke up first and was so excited to see if Santa came. Lily soon joined us in Charlie's room so we hurried up to finish Charlie's treatments and rushed downstairs to open presents. The kids had so much fun. It's fun watching them being so excited. We made rolls and put a candle in to sing Happy Birthday to Jesus.

We've had a lot of snow in the past few weeks (more than normal). The kids have been having so much fun playing outside with Daddy, sledding and trying to make snowmen. They actually just got back in from playing in the yard again. We have a little hill that Charlie and Lily ride down and they think it's good fun.

We did get out to see a movie with grandma and grandpa. The kids wanted to see Alvin and the Chipmunks. It was cute. We'll take them bowling during break as well as to see the movie about the water horse (not sure of the name). But I realize we don't have much time left to get everything done.

That's our update for now. I've posted some new photos under Charlie's 4 year link. I'll try to get more up soon too.

Sunday, December 23, 2007

We've had a busy couple weeks. I've been sick as a dog, but even after the sinus/cold was over, I've had this horrible chest deep cough that hurts. Finally was made to go to a pulmonologist who diagnosed me as having Cough Variant Asthma. Crazy! But I'm on steroids, an inhalant and a nasal spray. The doctor thinks I'll be better by CHRISTmas but we'll see. He also said it could take weeks. At least we have a treatment plan. It is wearing me out all this coughing. And John is so tired of listening to it too :0)

Charlie got to go to his school's Christmas party last week. He had so much fun seeing all of his friends. He loves going and we hate keeping him out during cold/flu season, but it's just not worth the risks. He also had a fun play date last week with his friend Mackenzie. He is so very lucky to have such nice friends who will come over and play.

Lily had a fun time at her Christmas music program as well as at her school party. I'm still in disbelief that it's almost Christmas.

We had a bit of snow earlier this month and the kids got all bundled up to go outside to be pulled around in the sled by John. They had so much fun. It always cracks me up that takes an hour (ok, not quite) to get the kids bundled up and then they last about 15 minutes outside. Lily did go back out to play with the neighbor kids, but it's still a lot of effort for a short time outside.

John's parents and his sister and her family (Mona, Rick, Anna and Sarah) came for the holidays on Friday night. The kids have been having such a blast. We had another bout of our wild weather. It was 50s on Friday and we woke to cold, freezing rain, turning to sleet and then to snow all day on Saturday. It's been such a weird year of weather. It's really pretty outside. We might get the kids out today, but we are celebrating Christmas tonight (family presents) before Mona, Rick and the kids head home tomorrow morning. Today we have some friends and their three kids here too. It's fun watching them play with Charlie too. He's having a blast with Anna as well. He had his first sleep over in his room. Anna slept on the floor with Charlie in his bed. It made his year! He is going to be so sad when they leave tomorrow. It's been 24 hour entertainment for him.

I'll hopefully post some photos soon. We've done a lot like decorating cookies, gingerbread house and lots of fun holiday stuff. I'll also have a ton of photos from present time (once again it will be the never ending gift opening between tonight, Christmas eve, Christmas morning and then celebrating with my mom later too).

Please keep our SMA friends in your prayers. For some, this is the first Christmas since losing their child, for others, they have kids in the hospital fighting RSV as well as lots of colds and sicknesses at their homes. What a bad time of year.

Merry Christmas everyone and Happy New Year! I'll update photos and more hopefully soon.

Tuesday, December 4, 2007

Whew! I just noticed once again how far behind I am on updates. We had a great Thanksgiving at Grandma's house with my brothers and families. The kids have so much fun playing with their cousins. It's hard to believe we are now on the countdown to Christmas!

I've been really sick for more than a week and it is driving both Charlie and me crazy. He hates that I can't be playing with him and I HATE not being able to play with him. Every time I think I'm getting better I'm wrong. We just have our fingers crossed that Charlie doesn't get this.

Last night, Lily got to go to the Hannah Montana concert. She hasn't really told us much about it other than she had fun. She is way over tired today so we are all paying the price of her being out so late.

Tonight, we had a surprise visitor – SANTA CLAUS! The kids were so surprised and had fun sitting on his lap telling him what they wanted for Christmas. Charlie was telling him that he thought Santa was bringing him a present – and of course, he did – a small stuffed bear that said Firstat on his t-shirt (the nursing agency we use and the people who sent Santa to visit.)

That's it for our short update. I'll try to be better. Hope everyone had a great Thanksgiving with their families or friends. We know we are truly blessed.

Saturday, November 17, 2007

An overdue update here as usual. Charlie and Lily are both doing great. Charlie recovered so quickly from his last surgery. He wanted to stop all pain meds quickly, including plain old Tylenol. He is such a trooper. Last week, we took off the final surgical tape from his back and his incisions look wonderful. I feel much better now about the future surgeries knowing what to expect now.

The week we got back Charlie had two friends over from school. They dropped by to give him two posters that his class made. He loved having a visit from Mackenzie and Ben. He can't stop talking about it. We also were able to start PT right away and the first time we went, he was flirting with everyone – I mean everyone. Any woman he passed in the hall, on the elevator – everyone. Telling me that he wanted to have a playdate with the pretty girl. The middle aged women were flattered beyond belief!

These last two weeks have flown by. Lily is doing GREAT in school and really starting to master her weekly spelling tests. John and I can't believe some of the words that these first graders are getting. They have three bonus words a week and Lily got all three right – thankful, adventure and favorite.

Charlie was supposed to go over to Mackenzie's house yesterday for a playdate. I got the time wrong on our first homebound PT sessions, so we had to call Mackenzie's mom to see if we could push it back. Then I got Charlie all dressed, in the van and ready to go. I was backing out of the drive way and the van felt sluggish. I couldn't tell if it was the cold or what. Then it hit me! Another flat tire! Sure enough the driver side rear tire was flat as a pancake. I had to come inside and call Mackenzie and her mom and cancel. They were gracious enough to offer to have the playdate over here! I'm so glad it worked out or Charlie would have been devastated. He'd been talking about this playdate all week! John had to deal with getting the tire fixed. The company who put the lift in the back for the power chair totally blocked the access to the tire changing equipment. GMC needs a special tool to drop the spare tire as well as a different wrench for the tire. The first truck that came out from AAA couldn't do anything with the tools they had, so we had to have the van towed to the tire place. What a hassle. I think I need to order a new GMC tool kit in case we have a flat in the middle of nowhere! Anyway, we were able to get everything taken care of in time to get Lily from school and be able to go out to family dinner last night.

That's about it – nothing exciting, just chugging along. Can't believe Thanksgiving is in a few days! Where is 2007 flying to????

Thursday, November 1, 2007

WE ARE HOME!!! Yippee! We were discharged from the hospital yesterday after a lot of waiting around at 3:30 p.m. We knew we didn't want to go too far with such a late start, so we decided to go a little out of our way to visit my 96 year old grandma and several aunts and an uncle in Waterloo, IA. But first, I'll take a step back to yesterday earlier.

We thought we'd be out of the hospital early yesterday. The resident on the floor came in at 5:45 a.m. and said that the plans were in the work to get Charlie released soon. So John and I were so hopeful that we'd be out of there by noon. Well, needless to say nothing goes as planned. Charlie had some pain management issues and they weren't comfortable releasing him until we knew that his pain could be managed with g-tube medication. Since he had an IV med at about 11 a.m. – we had to hurry up and wait for many, many hours for his pain to start again so that we could see if Oxycondone (spelled wrong I'm sure) would work to cut the pain out. We had success so they started working on getting us out of there. Even though it was a long painful wait for John and me, Charlie had a blast. We brought a big bag of candy with us so that Charlie could share with all the doctors, nurses, RTs ect. Well, he really wanted everyone to come in and trick or treat. So, we asked several of his nurses to come in and say T&T to Charlie. He would say, "What do you say? You need to say Trick or Treat." And then after they said T or T, Charlie would say "Have some candy" and he'd give them a big smile. Then he'd tell them to find more "customers" to trick or treat. He was charming everyone yet again. Everyone who came in was sure to pass the word to everyone they knew to go see Charlie. I bet we had more than 70 people from the cleaning crew to the Nursing Staff to the Pharmacy staff come in. He had to have everyone say the right thing and then show him the candy they picked. Every time pretty nurses or nursing students would come in, he would say – I want them to come have a playdate. He was making all the pretty girls giggle – he is such lady killer.

When we finally got discharged, Charlie was pouting because he was having so much fun with all his customers Trick or Treating that he didn't want to leave. We loaded up and hit the road.

We got to Waterloo last night about 6:30. We called my aunt and uncle and they met up with us for dinner – well, we ate and they sat and chatted with us. Charlie has so much fun being on the table and the center of attention. But you can tell that about 45 minutes before we can give him more meds that his back starts to hurt. He gets really grumpy and you can tell his back is bothering him. Hopefully by tomorrow he'll be much better. We took Charlie back to the hotel and got him in bed and then I went over to my Grandmother's house to visit with her and my Aunt Diane. I stayed until about 10:30 because I didn't want to leave, but I was wiped out. Charlie had an okay night, but was really burpy and definitely needed his meds on a regular basis. AT one point he wanted Daddy to join us, so all three of us shared the bed for the last half of the night. We didn't get moving until 10:30 so we were late getting home tonight. It was so wonderful seeing Lily and my mom. Lily had a great time with her cousins going trick or treating and didn't seem upset that Daddy couldn't make it home. She had a great week with Grandma.

All and all it was a successful first lengthening. He grew between ¾ and 1 inch. It's nice to know what to expect now. I think if we can arrange surgery to be first on the schedule, we could shorten our stay considerably. But all in all, being in the hospital for only 50 hours seems great to us. If only it wasn't a 500+ trip to get there and home.

Hope everyone had a Happy Halloween. John and I pretty much forgot our anniversary on October 30 (we did have cards for each other) but it's hard to be in any mood to celebrate at the hospital. We'll have to make it up to each other soon. But I can say having Charlie's surgery such a success is the BEST anniversary present we could have had.

Thanks again for everyone's prayers and support. It's good to be home!

Wednesday, October 31, 2007

It's 2:10 and we are still here in the hospital. We are waiting to see how Charlie's pain is with the oral meds (he needed IV meds earlier and they don't want to send him home until pain is manageablle orally). So, it looks like we'll only make it half way home tonight. Charlie's been having a blast - he keeps asking everyone to send in more "customers" to trick or treat in his room. He's loving it.

hopefully we'll be on our way soon and I can update from the next hotel.

Thanks again for the prayers!

Tuesday, October 30, 2007 Update

Hi All -- So sorry. I was just getting ready to update :0) it's been a long afternoon. Charlie did GREAT. We didn't get taken up to see him until almost 4 -- apparently there was a mix up with the Child Life person so she was late getting us. By the time we got into recovery, I'm sure Charlie was really nervous that we weren't there. They were able to extubate him to bipap so all is good. His back is hurting some, but with Tylenol/codeine he is doing well. I rode back with him on his bed to the Floor (no PICU, yeah!). That made him happy. He started feeds right away and is doing well. He also has peed several times and is making good noises in there. So HOPEFULLY, we'll be discharged early tomorrow !!! Yippee! The sad news though is that Lily is so upset. Daddy was suppose to fly home tomorrow to T&T with her and then fly back Thursday to get us. Now that we might be getting out tomorrow, he isn't going. And Lily is devastated... Once again, it's breaking my heart....

Oh -- and about 1/2 hour after we got to the room he asked to be off Pappy and did wonderful all evening. He is now sleeping soundly on his Pappy so all is well. I feel very confident we'll be heading home tomorrow -- just hope it's not on the late side -- you know how getting checked out can be....

Thank you for all the prayers. Charlie's been doing so well and has charmed everyone. We have a big bag of Candy here and he asks everyone to say trick or treat so he can give them candy. It's too fun...

I guess it's a good thing we went T&Ting early with Charlie because he'll be missing it in the hospital tomorrow night unless something bad happens tonight...

Talk to you all soon!!

HUGS and sorry for the late update.

Tuesday, October 30, 2007

Charlie is now in surgery. I left him at 1:15 p.m. in the OR after waiting for him to be put under. We were told that surgery started at 1:45 p.m. We are VERY hopeful that this will be a quick and easy procedure. Dr. Schroth was hopeful that we might even be released tomorrow if his belly starts working for us quickly! Prayers appreciated!

Monday, October 29, 2007

Whew, what a few days we've had. A few days ago, I was cleaning Lily's ear and went a little too far in. She started crying and I felt horrible. On Saturday while getting her ready for her last soccer game, I noticed dried blood in the inside of her ear. I thought that after her soccer game and party I'd take her to a quick care clinic to take a look. Well, at the game I was talking to a pediatrician mom of one of Lily's friends and she said not to worry about it. That I couldn't have gone far enough in to hurt her ear. So, I didn't take her in since she hadn't been complaining. Well, Saturday night she woke me up crying a little about her ear hurting. So . . . I had Grandma take her to a quick care place on Sunday since John and I had to leave with Charlie to head to Madison . I feel so badly that I wasn't there. Apparently, Lily had a UFO – unidentified foreign object deep in her ear and a MAJOR ear infection. They had to flush it all out and what came out appeared to be a paper object like a waded up piece of paper or something. The doctor said it was very deep in there and had been there a long time. Talk about making a mom feel guilty. Lily just never complained about it. So she is on ear drops and an antibiotic for the next 10 days. She is in some pain now from the ear flush etc, so she is awfully sad and crying easily. It makes it so hard to be away . . . .

So, here we are in Madison ….We made it into Madison yesterday evening and had a nice evening at the hotel. John took Charlie swimming which we all know he loves and then we ate and went to bed. This morning we ate breakfast at the hotel, John took Charlie swimming and then we came to the hospital to get checked in. What a long process that has been. We had a little confusion trying to figure out where we were suppose to go, but once we got to the 5th Floor, they knew exactly where we were suppose to be. We had a steady stream of doctors in for visits as well as many "pretty girls" as Charlie liked to call them (the nurses, RTs etc). He charmed everyone as usual. Then came the horrible part of the day. It took 2 attempts from the nurse here on the floor who was suppose to be the best to get his IV started. She tried the left arm and then the left foot. Charlie was crying and sweating and asking John and I when it was going to be over. It was horrible. They would get the line in but then the vein would blow. They then called in the SOS team – specialists in getting the lines started. She had to try three times. Twice in the hand where one time blew a vein and then on the third try on the other hand – success! Charlie is such the trooper but he was in such pain. I would do anything to be the one having to be poked and prodded! He is truly our hero!

He didn't get a nap today between all the doctors' and just getting things set up. We went at 6:00 to the playroom and he got to decorate a trick or treating bag and then we all went downstairs for a quick dinner. You could tell he was feeling tired and out of sorts. So we brought him up to get ready for bed. The weirdest thing happened. The nurse was taking his vitals and listening to his lungs and Charlie started to get really upset and said he couldn't breath. He said to listen to him and started taking deep breaths, but he sounded fine. We couldn't understand why he was getting upset and saying he couldn't breath. We didn't have him hooked up to a pulse ox yet because it was still on order. So the nurse went out to get a hand held one and when we put it on he was only 92-93% which is low for him. So we quickly coughed and suctioned him and he has been fine every since. He wasn't in danger, but it's amazing how he didn't feel right and knew that he wasn't breathing well. Nothing really got suctioned up so I'm not sure what happened. I think he just had a long day with no bipap break and it caught up with him.

It's 9:30 now and he's finally asleep. I hope he has a good night sleep. It hasn't been an easy day. Although he did have fun flirting with everyone.

Surgery is scheduled for tomorrow at noon. Which is a bummer. We had hoped to be first on the schedule. Dr. Schroth was by for a visit and thought we could be out of here as early as Wednesday! It all depends on when his bowels and GI system starts to work. Which we all know with Charlie is always up in the air. So BIG prayers would be appreciated. We'd love to get out of here on Wednesday or Thursday at the latest!

I'll update his websites after surgery when I can. I'll also try to email most of you if I remember. It's hard to keep up sometimes! Thanks again to everyone for ALL your support and prayers.

Sunday, October 21, 2007 (update)

Just a quick update since I've already updated today. Tonight Charlie and Lily went Trick or Treating since Charlie will be in the hospital on Halloween. We knew the weather was going to change and be really cold so we wanted to do it this weekend instead of next weekend. We had six neighbors who made it a great evening for the kids – complete with decorations and dressing up. The kids had a blast. We also know that they have huge Halloween parties all week at the hospital so Charlie will get to dress up again there. Lily will be here to celebrate with her friends.

Sunday, October 21, 2007

Good news! Charlie is finally over his cold. He ended his antibiotic on Wednesday so hopefully, his tummy will be back to normal soon too. The poor kid must be bored stiff. We haven't left the house much since the race on October 6. The two small outings we did went okay though. We took him to an orthotics appointment last Friday because it took us months to get in. They were casting him for new DAFOs – the little splints that he wears on his feet to keep them in line. Anyway, it went okay, but he did have problems when we first got there. He wasn't doing well sitting up at all and we needed to suction him a lot. Which we never have to do. He was fine once we had him on the mat for the casting. We stayed in all weekend after that. But on Monday, his school friend Mikey was having his birthday party at Chuck E Cheese's. Charlie really wanted to go, so we took him. He had a great time, but wanted Daddy to hold him the whole time. He wasn't doing very well sitting up in Blue. It was probably a little too early to have him out. But we all had a fun time and he did okay.

The kids had a great time over the last few days "booing several families in our neighborhood. If you aren't aware of what booing is – it's putting a bag of candy or treats along with a note about what Booing is, ringing the doorbell and running and hiding to watch them open the door. The kids loved it.

Friday we went to Charlie's IEP meeting at school and then had a play date with Mackenzie at Deanna Rose. It was a lot of fun. Charlie did really well and was up in his chair for almost two hours. He is definitely getting better and almost 100%. Lily had a birthday slumber party that night with her friend Julia, so John, Charlie and I went to our normal Mac Grill for dinner. All and all Charlie had a fun day. He did seem a little off when we got home so I think we may have overdone it a little.

That's it for now. It's hard to believe that we leave a week from today for Madison for Charlie's first growing rod lengthening surgery. We'll be asking for your prayers soon.

Wednesday, October 10, 2007

Charlie is doing better. He was able to come down stairs yesterday for part of the day and most of the evening. You can tell he isn't feeling great though because he is taking good, long naps. We are continuing with his treatments every 4-5 hours and he's doing well. We will keep him out of school again tomorrow, but he will most likely have a playdate with his favorite friend from school – Mackenzie. He's been looking forward to this for weeks. Mackenzie is a sweet girl who always plays with Charlie at school.

There are so many sick SMA friends already. It feels like the cold/flu season is coming on too fast this year. Our dear friend MJ (she's 19 and has SMA) is in the hospital for a perforated intestine, so please say prayers for her. Lily had a school friend in the hospital last week for strep pneumonia! She had to have a chest tube, O2 and everything! So hopefully, the winter won't be as bad as this fall is already.

We are just hoping we can get Chars healthy and keep him healthy so we can go up to Madison for his lengthening surgery on October 30.

Prayers for John Eason's family (he is a 2 year old boy from church who died last night after a long battle with congenital heart disease as well as other issues.

October 8, 2007

Charlie woke up asking for treatments this morning again. He is definitely sick, but doing okay. We kept him in his room most of the day and just stayed on top of treatments. Lily was a big girl and took care of herself in our bedroom for the day. We were told that after 24 hours on the antibiotic that she shouldn't be contagious. Lily was definitely feeling better by tonight – she was dancing and bouncing off the walls. She's looking forward to going back to school tomorrow.

October 7, 2007

Charlie woke up this morning at 6 a.m. with his pulse ox alarming. His heart rate was over 170 and obviously wasn't feeling very well. John and I did his full treatments (cough/suction, nebs, CPT, drainage, more cough/suction) until we got his HR down. It took a long time, but he finally started feeling okay. It's been a long time since he's been this sick. His O2 dropped to the lowest that we've seen in a year! He is obviously coming down with something. We started doing his treatments every 4 hours and are just staying on top of this.

We took poor Lily into a quick care to day as well. She's had a bad cough for more than two weeks and it ended up that she has Strep. We started both Charlie and Lily on antibiotics. Luckily, Lily didn't have school tomorrow so she won't have to miss a day.

October 6, 2007

Today was the Roefest Cure SMA Walk and Roll. Charlie and Lily had been looking forward to it for weeks. John's cousin David and his family (Alli and Tommy) came in on Friday night to join us for the race. Charlie wasn't feeling himself when we left but he still wanted to go. We had just turned off the highway to get to the location of the race, when I had to flash John down (he was in another car) pull over, and pull a lot of food and air out of Charlie's tummy. He was having a bad burping spell. I'm just glad it happened after we were off the highway. He still wanted to try to do the walk, so we went ahead. You could tell he didn't feel like himself. He made it about 5 minutes into the walk and then he wanted out of Blue and wanted John to carry him. Luckily, we were able to take a short cut back so that John didn't have to carry him the whole mile. When we got back to the Roefest starting line, we laid him on the grass and suction him and got a lot out. He felt better and wanted to stay. Mostly he wanted to have someone hold him, but he did dance and race around a little with his cousins and sister. He decided that he didn't want to stay for the Kids Dash so we left early and headed home. He did okay the rest of the day as long as he stayed laying down. He had so much fun playing with Tommy and Lily.

A big THANK You to all of our family and friends for their support of Charlie and his other SMA friends. We had another successful year raising money to find a cure for SMA.

October 1, 2007

John Charlie and I took advantage of the cooler temps and went to Charlie's favorite place – Deanna Rose Farmstead. He had so much fun zipping around in Blue. He didn't even care to stop and feed any animals this time. It was nice to have a break in the heat and humidity.

We had a fun addition to Blue last week. They were able to put a switch on his chair that he would work that allows him to put the power chair higher and lower as well as tilt it back. He was sitting there playing with it back and forth and saying "wheee whee". It was too funny.

We had a fun weekend as well. Our Saturday was really busy. We all went to Lily's soccer game in the morning and were even able to bring Blue. Charlie drove all over the place before and after the game. During the game he was too busy flirting with a few of Lily's teammates as well as cheering his sister on when she was on the field. After that, Charlie and John went to a preschool friend, Kevin's, birthday party at Gymboree. Charlie drove Blue some, but most of the party was spent in Daddy's arms running and jumping and playing. John was pooped by the time he got home. Then late that afternoon, we had my aunt, uncle, cousin and his family as well as my brothers and families. Charlie and Lily had so much fun with all 7 cousins (and second cousins) running, driving and playing. Charlie woke up first thing Sunday morning and asked if everyone was still here. He was so sad when he learned that it was just us :0)

Today Charlie and I just had a short outing to Target. He loves driving around in there.

Wednesday, September 26, 2007

Well, to update from my last journal – Charlie's fever only lasted one day and he didn't have any other side effects. He went to school on Thursday and as usual, was so excited to play with his friend Mackenzie. He can't stop talking about her and wanting to have a playdate. I need to call her mom and set something up. Friday, Lily came home from school with a fever. Hers lasted all weekend and has ended up being a bad cough. We are trying to get her well and keep Charlie away. John's parents were in town this weekend so they were disappointed that Lily didn't get to show off how well she's playing soccer.

John's parents were suppose to be here until Tuesday, but unfortunately John's grandma died Saturday night so Barb and Bob left early Sunday morning. Lily and Charlie were so sad to see them go, but they promised to come back soon. John and I went to the Chiefs/Vikings game. The first game we've been to in years. It was fun, but a bummer for John since the Vikings lost.

John left yesterday noon to drive up to MN for his Grandma's funeral. The kids and I miss him but he'll be home tomorrow.

The big news right now is that we've scheduled Charlie's first Growing Rod Lengthening. It will be October 30 (which is a bummer since Charlie will miss Halloween). They said it could be 5 days in the hospital. We are definitely hoping for a shorter stay. It's hard to believe it's been 6 months since his surgery already. And it's hard to think about putting him through surgery again. Unfortunately, it's something we'll have to get used to as he will go in every 6-7 months for a long time to get the rods lengthened.

I hope you are all well. Thanks for checking up on us! We are all doing great. The Roe Fest Race and Roll is coming up a week from Saturday. If anyone is in town, come join us for the walk. You can check out www.firstgiving.com/charlies or www.roelandpark.net for information on how to sponsor us or how to walk with us.

Sunday, September 16, 2007

We've had another busy week here at the Sykora household. Lily started cheerleading and gymnastics on Mondays with her friend Julia and she loves it. Then she has piano on Tuesdays, soccer practice on Wednesday and a High School Musical class on Thursdays. We probably over booked her for a few weeks.

John took Charlie back to school on Thursday for the first time since a week ago last Monday. Charlie was so glad to be back, All he could talk about was seeing his friend Mackenzie and that he played with Mikey and Ben too.

John left for a fun short trip to Vegas with some old friends on Friday so he was gone all weekend. Mom was around to help out and Abby stayed an extra night on Friday night so that I could be up early to take Lily to her soccer game at 8:15 without having to worry about Charlie. And boy, am I glad that Abby was here. Charlie slept in until 8:15 and I would have hated waking him up. It was too COLD to take him to the game. I was so chilled. It was low 50s and cloudy and spitting rain. It was cool here again today, but tomorrow and all next week they are saying mid to high 80s. Such crazy fall weather.

Charlie went to a school friends (Cassie's) bday party on Saturday. He had so much fun. It was a princess and pirates party. They did a lot of different craft projects and played fun games like pin the key on the treasure chest, a piñata and a treasure hunt for chocolate coins. Charlie didn't want the party to end. He said I was a mean mommy for making him leave LOL. He was charmed by a couple older neighbor girls of Cassie who helped him at the party. He certainly loves those older women LOL.

Today, Charlie has a fever. It was 102 before his nap and his heart rate is elevated which is normal with a fever. He's showing no other symptoms so hopefully, it won't amount to much. He is such a trooper and not complaining about anything. He and Lily are so excited to have John home. They've been hollering at him all day. Abby and her parents stopped by for a quick visit so Abby's dad could meet the kids. It was nice to meet her dad and see her mom again. They are such a neat family and have an incredible daughter whom we love.

Well I better sign off.

Saturday, September 8, 2007

Ok, I'm a week late updating about Charlie's birthday party. We had 20 kids to the bowling alley for bowling, pizza, cake and a piñata. Charlie had a blast. He had his big cousin Taylor and our friend Lauren (who has SMA Type III) helping him bowl and he loved the attention. He was also so excited that so many of his school friends were there. It was great to have the party at the bowling alley – no set up or clean up :0) Abby made Charlie the most wonderful Spongebob cake. I can't tell you how many moms asked me where it came from. We certainly love Abby!

We went to the pool with the kids both Sunday and Monday before the neighborhood pool closed for the summer. Our kids are such water bugs. It was a nice three day weekend. On Sunday night, Lily picked the restaurant for her family birthday celebration with Grandma, Aunt Lisa, Uncle Robert, Taylor, Sidney and Bobby. She enjoyed having the waiters sing to her. So both my kids had a long birthday month of celebrating. Charlie is already asking for stuff for his birthday again (I don't think he realizes how FAR away next year is…)

Unfortunately, Charlie got a cold. He is doing well and his stats are all great, but he is very stuffy and says he can't swallow when he's sitting up. So we've kept him home all week. He is really starting to bring stuff up now during cough sessions, so hopefully, it won't turn into anything else.

Lily went to her school festival last night with a friend and I went to a dear friends baby shower. I've known her since 8th grade and she's wanted to be a mom as long as I've known her. I'm so happy that her biggest desire finally came true. Little Gus was a month early so the shower turned into a baby viewing party. He is such a cute little peanut. Today and tomorrow Lily has two soccer games, the first of the season. Charlie and I will stay home while Daddy coaches Lily. We are sorry to miss the games….

Hopefully, this cold will be over quickly and we can get back into our routines. Hope everyone is well.

Friday, August 31, 2007

Today is Lily's 6th Birthday! I can't believe how big my little girl is getting. She already had her birthday party a few weeks ago, so tonight will just be our family and Grandma. Lily wants to go to Macaroni Grill for dinner so that's the plan. She brought cupcakes and goodie bags to school today to share with her class. And John, Charlie and I are going up at 11 to eat lunch with her. She is very excited as is Charlie. It should be a fun day.

Then at 1, John, Charlie and I have to go to his IEP (Individual Education Plan) meeting for school. We still aren't sure what we'd like to try to have Charlie do this year. We still have Nurse Lori going with him, but I go too. It's too hard for just Lori to be there. I think he needs a 1:1 para, but I'm not sure how comfortable I am with leaving him at school. We'll see what happens.

We've had a fun week since my last update. So here is an overview. On last Saturday, Grandma, Lily and I went to Build A Bear for Charlie's birthday. Lily made a cute leopard and Charlie made a penguin. The kids love their new pets. We did have a scare. The lady working at Build a Bear accidentally set Charlie's penguin down against his joystick. It caused Blue to drive backwards, running over Lily and trapping Grandma against the toy bins. It was a very confusing minute because I couldn't figure out why the chair was going and it wouldn't stop. I was telling my mom to stop pushing the attendant control but she wasn't doing it. Luckily, no one was hurt too badly, but it was scary. And it reminded me that I have to be so aware of anyone doing anything close to Charlie's chair. People just don't realize Charlie's joystick is there and that it is so sensitive.

Charlie and Lily had another good week at school too. Although, I have to tell you how great it was with Charlie yesterday at school. The weather had finally broken enough for Charlie to participate in the outside play time. He and another adorable girl, Mackenzie played tag the whole time. She would try to grab his foot while I was pushing him around and then Charlie would chase her. She totally understood that she couldn't run too far or too fast so that Charlie and I could catch her. He is totally in love with her. They held hands walking back into the school and then during story time. He told her that she was his "best friend" and that he wanted her to come over to his house to play. He can't stop talking about her. Then it was great because at center time, a bunch of kids were playing with the house on the floor with Charlie. He loved being able to be part of the group. It was the first day of school this year so far that I've felt it was worth all the effort to get him to school.

Well, I better run. I'll update again soon. Charlie's birthday party is tomorrow and we'll celebrate big for Lily tonight. August is a crazy month for us ;0)

Friday, August 24, 2007

Charlie is on a roll for celebrating his birthday every day for as long as he can. Tuesday night, John, Lily, Charlie and I had a fun dinner that ended with Spongebob and Patrick cupcakes. Charlie loved blowing out his candle! All that work at PT is obviously paying off. Then with a little help from Lily, Charlie opened his big mound of presents from us as well as Auntie Mona and Uncle Rick and the girls. He was so excited that he had a hard time going to sleep.

Wednesday, Daddy woke him up with a Happy Birthday song! It's so hard to believe my BIG boy is 4 years old. He is so grown up. Charlie and I drove Daddy to the airport that afternoon for his big backpacking trip at the Rocky Mountain National park . Then we came home to celebrate again with Grandma and Lily. Charlie received a bunch of packages in the mail so he had another go round of presents! Thanks everyone!

Thursday night, Grandma, Lily, Charlie and I went to Chuck E Cheese's for Charlie's birthday yet again. Charlie has been asking to go forever. Lily and he had so much fun. He was buzzing around in Blue playing all the games he could as well as making me play them so he could watch me. He was so mad when it was time to go. He was asking when we could come back! I was a little less excited about that idea since I found a spider in my salad! Yummy, extra protein!!!

Today is Friday and Charlie has more boxes to open from some of our SMA friends. We are waiting (not so patiently) for Lily to get home from school. He can't wait and already is asking when it's going to be his birthday again! And he'll get his wish next weekend when we have his Bowling Birthday party! I'll work on posting photos soon (I'm so lazy these days LOL)

Tuesday, August 21, 2007

We've had a busy last week. Lily started school last Thursday. She is really enjoying her new teacher. She was so excited about Friday. It was her 6th Birthday party (two weeks early). We had it early because it was the premier of High School Musical 2 so we thought a sleepover would be a great birthday party. Lily invited 10 friends over for pizza and movie watching. It was a crazy night. Only one girl sat and watched the movie. The rest of the girls ran around, playing chase, screaming, dancing and just being crazy. It was a LOUD evening, but a lot of fun. I slept on the couch downstairs with the girls and Abby stayed over too. The girls were asleep by 11:30 (because we made them) and up by 6:30. We were ready for 10 a.m. and the party being over. It was a lot of fun, but also very tiring and crazy! I think everyone had a good time.

John and I took Charlie to school on Monday for his first day of school. We let him take Blue and he loved having the mobility. But I think with the young kids in class (one girl wouldn't stop trying to play with the joy stick and ran over her foot) as well as the crowded room, we won't be able to swing having power during school. He loved being back with kids. Unfortunately all of his friends from last year, except one, are either in the PM class, moved to Kindergarten, or changed schools. I'm sure he'll make new friends soon, but we were sad that many were gone. Nurse Lori and I took him today and brought cupcakes to celebrate his birthday since we won't be there tomorrow for his real birthday. He had a lot of fun. We really need to work on a new manual chair since he's outgrown his kidkart.

We are celebrating his birthday tonight with the family since John will be leaving tomorrow for 5 days to go hiking with his brothers-in-laws at the Rocky Mountain National Park . I'm sure Charlie won't mind having cake and opening presents tonight. We'll celebrate tomorrow too :0)

That's our quick update. I'll be sure to post a lot of photos soon.

Wednesday, August 15, 2007

I can't believe so long has passed once again since an update. I feel like the summer is flying by. Lily starts school tomorrow! And Charlie will either start Monday or Tuesday. We went to school today to meet Lily's new teacher and she seems really nice and wonderful. Lily is excited but nervous to start school again. I remember those butterflies :0) On Friday, we are having 10 little girls (11 if you count Lily) over to watch the High School Musical 2 premier for Lily's Birthday party. Then they are spending the night, Should be exciting to say the least. Even though Charlie's birthday is closer than Lily's it worked out to have Lily celebrate with the HSM 2 premier. We are going to plan a bowling party for Charlie in the next few weeks once we know the kids who are in his class.

We've been busy, but trying to stay out of the heat. It's been over 100 degrees for more than a week! Hopefully, we'll get a break soon. Charlie doesn't do as well in this hot weather and we haven't been able to go out even in the evening to enjoy driving Blue. I've been taking him shopping with me to Target instead which he loves :0)

No other real news here, so I'll keep this short. I'll hopefully update to tell about Lily's and then Charlie's first days of school as well as their upcoming birthdays! Hugs!

Saturday, July 29, 2007

I noticed yet again it's been too long since our last update. We just got back from Whitefish Lake in Jenkins , MN with John and all of his family. Unfortunately, we had to leave a day early because Lily had a fever on Thursday, Friday and still has one today. It's low grade, but we were worried about getting all the other cousins sick. It was a fun week though. Lily and Charlie had so much fun with their cousins, grandparents and aunts and uncles. There were pony rides every day, an antique fire truck ride, fishing, boating, swimming, eating s'mores and lots and lots of game playing. The kids were wonderful at spending time playing board games and computer games with Charlie as well. It was a very hot week for the area with only a few days of breaks in the heat. We had a couple days of rain, but all and all it was a great time. I still think the best thing to watch are the bald eagles that live all around the lake!

I do have to recount a few fun things that happened before our trip up north. We took Charlie to church for the first time while in Blue. It was so fun to watch him sitting up so tall. He loved driving up for the kids' story time as well as for communion. He really is such a big boy now. I've enjoyed taking him shopping with me in Blue. He is so well mannered and such a big help. He loves taking Blue everywhere we go these days. He is growing up too fast. It's hard to believe that he'll be 4 in less than a month and Lily will be 6 shortly after that! Time is flying too fast!

Lily and Charlie will both start school in mid-August. The summer is almost over – how did that happen.

I'd better get this short update posted. Hope everyone is well.

Friday, July 6, 2007

We've had another fun week. Tuesday, Lily found a young box turtle in our driveway. She and Daddy brought it in to show Charlie. This little turtle wasn't shy at all! All he wanted to do was to crawl out of the shallow box we had him in and crawl over Charlie. He didn't even hide in his shell when Lily picked him up. We played with him for a short time and then took him out to the back yard to set him free. He practically ran away. He was a cute little guy.

Happy Belated Fourth of July! We started off the fourth with a parade around our neighborhood. We decorated Blue and Lily's scooter the night before. The kids had such a great time rushing around the block with the other kids and families in our neighborhood. Back at the pool parking lot, there were bomb pops to enjoy. I think Lily got more all over her face than she did in her mouth. Charlie was bored when Mom or Dad tried to stop and talk. All he wanted to do is cruise around in Blue. It was so crowded with kids that there wasn't much room in the parking lot, but Charlie sure found a way. After that, we came home and got ready to go to the pool. We decided to go to a different pool than our neighborhood pool because there is no shade to be found there. So we packed up and headed to another pool. Man! Was it crowded. They were having a big Fourth of July buffet and party at the pool. We couldn't find a chair and had to set up camp on the grass, but at least it was shady. The kids have so much fun in the water. We stayed for a hour or so then headed home. We were having Grandma over for dinner and wanted Charlie to have a short nap. We had a great dinner of Burgers, pasta salad, tater tots, yellow watermelon, cantaloupe and then brownie sundaes for dessert. I was ready for bed after that meal! It was sprinkling on and off all afternoon, but cleared up nicely so that we could go out to the front street and set off some fireworks (which are illegal here we know). Charlie and Lily enjoyed our little show. Then it was back inside for popcorn and a movie before bed. We let Lily stay up later than Charlie to watch some of the big fireworks displays we could see from our deck out back. What a fun and crazy day!

Thursday Nurse Lori, Lily, Charlie and I went to the library to check out some books. We were trying to find the books on Lily's summer reading list, but didn't have much luck there. We still managed to bring home 7 books to enjoy though. Then I took Lily to get a quick haircut and we both had our toe nails painted! Later that evening after dinner, we drove Blue around the neighborhood and played with the bubble machine. It's nice to go out later when it's cooled off a little (not that it was cool, but much better than when the sun was high!)

Today, we just hung out and then went to the pool. On the way home we drove around looking at different places that we might find to move/build. One of our biggest struggles right now is trying to figure out if we can make this house assessable for Charlie or if it's just better to build. It's so hard because we love our neighbors and they would be hard to leave, but we also love our llot/landscaping/backyard. We have such great mature trees behind us which is hard to find in this farmland of Leawood we live in :0) Oh well, we'll figure it all out. Oh, Lily had her FIRST tooth fall out tonight. She is so excited! I wonder what the going rate is for the tooth fairy these days! Oh well, I better run. I'm being chatty tonight.

Sunday, July 1, 2007

First, let me apologize. I have been unable to update this website for awhile because it's been down. We are back up -- but I still have a long update. Read what you want :0) We are currently in a hotel in St. Louis on our way back home. The kids and I have been gone for 14 days and John for 10 days so we are all tired and ready to be home. But what fun we've had!

Luckily, the rest of our stay in Evanston was a lot better than the starting evening. We went to the Lincoln Park Zoo on Tuesday with a John's good friend Dan and his son Charlie. It was a nice zoo and just the perfect size. We went to a crowded but great restaurant for lunch. Charlie had a great time lying on the table and not one person even gave us a double take. The wait staff was awesome as well. So our faith in human kind was restored. (You'll see what I'm talking about at the end of this long update). After coming home for a rest, we went to some other old friends of John's for dinner. Cathleen, John and their kids Claire, John Paul and Eleanor were such great hosts. Eleanor and Lily are the same age, so they took off and we hardly saw them. Claire and John Paul were great playing on the floor with Charlie. Charlie kept calling Claire his Best Friend. It was such a fun evening.

Wednesday we were pretty mellow. We had brunch at Le Peeps in Evanston without a single mishap or stare. Then we took the kids to Shedd aquarium. The kids enjoyed the dolphin show and all the sharks and fish. After that John and Charlie dropped Lily and I off at the American Girl Place for a whirlwind visit. Lily loved it. We found a nice Italian restaurant that we walked to that night. As our luck would have it, it was a basement restaurant and the elevator was broken. With the help of a bus boy, we were able to get Charlie and his chair downstairs to enjoy dinner.

We packed up on Thursday to head for Cincinnati to meet up at the SMA Family Time (10 families met up for a fun weekend). It was so great to see some old friends. We had fun hanging out together in the conference room, swimming in the pool, going to another aquarium and having a fun dinner on the river walk. It was a quick weekend and now we are headed home.

I'll try to post photos when I can.

June 25, 2007

Well, I'm way behind as usual. The kids had a great week at Vacation Bible Camp at church, but that was already more than a week ago. It was fun watching Lily being such a GREAT help and big sister to Charlie as they were in the same class. I had so many people comment on how good she is with Charlie. Charlie calls Lily is his BEST Friend.

On Tuesday, June 19 Grandpa Sykora got into town for a golf tournament that he and John were playing in. The kids were so excited to have Grandpa in town. They had their practice round on Wednesday so we didn't see too much of them and then on Thursday, Grandma Ruisch, Abby, Lily, Charlie and I (Ok John actually did the loading) loaded up the van drove to Schaumburg , IL for a Families of SMA conference. We had the best weekend. The kids had so much fun swimming and playing with all the other kids who were there. I so enjoyed finally meeting so many families that I've been on talking to on the computer in person. It was also great getting to see so many families that we've met in the past. We spent a lot of time with the Postma family. Jillian is a few years older than Lily and they had a blast swimming and playing together. Isaac has SMA just like Charlie. The kids played a lot of games in the pool. Charlie has a crush on Jillian and keeps asking when we are going to see his friend again :0)

The conference started on Thursday night with a movie night for the kids. They ate ice cream and watched Finding Nemo. We got to see so many old friends as well as meet a few new ones. We had a Type I luncheon on Friday. It is a sponsored luncheon by two families who have lost a child to SMA Type I. We have been to this luncheon both times we've been before. It was great to catch up with more friends and to see Shaina (one of the mother's who sponsors the luncheon) again. Then we swam with friends, took a little nap and got ready for the banquet/silent auction. The kids were wound up and having so much fun. They didn't get to bed until after 10!!! Thankfully, they slept in a little on Saturday. Saturday was the last day of the conference. Abby and I went to the research update luncheon. Seems like a lot is going on. Charlie is in no-man's land as far as drug trials. Too old for a Type I trial and not strong enough for the other trials. We talked to a doctor about potentially giving him some of the trial drugs "off trial". John and I will have to think about what we would like to do. We swam again with Jillian and Isaac and then went and outside and did the pony rides. Charlie didn't even want to try to ride like the other kids because he was having too much fun cruising around in Blue in the parking lot. Poor Abby was having to chase him down :0) Then the conference ended with the big Kids' carnival. Charlie and Lily didn't want to leave. They had so much fun playing all the games and winning all sorts of prizes. And man, the goodies were to die for. They had cotton candy, popcorn, ice cream and candy galore. We were all on a sugar high by the time we got into bed.

Sunday came too quickly. We participated in the Chicago chapter's Walk (well, we only went half way because Lily was tired) and then said good bye to a lot of good friends. The fun news is that after spending only $5 on raffle tickets, I won the four one-day parkhopper passes to Disney Theme parks! And they are good until March 2009 so we might actually make it back by then.

We took Abby and Grandma to the airport and picked up John/Daddy. The kids were so excited to see him (me too of course). We had a nice dinner and then went to bed. We swam this morning, packed and moved to a hotel in Evanston . We'll be here until Thursday when we head to Cincinnati to see some more SMA families for a short vacation.

Tonight, we had the WORST experience at a restaurant that I've ever had in the THREE YEARS of travel and eating around home. Several of the staff were in the kitchen laughing and pointing at Charlie lying on the table and calling over other people to gawk out the windows at us! THEN they had the gall to go talk to the manager. He came over in a really snotty tone and asked if there was a problem and if they could do anything to help!!!! He said that some of the customers had complained which was BS since there were only 4 maybe 5 other tables and NONE near us and we didn't notice ONE stare or glace from anyone EXCEPT their staff. I was so upset!!! And it was a "NICE" family restaurant -- a Wolfgang Puck!!! They were so freaking rude. Luckily Charlie was oblivious! Oh well. We are going to find an email and tell them how we feel. I'm tempted to write to the Evanston Newspaper - it was that awful!

Ok – Now you've "heard" all about our last few weeks. Once again, I'll try to be better at updating. Hope all is well with everyone. HUGS!

Monday, June 11, 2007

Okay – I never completed the June 3 update. So I'll just leave that at the bottom and start again. We've been having a fun spring/early summer so far. Charlie has been out driving Blue every day and loving it. Last Friday, we went to Lily's day camp program at her school. Charlie took Blue and almost had a horrible accident. He drove off a very high curb! Luckily, John caught his head as it flew out of the head support and luckily, only the front right tire went off. The other Big lucky thing was that the whole chair didn't tip over. Charlie was terrified as were we. It took him about 10 minutes to stop crying. John and I grabbed him out of Blue and took him to lay down in the van. We used this scary incident to reinforce that he needs to stop driving when John or I tell him to stop.

Today was the first day of Church Bible camp. Lily and Charlie are in the same class and had so much fun. We have camp all week.

I'll try to do better at keeping up. Charlie is doing so well. Thanks for checking up on us.

June 3, 2007

We had a good week and a half. Last Tuesday, Nurse Lori, Lily, Charlie and I went to the Deanna Rose Farmstead (Petting Zoo and more!) with Brett and Kristal and Arturo and Liz. It was such a fun day. All Charlie wanted to do is drive Blue faster and faster. He had no interest in seeing any of the animals or doing any other activity. It was so fun watching him go everywhere. Lily, Brett and Charlie were chasing each other all over the place. We were only going to stay for an hour or so and ended up there for more than three hours! Charlie was up in Blue cruising the whole time.

We did have a funny mishap (or whatever you want to call it) on Friday. Charlie complained most of the afternoon about his "pee pee" hurting. You could feel his bladder was hard and full. So after giving him a long warm bath and then a baby fleet, we talked to his pediatrician. Since it was Friday afternoon, they thought it was best to bring him in to the office in case he needed to be cauterized. So we loaded up Charlie and headed to the Doctor's. Of course, he peed on the way down there – but didn't empty his bladder. Once in to see the Dr. he did empty it on his own. The Dr thought since we were there that we should try to collect a sample to test. Charlie did his thing and was so proud to pee in the bag (it's a neat comptraption that went around his pee pee and was taped on. He loved telling Lily when he got home that he went tinkle in a bag. LOL It was very cute. Anyway, he tested negative for most infections, but they still sent off a sample. The doctor said it could be that this will be something we will have to deal with occasionally since the surgery moves a lot of stuff around. Hopefully, it was just a freak occurrence (it also happened briefly on Thursday but he went on his own quicker).

Saturday we tried to go bowling. We had Charlie in Blue and he only lasted three rounds before he decided that driving was more fun. We spent the rest of the game rotating running around with Charlie and finishing up our bowling game. It cracked me up. He just has so much fun driving Blue and has so much more stamina since the surgery. I think the surgery help take all the pressure off his diaphragm when in the power chair. We played outside for a long time as well with the neighbor's twins who are also three years old. It was so much fun. We played again today and tonight after dinner.

Tuesday, May 22, 2007

It's so hard to believe that we've been home a week now and it's been two weeks since Charlie had surgery. He is doing amazing. Off all of the pain medication and just as happy as a clam. One more week and he can actually soak in the tub! The worst part about this whole thing is that he can't swim for 6 weeks! He LOVES swimming and it's summer, but we'll survive. He is such a trooper. It still takes two of us to transfer him or carry him, so that puts a hamper on us during the work week, but Charlie doesn't complain. We are just playing lots of computer games and reading books. Last weekend, we were able to get out and have some fun. On Saturday, we went to the Overland Park Fire Training center for their Day for Special Needs Kids. They had fire truck rides, fire demonstrations and lots of other fun things. Charlie was hilarious; the only thing he wanted to do is drive backwards since there was so much space. I think we need to get those bicyclist mirrors so that he can see behind him. Then on Sunday, we just played outside and went for a long walk. It was great today, because we had a day nurse so she was here to help get him up and outside too.

I also want to tell everyone how touched we have been by all the prayers, support and love throughout Charlie's surgery; hospitalization and now that we are home. We've had so many friends offer to help with everything from helping with the pets, driving mom and Lily to the airport and bringing in meals that we can't even explain how it's touched our hearts. Charlie loved all the balloons, cards and presents he got in the hospital and still now at home. We are truly blessed with wonderful friends and family. I don't know what we'd do without you all. And Mom – you know I don't know what I'd do without you! Thank you all!!!!

It's supposed to be spring, but we need to ask for prayers for so many of our SMA friends. We had two other SMA friends who went through growing rod surgeries the same week as Charlie (one lengthening and the other just like Charlie) – anyway, they are both struggling with fevers. Then there are others who are sick as well. Isn't it supposed to be spring! So prayers for MJ, Erinne, Malorie, Jerika and Lizzy. Hugs to everyone!

Tuesday, May 15, 2007

We are HOME!!!! Charlie was discharged from the hospital yesterday and we made the whole drive home today. Charlie was such a trooper. It's a 500 mile trip. He was a typical kid when he asked "are we there yet". He kept saying he wanted to be HOME :0) And I agreed!!! It's so good to have a real long shower and to be in our own beds. I'll catch up later, but just wanted everyone to know we are home.

Sunday, May 13, 2007

Happy Mother's Day to all the Mother's reading this… Charlie is doing so well and we are even starting to feed him the way we do at home (bolus during the day and pump during the night). We are keeping him on Tylenol alternated with Oxycodin (spell) until we get home for pain because the car ride might be a little uncomfortable.

He had a nice day visiting with Grandma and Grandpa Sykora, Grandma Ruisch and Lily. They all left by 2:30. Charlie got up and drove around and around the halls for awhile to show off for Gma and Gpa Sykora. He is just playing games on the computer, reading books and watching videos. We are all so ready to get out of here tomorrow.

I'll update again tomorrow if I can, but he's doing great and the only reason we are still in the hospital is because they want to be sure all the PTs and OTs can teach us all we need to know about caring for C-dog when we get home. Thanks again for all the prayers and support.

Saturday May 12, 2007

Just a quick update before I fall asleep. Charlie had a great day. He's up to his feeds where he needs to be. He's only has treatments 2x a day. Dr. S told us that we could go home on Sunday but she wants us to stay until Monday in order to see all the PTs etc that we need to see before heading home.

We had a fun day with Lily here. Charlie got outside in his manual chair for a good chunk and then we went down to visit the Pet Pals (dogs who visit the hospital 2 x a week). Charlie's favorite was a black lab named Abby – Charlie's favorite name LOL..

It was a pretty mellow day. Charlie's making BIG leaps and we are so ready to head home soon.

Friday, May 11, 2007

We've had a wonderful day. The morning was spent working up Charlie's feeding rate (he's now at 35 and the goal will be 55 so almost there). Charlie just played on the computer all morning until they came in to remove the bandages from his back for the first time. Man, what an incision! I have photos if anyone cares to see, but I won't gross you all out with those unless you ask. Shortly after the bandages were replaced, they finally had a room on "the floor" out of ICU to move Charlie. So here we are settled at last!

Not long after settling in the room, PT came in to teach us how to pick him up and get him in his power chair. They made a corset for him so we could use it when moving him. So!!! Just 3 days after surgery, Charlie took a tour in Blue back to the PICU to say hi! It is so great to see him up and he loved it! Needless to say, he's pooped and sleeping quietly on Pappy.

They said if it wasn't the weekend, we'd be discharged on Sunday, but since we need to see too many people to learn how to care for Charlie at home who aren't here on the weekend, we need to stay until Monday. From there we'll see if we need a day or two in a hotel here before heading home or if we'll be able to make it half way home then. We will be playing that all by ear.

John left a bit ago to go pick up Grandma and Lily at the airport! We can't wait to see them. John's parents are only about an hour away driving in as well. So, Charlie will be busy with visitors this evening!

Things are going GREAT – thanks for the continued prayers and support. He's received so much mail, presents and packages that the nurses all laugh at how much he is loved! Thank you ALL!!!

Ok – I just realized I never posted, so I'll continue this update. OK – right after I wrote this update and before I posted it, I saw ANTS in our room. I told the nurse about it, not to complain, just to let them know so they could do something. There were only a few. About ½ hour later, the nurse came by and said they had a room just open up so they would get it cleaned and move us there. While I was letting Charlie sleep, before moving more and more ants started showing up!!! I was so glad we were moving. Then the Terminex guy shows up and wants to SPRAY THE ROOM WHILE CHARLIE WAS SLEEPING IN THERE. I told him ever so politely that he needed to leave and come back after we moved rooms LOL.. The nurse was appalled. She told them they had to wait as well…

So anyway, we've had a busy day…..Grandma, Lily and Grandma and Pepaw came for a visit. Charlie was so excited to see them all and I was ecstatic to finally see my princess Lily. I missed her sweet smile :0) Charlie's sleeping and is up to 45 in his feeds – so by tonight he'll be up to normal and we can end the TNA! Yippee!!!! Goodnight! OH -- our new room number and phone number are F6/426 and 608-267-8044.

Thursday, May 10, 2007 10:30 PM

Charlie went all day with out his pappy with the exception of his nap! So he's back to his old routine which is another BIG step toward going home. We also started his food – albeit slowly (only 5 ml an hour but we will bump it up every 4 hours if he's doing well). So we are taking baby steps. We will most likely try to get him up in his power chair tomorrow as well. So please continue to send those prayers. They are working. He is such a wonderful spirit. He's wrapped the entire staff of doctors, nurses, RTs etc around his finger. He is one BIG charmer. Oh and hopefully we'll have a good night. We only have to do his breathing treatments 4 x a day and then we can let him sleep all night!!!

Thursday, May 10, 2007

Charlie had a long night last night. He is off any of the sedatives and they are doing his Respiratory Treatment every 4 hours. They use a machine called an IPV which is a mask that goes over his mouth and basically sends pulse waves into his lungs to do internal chest physiotherapy. He really doesn't like it. He has to have the IPV for 10 minutes and then they have to do our normal cough/suction routine that he is used to at home. He wouldn't let the therapist do the suctioning – only mommy. Then after his treatment, he's tummy would be gassy again and we'd have to work on getting that out. It was a long night and early morning. He even had to be re-cauterized because he hadn't peed!!! Poor guy.

On a GREAT note, Charlie has been off pappy all morning. He went 6 hours and then we let him back on pappy because we wanted him to nap. He did Great. We are going to be transitioning today out of the PICU and will be moved to "the floor" tomorrow. So that's wonderful news.

On a not so good note, Charlie's stomach still isn't working so we haven't been able to feed him his normal feeds. I am so glad that we have our SMA family to teach us things because we were able to request that the hospital start him on TNA(an intravenous food that it better than normal IV fluid because it has more nutrients). This wouldn't be typical protocol for a child having this surgery done. But knowing what we have learned and that it can be really dangerous for SMA Type I kids to fast more than 4 hours, we feel very lucky that he is on TNA right now.

Charlie did scare me this morning as well as a few more times. I've always heard a lot about SMA kids having Vasos Vagal episodes – where the pulse drops drastically. That happened several times this morning. I think it's when he pooped and then when he really got gassy and couldn't get it out. It's scary, but we couldn't be in a better place.

He is still charming everyone who meets him. I went to introduce myself to a newly diagnosed family. They have a 5 month old daughter who was recently diagnosed with SMA. She may have a type that has addition respiratory distressed. Meeting them brought up so many memories…

I better post this update so people don't worry. Charlie is doing great! We continue to be so proud and amazed by his resilience and positive attitude through it all.

Wednesday, May 9, 2007

UPDATE

Charlie had an awesome day today. As you know, he was extubated to his Bipap at 9:30 this morning. It was such a non-event and something that John and I didn't need to worry (but we did a lot!!)

It's really funny. We have a friend who has SMA, Malorie. She is a little older than Charlie and she had the same surgery at the same time as Charlie just in a different hospital. It was so wild that they were doing things at the exact same time – the end of surgery, the extubation everything. I guess they both had a lot of the SMA Angels who are already up in Heaven looking after them both.

I'm sitting here watching him sleeping so peacefully. He's sats are 99 which is GREAT. He was able to take a 2-hour break from Bipap today. For him to be moved out of the PICU, he needs to be on Bipap just like he needs it at home. Meaning only when he naps or overnight. So hopefully tomorrow he'll be able to stay off pappy even longer. I think we could have pushed him longer today, but we thought we shouldn't wear him out. He was staying at 99-100% so it was so good to see.

I'll update again when I can. But really, he's doing better than we imagined. His stomach isn't working very well yet, so we feel so glad that we started the TNA (a intravenous solution) so we don't have to worry about that yet. So that will be the next BIG hurdle we have to get past.

Hugs to everyone and thanks for keeping Charlie in your prayers.

Charlie was extubated at 9:30 this morning. He's doing well on his pappy (BiPap) and it's GREAT to hear him talking. He's very busy telling us what to do including giving him hugs and kisses.

We are doing our best to control his pain. He is such a trooper and truly our hero.

Another BIG hurdle was crossed this morning. Keep those prayers coming -- they are working!

He's happily singing to and watching Sponge Bob Squarepants!

Tuesday, May 8, 2007

Update 9:41 p.m.

Charlie is doing well. He is still intubated so we can manage his pain levels better. He is running a low grade fever which they say is normal. He is being very brave. He is not getting any more oxygen through the vent so that is awesome. They plan on extubating him tomorrow morning.

We are over the big hurdle, but still have a long way to go. We appreciate all the prayers and support, and if you can, please keep them coming.

I'll update again later. Hugs and prayers - Kim

update Charlie is doing well. He came through surgery great. He's still heavily medicated for the pain so he's sleeping a lot. They are weaning him off O2 with hopes of extubating him tonight or first thing tomorrow morning. He is our trooper. Please continue to keep him in your prayers.

--------------

First, let me say that John and I are overwhelmed by the love, prayers and support we've received. We are truly blessed to have so many wonderful people in our lives. A big thanks to our family and friends for all they are doing to help us, both at home with Lily and in prayers for Charlie's surgery.

Charlie went into surgery at 7:45. They came out about 9 to say that the surgery was started. We still haven't heard any updates and they are suppose to update every hour and a half to two hours. We are on pins and needles.

Charlie was so funny last night and this morning. He loves being the center of attention and he was doing his best to entertain everyone. He is our amazing little guy.

I'll post again when we hear an update.

Thursday, May 3, 2007

Just wanted to send an update on Charlie and ask for your prayers. We will be leaving on Sunday to travel to the University of Wisconsin Hospital in Madison for Charlie's growing rod surgery. We will have his pre-op appointment Monday and they will let us know what time his surgery will be on Tuesday. We are very nervous, but know that Charlie is a strong and amazing boy. Please pray for Charlie, that he will come off intubation in a timely manner, that his pain will be manageable and that his recovery will be speedy so we can be discharged soon. It will be a long healing process at home as well, but we all know that it's so much better to be home than in the hospital. We've been told to expect 7-9 days in the hospital.

Please also add some prayers for Lily and Grandma. They will be staying here (with the exception of a weekend visit) so that Lily can finish her school year. We will miss them.

Hospital:

University of Wisconsin Children's Hospital

600 Highland Avenue

Madison, WI 53792

608-263-7337

Hotel:

Residence Inn Madison

8400 Market Street

Middleton, WI 53562

1-608-662-1100

I will be trying to keep updates posted on the websites listed below if you want to keep tabs on us :0) Thanks so much for your prayers and support!

Amazingly so, there are three other SMA friends who are having the SAME surgery as Charlie. Syndey, Malorie and Charlie are on Tuesday and then Erinne on Friday. Please keep them all in your prayers.

We are also having a lot of our SMA friends getting sick. I thought cold/flu season was over, but apparently it's hanging on. Prayers for all of them...

Hugs to all! and ...

God Bless ~

Wednesday, April 25, 2007

It's been a hard weekend. Our dear friend Kalair, who was the first little girl we met with SMA after Charlie was diagnosed, was really sick last week and was admitted to the hospital on Friday. After a courageous fight, our dear sweet friend earned her wings and flew to Heaven yesterday morning. Our hearts are breaking and we hope you keep her family in your prayers.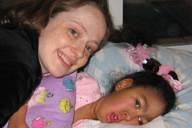 You can read more about this incredible little girl at www.our-sma-angels.com/kalair. She was 7 years 2 months and 1 day old when she earned her wings. She is and always will be our inspiration.
Wednesday April 18, 2007
We took Charlie to school yesterday for his class photo. All the kids were so happy to see him and Charlie relished being back with his friends. It was a short day because it was an early dismissal day. He had photos, recess, snack, reading and then home. But man, was he happy. He had Blue with him so it was so much fun watching him play outside on the playground with his friends. The kids were having fun running around with him. It was a great day.
Today, we took Charlie and Blue to Lily's school to see her Spring Musical. Lily did a GREAT job and Charlie loved yelling and clapping for his sister – they are quite a pair. Charlie enjoyed driving Blue in the hallways at Lily's school. He kept asking to go faster and faster. After that, he had therapy and he enjoyed buzzing up and down the halls at the office building. He says hi to everyone he sees and is just Mr. Social. We are getting ready now to run down to Abby's nursing school to visit with 90 nursing students. Wish us luck! Ok, we are back. Charlie had so much fun cruising in Blue around in the halls at the nursing school. He loved being the center of attention with Abby and a few of her friends. He was playing chase with them before class started. I was so proud of him during the presentation. He was in a lecture hall in front of at least 40 students. He was being a ham. He was so excited to see a BIG screen filled with photos of he and the family. He would get mad at me if he couldn't see. I think the presentation was a success. The students asked good questions and it was great to at least inform so many future nurses about SMA so that they will have some back ground if they ever come across a little baby fighting this awful disease. It was nice to show a group of future professionals that there is hope and there are options for our kids.
Monday, April 16, 2007
I've gotten back into old habits of starting to write updates and then never finishing them or posting them. We've been home for two weeks now and I still feel like I'm playing catch up. I hope every one had a very Happy Easter! We had a great day of fun with the kids at home and then with Grandma and Uncle David later in the day. Unfortunately, cousin Sidney had Chicken Pox, so we missed seeing them. The kids woke up Easter morning excited to see if the Easter bunny had come. They came down stairs and started hunting for their baskets and eggs. Charlie loved driving Blue around searching for eggs and Lily was a great little hunter too. Then it was off to Grandms's for a yummy lunch and another fun egg hunt. Charlie and Lily wanted us to hide them again so they could have more fun.
We are on a whirlwind this month. Lily has so much going on at school and her soccer has started as well. I can't believe she is on the down hill slide for Kindergarten being over. We need to get organized and figure things out for Charlie's surgery in May. It's been so easy putting it on the back burner and being in denial that we are really going to be doing this so soon. April is half way over and we leave for Madison in early May. Crazy how fast time is flying.
Today is a beautiful day (finally after weird cold last week and even snow this weekend). I sure hope that Spring is here to stay. Charlie and Lily are so ready to be playing more outside.
I better run so I get a little update posted. I will try to post Easter photos soon. Hugs to all.
Saturday March 31, 2007
I'm sitting in a hotel room in Russellville , AR on the last night of our vacation. We will be home tomorrow after the two most incredible weeks. As sad as the kids were to leave the ocean (Lily cried), we are ready to be home again. We've been away from home for a long time.
We had so much fun in Destin, but it was definitely a lot more relaxing than the week before in Orlando . We spent a few hours every day at the pool, the ocean or on a pontoon boat watching Dolphins. We napped every afternoon and just enjoyed down time with the family. We actually cooked at home every night but one – just because it was nice to stay home and not fight crowds. We were blessed with incredible weather the whole week on the beach. Charlie loved playing in the "sand box" and the kids were crazy about playing in the waves with Daddy. We built sand castles, buried our feet in the sand and just enjoyed the beautiful ocean.
I'll try to post photos of the Destin part of our trip soon. It will be good to be home and I'm sure I'll be playing catch up for awhile.
It's also hard to believe that today is the first anniversary of John's last day at American Century. The year has gone so fast, but it also seems unreal that it's only been a year.
Monday, March 25, 2007
Today is the memorial service for our dear friend Logan Watt's. He was 2 years old and such a strong boy. Our hearts and prayers are with Matt, Deb and their family on the loss of precious Logan. It was very unexpected and as always losing one of our SMA angels friends hits closer to home than we want to think about. Please keep his family in your prayers. Fly High Angel Logan, run free like you were never able to do here on earth.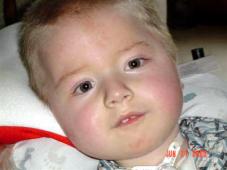 Sunday, March 25, 2007 (This next bout of updates will be backwards because it started with our first day of our Give Kids the World trip)
Monday, March 19, 2007
Today we checked into Give Kids the World (GKTW). And all we can say is WOW! What an amazing place. Everyone is so friendly and the place is a fantasy land. Just today, we've been on two carousel rides, saw Old Henry the snoring tree, played with blocks inside the Enchanted Castle where Lily looked into a magic mirror and saw that she is truly a princess. After having a snack of ice cream we went on to ride a train, drove some mini motorized boats and played with some model trains. We were pooped! We rested up before a great dinner at the Gingerbread House and another trip to the ice cream shop. The kids are all safe in bed and probably dreaming of their big day at Disney tomorrow! I know I will be! I'll update more when I can.
Tuesday, March 20, 2007
Today was a GREAT day. We are all wiped out and the kids didn't make a peep (after we had to fight them to get them to bed – they weren't done having fun) once the lights were turned out. They should be exhausted! The day started out with a chance to meet the mayor of GKTW, Mayor Clayton, as well as a fun clown who made a balloon dog for Lily and a yellow sword for Charlie. Then we went to spend a full day at Disney World. What an adventure we had. We rode the ferry boat over to the Kingdom. It was fun watching Cinderella's castle getting closer and closer. We worked our way up Main Street towards the castle and then went to find Fantasyland. It was just amazing how we were treated at Disney. Charlie wore his Give Kids the World button and anytime any cast member saw it, we were treated like Kings and Queens . We went to the front of lines, had special back stage viewings with characters and more. We started out on The Many Adventures of Winnie the Pooh – a fun ride that the kids both enjoyed. After that ride we were able to have a meet and greet with Winnie the Pooh and a short while later Tigger too. The kids pulled out their autograph books and were so excited to have the first of MANY signatures. The rain started at this point so we bought everyone rain ponchos and ended up going on the Peter Pan ride. After that ride, the rain was mostly over. We went on the It's a Small World ride and then the Dumbo ride. The kids loved them all. Then we went through Minnie's house. After that, it was time for the parade, so we went to watch it. Several characters saw Charlie's button and either came over for a hug/high five or waved and pointed from the floats. Lily and Charlie felt so special. After the parade, it was back to Fantasy land for some visits with so many of the great Disney characters. We were escorted to the front of all the lines and even had the Princesses ask us to wait until no one else was in the room so we could have a special photo with ALL of them at once. It was incredible. We got to see Belle, Cinderella, Snow White and Prince Charming. We also got to see Daffy, Donald, Minnie, Goofy, Chip, Dale and Pluto. The kids were loving all the signatures.
After we left that area, we were told where we could see Mickey again. So we went to his house and had another private visit with Mickey.
We accomplished more at Disney in that first day then we would have in three days without the VIP treatment we got. It was wonderful not having to wait in any lines and to be treated so well. It truly is a place where dreams come true.
We came back to GKTW and had a wonderful dinner and got to see Mayor Clayton again.
Wednesday, March 21, 2007
Today we spent the morning at Sea World. We watched a couple of the fun shows. The first was the Dolphin show and then we went to the Sea Lion show. Both were great fun. The kids loved seeing the animals perform. We also went to visit the penguins and the alligators. We finished off the morning feeding the dolphins and the sting rays.
We then went to Disney/MGM were the kids got to watch the new High School Musical parade and show. It was a zoo with all the kids going crazy. We also got to meet Buzz, Woody and several of the big Green Army men from Toy Story. Then it was off to the Beauty and the Beast show as well as Voyage of the Little Mermaid. The kids were tired after another fast day, so it was home in time for a wonderful dinner and ice cream! The kids wanted to ride the merry go round again so we did that a few times before bed. We also got to go see where our star was placed on the ceiling. There are more than 50,000 stars (one for each Wish child/family) on the ceiling.
Thursday, March 22, 2007
We had a fantastic day today! Today was our photo at GKTW with Mickey and Minnie. We also got to see Pluto and Mary Poppins. After breakfast at the Gingerbread House, we went to Disney's Animal Kingdom. The first thing we did when we arrived was go to the Lion King Show. It was incredible. Lily was chosen out of the audience to show our side how to "roar like a lion". She did a great job. Then when the show was almost over, a cast member came over and asked if Charlie could be in the parade around the stage – she took Lily too. You should have seen Charlie and Lily's faces. The smiles were heartwarming. Charlie LOVED it and I don't think I could stop grinning ear to ear. It was a little nerve racking when Charlie was taken around the other side the stage. But man, so worth it for Charlie to feel like a part of the show! From there we went to see the Pocahontas and friends show. The kids really enjoyed the show as well – even though it wasn't anything like the Lion King Production. Then it was off to the Nemo show ~ another FABULOUS production. As usual, we were treated like rock stars and were in the front row. Charlie and Lily really enjoyed it. And luck was with it, because we missed a short rain shower while we were inside for the show. After that, we headed over to take the Kilimanjaro Safari ride. We rode in an open jeep through the "jungle". The kids loved it. We saw lions, leopards, hippos, giraffe, zebras, lots of gazelle and deer, water buffalo, ostrich, and elephants. I'm sure I'm forgetting something, but what a fun adventure that was. We then rode a train out to meet Pocahontas and Rafiki. Again, we were treated like VIPs. Our final fun at Animal Kingdom was It's Tough to be a Bug. Charlie wanted to leave at the very end because it was scary LOL. Then it was home for dinner and Christmas at Give Kids the World. We thought the fun was over when we left the park, but did we have a GREAT time at Christmas. The kids got to see Santa and Mrs. Claus and pick out a present. The kids also made their pillows in the Elmo pillow machine. We were headed home by then, but one of Santa's elves outside took Charlie and danced with him in his chair. She did a train with Charlie as the engine for 30 minutes! Not kidding. Charlie would yell more more whenever she tried to stop. We played out there for an hour in the "snow" (bubbles blowing from the roof). We ended the night with another trip to the ice cream shop.
Friday, March 23, 2007
Today was our last full day at GKTW. It started with a special visit by Barney, Baby Bop, DJ and Jimmy Neutron. Then it was off to another wonderful breakfast at the Gingerbread house before heading to Universal Studios. Although, the staff was amazing at Universal as well, Charlie was so sad when he couldn't ride on any of the rides. We did get to see several fun shows, such as Shrek and Barney. We also got to meet several characters like Woody Woodpecker and Winnie, Scooby Do and Shaggy, Sponge Bob, Dora, Barney, Shrek, Donkey and Bullwinkle. It was a fun day, but we came back to GKTW so that we could enjoy the warm pool before dinner. We had a quick swim, quick bath and then ordered pizza to be delivered. The volunteers at GKTW are so wonderful and the food was great. It was so nice to go a whole week without cooking a meal or cleaning up after dinner. After dinner it was up to the Princess and Pirate party where Charlie and Lily got tattoos, hands painted, make up done and then some fun dancing.
Saturday, March 24, 2007
John took Abby to the airport really early this morning. Lily woke up and saw that Abby was gone and crawled in bed with me bawling. She was so sad that Abby was gone. It's great how much the kids love Abby. She is a special part of our family now.
We spent our last morning at GKTW. We had a nice breakfast again and then spent time on the merry go round and in the Castle of Miracles . We also went back to ride the train a few times before having to pack up and leave. It was so sad to leave GKTW. It is such a magical place and everyone is so incredible – from the staff to the 1000s of volunteers.
We got in the car and drove to Destin were we are staying for the next week. We think the kids will be bored after the excitement every day last week :0)
Sunday, March 25, 2007
Today was a wonderful day. The kids slept in (sorta) and then we eat breakfast and went to Wal-Mart to get supplies for the week. We then took the kids for a short trip to the beach. Lily and Charlie had so much fun in the water. John would carry Charlie and dip his legs and hinny in the water. Then he would jump the waves with Lily right beside him. Charlie wanted to make sure he was in the action just like Lily :0) We stayed about 1 ½ hours which was still probably more than we needed :0) I'm sure we'll be back every day. I'm off to bed, but hope to update more later.
We've just been having an incredible time these last days. It's been like nothing we've ever experienced before.
March 16, 2007
I'm sitting here in a dark hotel room in Paducah , KY. We've made the first leg of the trip to Florida without any incidents. Charlie is sleeping peacefully next to me. All day long, he couldn't stop talking about seeing Mickey. We got here around 6:30 and John took the kids for a quick swim. Both Lily and Charlie LOVE the pool so they were very excited. Tomorrow we'll hit the road early and see how far we can make it. Just thought I'd update while I can. Not sure if I'll have access or not at any of the next locations.
We are sending prayers for a few of our sick SMA friends, Sophia D. and Julia K. I haven't heard updates about Ryan or Ally, so if you have spare prayers you can add them too.
March 12, 2007
We had two special visitors tonight ~ Andrea and Jerry volunteers from Make A Wish. It was such a wonderful surprise for the kids. They came bearing 6 bags full of goodies to enjoy on the trip – matchbox cars, videos, polly pockets, little pet shop stuff, coloring books, stickers, crayons and fun blankets for the car. The kids were in Heaven and Charlie couldn't stop saying "oh thank you thank you!" it was so much fun for the kids! We leave on Friday and we are all SOOOO excited for the once in a lifetime trip to Give Kids the World/Disney. THANK YOU Jerry and Andrea for the wonderful kick off to our trip!
March 12, 2007
Lily is finally over her cold. Luckily she never got a fever, but her cough was awful. I took her to the doctor a week ago Sunday and she has an ear infection. She hadn't been complaining about the ear so that was a big shock. So she been on antibiotic for her ear. It took more than a week but she is finally better. Charlie came down with a runny nose last week as well. He's still a little congested, but overall he seems to be doing well. We gave him the whole "cold routine" of CPT, Nebs, Postural Drainage, etc for the last week and it really seems to help.
I can't believe we head out on Friday for Florida and Charlie's Make A Wish trip. Where is the time going!
John's parents came down on Friday night for a long weekend. We took them to the KC Auto Show on Saturday because we were hoping to see a couple different conversion van companies – but there weren't any there! Oh well. On the way home we stopped by the Liberty Memorial/WWI museum. We've never been and it is really neat. You definitely need to go without a 3 and 5 year old though! They lasted about an hour and they were ready to go. That night, John's parents, John and I went to church and to a nice dinner and movie. It was fun to get out with them.
Sunday Lily and I took Grandma Sykora with us to my nephew Bobby's birthday party. Lily had fun dragging Grandma Sykora, Grandma Ruisch and me through the inflatables. The party was at a place called Pump It Up – there are 6-7 different inflated slides, jumpers and obstacle courses. It is such a work out LOL. I think both Grandma's were ready for naps when we were done.
Charlie is napping and I'm procrastinating. I'm suppose to be packing or at least getting things out for the trip, but I'm so overwhelmed I don't know where to start :0) It will be all worth it when we get to Florida , but I hate packing. I better go try to get some more done. I'm so glad to say that Spring appears to be here! Now, maybe we'll get rid of all the germs and sickies going around.
February 25, 2007
I'm going to stop apologizing and just realize I'm a sporadic updater. We have had a busy few weeks. We had friends over for Super Bowl Sunday. Charlie and Lily loved seeing Carrie and Drew. They had fun playing with them while watching the big game. It was so nice seeing them as it had been a long time.
The next big thing was Valentine's Day. We took Charlie to his class party and all the kids were so happy to see him. Charlie was so excited to be back at school. When the party was over he was so sad and said I was mean because I was taking him home! I wish we could start bringing him back to school, but it's too germy still and we don't want him sick for his big Make-A-Wish trip next month!
Last weekend, we drove up to Des Moines , Iowa to meet up with Mona, Rick, Anna and Sarah (John's sister and her family) for a long weekend of swimming and playing. It was so much fun. We hardly saw Lily because she and Sarah were playing in the other hotel room every free minute they had. Anna played a lot with Charlie as well as the other girls, so we seemed to see more of her. It was a fun weekend and the kids are still talking about wanting to play with Anna and Sarah again soon.
On Wednesday, it was so nice and warm (finally) that Charlie and I took Blue to his therapy appointment and then he wanted to go to Wal-Mart to drive some more. Of course, he had to go to the toy section and point out all the toys he just HAD to have. Needless to say, he came home with a little something – I just can't refuse :0)
It was nice for the rest of the week, so we took advantage of being able to be outside more.
Yesterday, we went to our friend, Kalair's 7th Birthday party. Kalair has SMA just like Charlie. She is such an inspiration to us all. We owe so much to her wonderful mommy Liz. It was Liz who we talked to when Charlie was first diagnosed. She helped show us what we needed as well as came over to help us make sure we were doing everything right (she brought another SMA mommy – Kristal – with her too) They were and still are such big help to us whenever we have questions or problems. Anyway, Charlie was having so much fun playing with Kalair and Arturo (Kalair's little brother) that he didn't want to leave. So we've promised to have another play date soon.
Today, we are just hanging close to home. It turned cold again…….We can't wait for Spring to be here for good! 19 days until we leave for Disney! We are so excited counting down the days!!!
February 3, 2007
Once again, almost two weeks sneaks past me without an update. We took the kids to High school musical a week ago Tuesday. The kids had fun. It was so loud and all the screaming in there made me feel like we were at a Rolling Stones' concert of something. It was sold out and there were 1,000s of tweeners screaming for these people. It's amazing to see. We left at 9 because it was so late to keep Lily and Charlie out on a school night. But I heard we only missed about 20 minutes. Lily was pooped and fell asleep on the way home. Not Charlie though. He was wired :0) Lily was very tired the next day at school, but I think she thought it was worth it.
She enjoyed being Star of the Week all week. We brought pizza for a snack and cookies another day and fruit roll ups the next. On Friday, Charlie, Daddy and I went to meet her for lunch. She enjoyed all the extra attention. Later that afternoon, I took Charlie to Target so he could drive Blue for awhile. It is so fun shopping with him because he is so good about staying close by and he has so much fun cruising around on his own. He spent a lot of time in the toy section trying to figure out what he wanted to buy. Oh, he is such a three year old. But it's GREAT to have him able to do that and check out things on his own… I talked him out of a Buzz Lightyear figure – it was big and the buttons were too hard to push. Instead, he made it home with a train called Rosie – from the Thomas collection.
On Sunday, we took the kids to get some new fish at the pet store. Charlie took Blue there as well, and did a great job even in the tight quarters of the fish section. We picked out four fish and a shrimp. It's been almost a week now and we only have two left alive. We aren't sure what's going on, but we also lost two of our original fish that we'd had for about a year. We don't think it was our water, but we aren't aquarium experts!
Last week seemed to go very fast. John and I actually had TWO opportunities to go to the movies. Since we aren't taking Charlie to school right now, we went to see Dreamgirls on Thursday in the middle of the day. Charlie was home with Nurse Lori and Lily was at school. Then on Friday night, we had dinner with friends and then went to see Notes on a Scandal after that. Both movies were enjoyable and it was nice to hang out with my hubby.
Today we went to see Elmo Makes Music at Kemper Arena. It is such a brutally cold day that we weren't too sure we wanted to take Charlie out, but we bundled him up and ran from the van into the arena. The show was definitely worth it. We were on the floor near the side of the stage where a lot of the characters ran in and out of the staging area behind the stage. So Charlie and Lily got several high fives and handshakes from a bunch of the gang from Sesame Street. We weren't able to get any photos of that, but we did take some photos of the family as well as the show on stage. I'll post some later.
This afternoon, lily is at a birthday party and John is making Chili for tomorrow's super bowl. We are all counting down the days to Spring Break. We leave March 17 I think to drive to Orlando for Charlie's Make A Wish trip to Give Kids the World and all the theme parks. It should be a ton of fun.
I'll sign off and try to be better at updating.
January 24, 2007
We had a very busy day yesterday. Lily's school was canceled because of a water main break. So I took advantage of a weekday off to take Lily and Charlie to see a movie. We went with nurse Lori and Grandma. The movie was Arthur and the Invisibles (I think that was the name). Anyway, the kids enjoyed themselves. It was a good movie. Then the best part of the day was going to High School Musical. We had seats in the handicap suite, which was FAR away from the stage, but as loud as it was that wasn't a bad thing. It cracks me up how much those actors are superstars to these kids. You wouldn't believe the screaming and chanting for them. I felt like I was at a Rolling Stones concert or something. We put cotton balls in the kids' ears to make it a little less loud. :0) But it was fun. The kids had a great time and we snuck out early (about 9) because we didn't think keeping out our 3 and 5 year old so late on a school night was worth it for us. Lily fell asleep in the car on the way home and hardly woke when we got home even with taking her potty and putting on PJs. I think they both had fun.
We also had a good week. Nothing too exciting during the week, but on Friday we asked Abby (a dear friend) to meet us out for dinner at Macaroni Grill. She came and it made the kids so happy. We found out that her birthday was the next day, so it was fun to get a cake and help her celebrate. The kids just love singing Happy Birthday. After dinner, Abby came home with us to play some games before bedtime. We all love Abby.
It started snowing on Saturday just in time for John and Lily to go to the Father/Daughter dance. They were invited by three of Lily's schoolmates and their fathers to join them at their club for the dance. They had a great time and John was even sweet enough to plan ahead and get Lily a corsage. He even thought aobut asking the other families if they wanted him to get one for their daughters. I was very impressed. John was even good about taking photos. I hope to have them up soon.
Lily went over to her friend Julia's house on Sunday for the day. Julia's dad took them sledding for several hours at a park near their home. I guess it has a pretty good hill to sled down. We bundled up Charlie and took him out sledding in the neighborhood. I was his 'horse' and pulled him up to a few neighbors' housed for a visit. He was having so much fun. It was a great day because it wasn't overly cold and the snow was perfect. Later that night, Lily and I went to meet my mom, brothers and nieces and nephew for dinner. It was a fun ending to a wonderful day.
It was the start of Lily's week at school of being "Star of the Week" We made a huge poster board collage of photos of her from baby until now along with lots of photos of her school friends. Then we brought star shaped cookies for a treat. Grandma went up to meet her for lunch so it was a great start of Lily's special week. Today, John went to the class before lunch and read one of Lily's favorite books – The English Roses by Madonna. Then he ate lunch with her. We have something fun planned every day this week.
I hope all is well. It's been a good week.
January 15, 2007
It's been awhile once again since I've updated. I don't know why it's getting so hard to do it on a regular basis :0) We've been having fun as usual. The kids really enjoy bowling, so we went again. Both Charlie and Lily are getting better! Charlie uses the ramp, but he can hold/balance the ball at the top of the ramp and let go all by himself. It's so much fun to watch him doing things by himself. Lily has developed an interesting way of running to the top of the lane and throwing the ball. John and I cringe every time the ball drops, afraid that it will hit her foot or break the lane!
We had been enjoying a very warm winter. It was in the 50s for several days until overnight it dropped drastically and since Friday we've been under winter storm warnings. We didn't get much snow, but the sleet/ice was pretty substantial. It looks like we have a bunch of snow outside, but when you try to play in it – it's solid ice. It's pretty, but cold. High today of 17 with wind chills below zero. A good day to stay inside for sure. The kids have a break since it's MLK's birthday. I'm glad we didn't have to get Lily up and dressed for school today.
Charlie's a little under the weather so we've been doing his chest physiotherapy at least three times a day. It's about an hour treatment from start to finish, so we've been watching a lot of movies in his room the last few days. We are just hoping we can keep Charlie from getting bad. There have been too many really sick kiddos already this winter. We've had several of our SMA buddies in the hospital.
We'll keep Charlie home from school tomorrow and most likely for the rest of the week. We'll see how it goes. Charlie and I haven't left the house since Thursday. It's easy to see how you get cabin fever :0)
I better run. Charlie's not wanting to nap, so I should just get him up. Hugs!
Monday, January 1, 2007
Happy New Year! We pray for a healthy happy 2007 for all of our family and friends. We've been having fun having both kids home for a couple weeks. Lily's had some fun playdates and Charlie LOVES it when Lily's friend Julia is over. He has the biggest crush on her. The girls performed many dance shows for us too. It's funny how they go upstairs to rehearse and then they have a whole routine. Charlie thinks it's funny too.
We went out to dinner with Grandma and the kids for New Year's Eve. We go to the same restaurant a lot and always have the same waitress. It's nice that they know us so well there. When we got there, our friend Gary (who waits on us) had two presents for the kids on the table. It's been a never ending Christmas for them this year :0) Gary is such a wonderful friend! After dinner we drove to two different places to look at Christmas lights. My parents took me to this one house when we were little. They turn the entire house into a Santa's workshop. There are things on the roof, in every room at the front of the house as well as in the garage and on the drive way beside the garage. Lily and Charlie were in awe. It was so fun to go to a place that I went when I was a little girl. As far as New Year's Eve goes, I think I made it up to 11:30 so once again I didn't ring the New Year in. When Charlie woke to be turned at 1 AM, I made sure to wish John a Happy New Year's then!
Today we had company over to play and watch all the football games. Charlie and Lily enjoyed spending the afternoon playing Will and Weston; they are 5 and 3 so perfect ages for Charlie and Lily. It was a nice way to start the New Year off. Lily returns to school on Wednesday and Charlie on Thursday so it will be back to our old routine soon.
Hugs to you all.
Thursday, December 28, 2006
Lily and I were taking a shower to get ready to go to dinner and meet some friends on Friday (December 22) Lily and I noticed she had a rash all over her body. Her face had been really red all day, but I just thought she was warm from all her dancing. But we took her temp and she had a low grade fever. The rash, the doctor thought might be an allergic reaction to the antibiotic she was on for a urinary tract infection, but the fever wouldn't be from that. So we kept the kids apart and hoped that it wasn't something bigger. We have several SMA friends who are very sick and hospitalized. It's the worse time of the year! I HATE winter!
We've had a fun few weeks until this illness. Lily had her holiday party at school a week ago Thursday (Dec 15). Charlie and I had fun at his school and then I took him home and went to Lily's school to help with her party. It was the last day of class until the New Year as well as her holiday party. It was fun and Lily was ready for a break from school for awhile.
On Saturday (Dec 16), we went roller skating for our friend, Brett's birthday. He also has SMA so it was great fun to see so many SMA kids racing around the roller rink in their power chairs. Charlie had a blast and Lily did awesome by the end of the party. She got really brave and ventured out on her own.
On Monday (Dec 18), Lily, Charlie, Grandma and I went to see Happy Feet. The kids loved it. It was a cute movie. Charlie's secret Santa got him a Happy Feet that dances around when you wind it up. He loves it even more now that we've seen the movie.
Tuesday (Dec 19) was Charlie's last day of school and Lily came with us to class. I thought she would have to sit in the corner and play her video game until the holiday party, but Miss Rachelle is so super sweet that she included Lily in the whole classroom routine. She had fun and Charlie loved having his sister there with him. The holiday party was so much fun.
We have been having so much fun with both kids home for winter break. Lily was all better by Christmas Eve thank goodness since we had a hard time keeping them separate. We went over to Grandma's to celebrate Christmas. What a wonderful evening. We had a great dinner and then the kids opened TOO many presents. They had a fun-filled evening. They were so excited to open all their gifts. We stayed out too late and the kids were pooped by the time we got them in bed.
Christmas day came and Lily slept in, but Charlie was up bright and early yelling at us to get him up! The first thing he asked me was "did Santa come?" "I want to open my presents" He was so excited. We had to wake up Lily because she was still sleeping. We had a great morning opening presents, making a big pancake breakfast and just hanging out. The kids wanted to open all the toys and play all day.
On Tuesday we took the kids bowling. Charlie and Lily had a blast. Then on Wednesday we took them to see Charlotte 's Web, so today we hung low. Charlie played on his computer all day with Nurse Lori. Daddy got him so many new video games to play.
I'll try to be better and post at least once a week. I know this post was confusing, because it jumped around a little, but I was trying to remember all the major things.