But for a moment, as the song tickles her ears, Pruitt is not caretaker, nurse, watchdog, playmate or pharmacist.
She is a mom in a moment.
She smiles.
The joy that some parents find in the first step or soccer goal Pruitt finds in a single, wobbly note.
Content, in love, proud.
And while the challenge of caring for Dani — who has spinal muscular atrophy, a severe muscle wasting disease — falls mostly to her parents, it is with the help of Daniel's Care that Pruitt and her husband, Frank, find the space for moments like this.
"It's such a security blanket they provide us," said Frank Pruitt. "Our mantra is: 'What would we do without them?'"
Helping chronically ill children
Daniel's Care is a special program through Hospice of the Bluegrass that offers chronically ill children the array of services usually offered to terminally ill patients.
For parents, "it's extremely overwhelming caring for a very sick kid. It's what your whole life becomes about," said Donna Armstrong, Daniel's Care Pediatric Program director. "If you can take a piece of that burden off of them so their life becomes more about living, we've achieved our goal."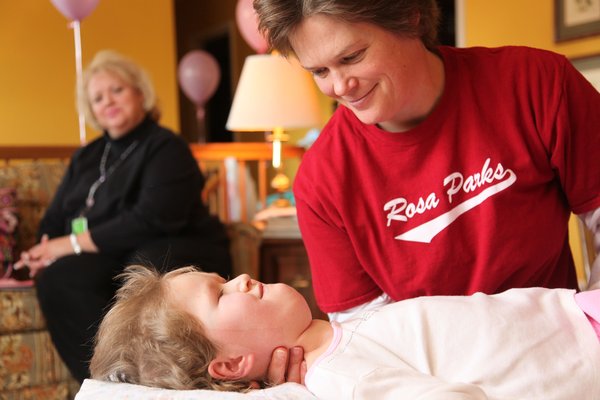 Amy Jamieson, left, a nurse with Daniel's Care, a program with Hospice of the Bluegrass, waited to check on Dani Pruitt, 5, with the help of Dani's mother, Beth. Dani was born with spinal muscular atrophy. Daniel's Care was named for Rick and Joanne Pitino's son who died in infancy. 
The program's name comes from seed money provided by former University of Kentucky men's basketball coach Rick Pitino. His son, Daniel, died as an infant from a congenital heart defect. The family created a foundation in his honor, and the foundation provided the start-up funds for Daniel's Care.
In the first year of the program, 1997, seven patients were served. Last year, 136 families in 32 counties received care.
That makes Daniel's Care one of the largest programs of its kind in the country, Armstrong said. It is also unique in that anyone can make a referral, including families.
Typically to enter a hospice program, a patient must be given a diagnosis of six months or less to live and have a doctor's referral.
With Daniel's Care the children must have a life-limiting illness. Dani, who is 5, has been in the program since she was 7 months old.
Beth Pruitt said she doesn't know how she would get along without her hospice team, which includes a nurse, social worker, chaplain and volunteers. Because of the severity of Dani's condition — she can't sit up, has limited use of her arms and legs and must be monitored constantly to make sure her airway is clear and she can breathe — Pruitt is essentially housebound. For the former UK softball coach, the hospice team is a lifeline.
"Because of them, I get to take a shower," she said.
The team helps with Dani's everyday care, such as a night nurse to monitor her as she sleeps. They also help connect the Pruitts to other services, such as music therapist Dale Lewis.
She has two regular volunteers: Vance Austin, who helps drive her to school and to the theater productions she loves to watch; and Cheri Swartzentruber, who helped convince a local technical school to build Dani a special bike so she can go for rides.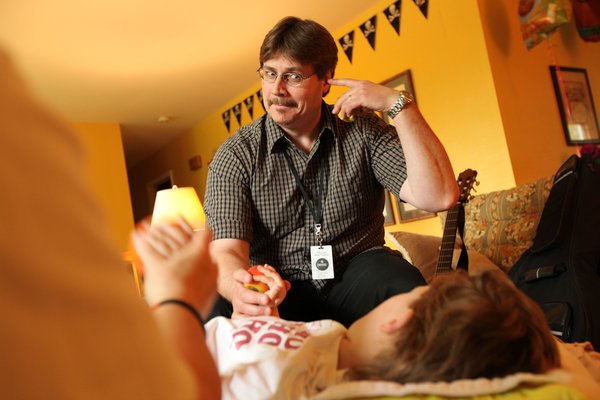 Hospice music therapist Dale Lewis sang to Dani May 13. Daniel's Care helps kids with life-limiting illnesses get the services they need.
Swartzentruber is a retired nurse who said she notices how parents of sick children struggle to do the simplest things. She wanted to help. During her four years as a volunteer at the Pruitts', she said, "I've gotten a little attached."
Quick witted, strong willed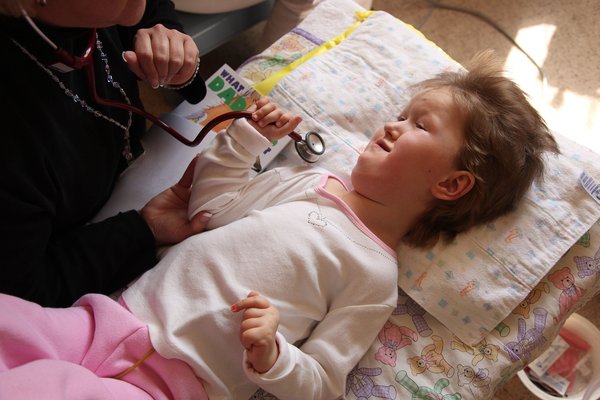 Nurse Amy Jamieson checked over Dani at her home in Lexington in February. Last year, the program helped 136 families in 32 counties get the services they needed and the time to take a moment for themselves. 
Although her physical condition is weak, Dani's personality is strong. Pruitt said her daughter is 90 percent like other kids; she loves Cinderella, has a quick sense of humor and strong idea about how others should behave around her — all eyes on her, please and thank you, and if there is a camera around, you had better wait until she smiles.
"Dani knows how to work a crowd," said her dad, Frank Pruitt.
Her volunteers and team have been around her long enough to understand her moods and appreciate her good days.
That is both the blessing and the burden of Daniel's Care volunteers and staff, Armstong said. They really get to know a family and acutely feel the loss when their services aren't needed anymore.
But, she said, people volunteer to be a part of Daniel's Care.
They know that even signing up for the program can be hard for parents.
Hospice can be a scary word.
Beth Pruitt said the Daniel's Care team became involved with the family just days after Dani's diagnosis. She was so overwhelmed by the news that her beautiful little girl was seriously ill she was essentially in shock.
Armstrong said that reaction is common.
Parents "need help reframing their lives," she said. "From the moment you get that diagnosis you are grieving the loss of a healthy child."
But, she said, while "you have to reframe what you are hoping for, you still want all their days to be good whether there are hundreds or thousands."
Making the most of those days costs money. Hospice of the Bluegrass is non-profit and takes all patients who qualify for services.
There is a Medicaid benefit for hospice care. But there is a cap tied to the traditional six-month time frame. Some states have created special provisions to allow extended benefits for sick children. Hospice supporters in Kentucky are lobbying for such legislation.
Until then, Armstrong said, the program is heavily dependent on grants and donations, especially to cover needed equipment.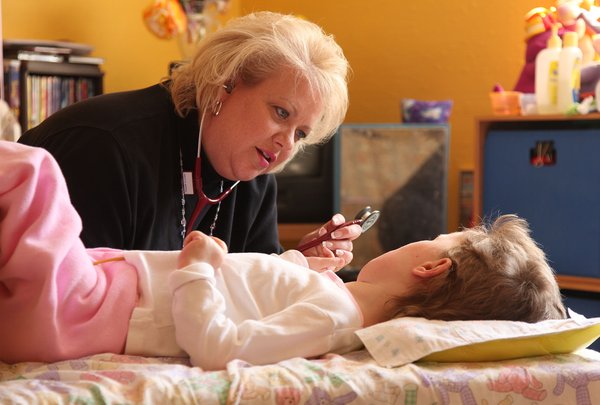 Nurse Amy Jamieson checked over Dani at her home in Lexington in February. Last year, the program helped 136 families in 32 counties get the services they needed and the time to take a moment for themselves. 
Something as seemingly simple as the lift the Pruitts' need to get Dani in and out of the family van can run $5,000 to $6,000.
Multiply that cost across the dozens of families being served.
"It has been and continues to be a challenge," Armstrong said.
But, Armstrong said, her staff is motivated by the determination and devotion of the parents.
"Beth is just amazing," said Swartzentruber. "It's just neat to see how she responds to Dani."
Frank Pruitt said he and Beth know Dani's life is in a fragile balance and that she could go at any time.
But they do what they can to make the most of the time that they have.
And for Beth Pruitt, who is the primary caregiver, that is with ease and praise and constant touches. Smiles and questions and endless rounds of games. Painted fingernails and painstaking attention to medications.
There are good days, and some not so good, but there are always moments to smile.
Reach Mary Meehan at (859) 231-3216 or 1-800-950-6397, Ext. 3216.