Webcams link 3-year-old, her classmates
It's song and dance time in Amy Stults' preschool classroom. Ten students form a circle on a rug scattered with colors and letters. The 11th spot is taken up by a laptop computer, webcam and speakers, all perched on a red cushion with wheels.
That's Dani Pruitt's spot.
Dani, who will turn 4 in March, is lying on a table in her living room. She watches the action in the Rosa Parks Elementary classroom through a webcam that lets her see her preschool friends; another webcam lets them see her.
She has the most aggressive form of an often fatal disease called spinal muscular atrophy, and right now it's not possible for her to attend school with her classmates. The congenital condition makes it hard for her to talk, swallow, breathe or make all but the slightest movements.
For the past two weeks, Dani has attended preschool for about 45 minutes a day, five days a week through the webcam at home. It's the first time Fayette County schools have used video-conferencing technology to help a child attend school.
Dani went to school until November, when her parents worried that she was too fragile to contend with flu season and cold weather. To many in the class, though, it's like Dani never left.
"We're able to access her, not just three days a week, but five days a week," said Stults. "We get to see her more times than when she was actually in class."
Dani insists on participating in all aspects of school. When preschoolers in the Rosa Parks classroom are charged with washing their hands at the sink, Beth Pruitt thinks her daughter can use hand sanitizer.
But Dani presses her.
"With soap and water," she says. Her mother carries her to the sink.
When it comes time to dance to the Wiggle song, Dani sings along in a whisper as her mother moves her arms, her legs, her fingers so she can make the same motions as her classmates.
"I can't say enough about Rosa Parks," says Beth Pruitt. "They look for ways of helping without us asking."
Stable, fragile and happy
Dani was diagnosed with spinal muscular atrophy at 7 months old and was given three to five months to live.
Almost four years later, Beth and Frank Pruitt no longer pay attention to any prognosis. The parents use the services of Hospice of the Bluegrass while at the same time trying the latest medical treatments. Dani undergoes aggressive physical, occupational and speech therapy.
Their daughter's medical condition is stable but fragile now, they say, and she's happy.
Beth Pruitt describes her daughter as a precocious child who can read several words, especially her Christmas list, which includes a Lucky Ducks game, a pirate ship, a real monkey and a gorilla. She's a Peter Pan fanatic.
"I want Peter Pan to rescue me from Captain Hook," Dani says.
Dani's favorite part of preschool is dress-up time. Along with the webcam, she has dress-up costumes, building blocks and other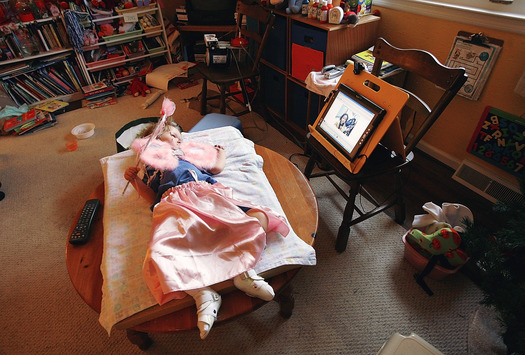 From home, Dani Pruitt played dress-up Monday with preschool classmates at Rosa Parks Elementary School. She and the class are in touch by webcams. Photo by David Stephenson | Staff
games from class that she uses at home. Although Dani talks, when it becomes too difficult, she resorts to using her eyebrows -- a furrowed brow means no, a raised eyebrow means yes.
After lunch yesterday, Jennifer Hurst, an assistant teacher who works with Dani, asks her a question.
"Do you want to play dress-up with your friend Corinne?" Dani's eyebrows shoot up twice and she manages a loud "Yes!"
Her mother brings a box of dress-up clothes into the room. Dani chooses a princess outfit, and her mother dresses her in a pink skirt.
"I have my magic wand," she tells her teacher, after her mother places a pink and frilly stick in her hand.
At Rosa Parks, Corinne Lillywhite, 4, and Makenzie Sizemore, 4, pull on firefighter and police officer uniforms. Dani stares through the webcam, her big blue eyes taking in her classmates' costumes. She then dresses up as Snow White. Corinne dresses up as a doctor, takes Dani's blood pressure and measures her heart rate, using toy equipment.
Dani beams.
Idea came from Vermont
Dani's parents have told her she can return to school when the weather is warm, when flu season is over. A Hospice of the Bluegrass volunteer will pick Dani and her mother up and drive them to Rosa Parks each day.
Dani's virtual school was born after Beth Pruitt heard about a child in Vermont with the same condition who attended school from home using a computer-assisted device. She approached Rosa Parks and wondered whether something similar could be done for her daughter.
The idea for the webcam came from a team of staff members and teachers who worked directly with Dani, said Becky Farmer, a district special education resource specialist. While Dani was still attending preschool, staff members working closely with her realized she wouldn't be able to sustain her time in the classroom. So they began brainstorming ways to bring preschool to her instead. And that's where Jeff Jones came in.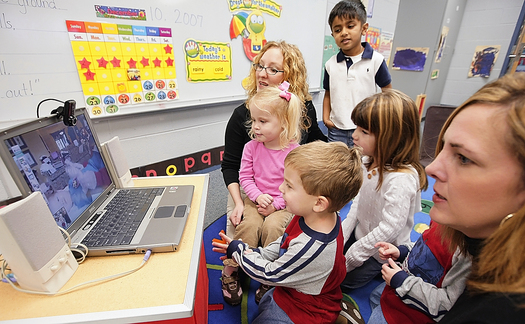 Teacher Amy Stults, left, and her preschool class talked to Dani on Monday. Assistant teacher Jennifer Hurst is at right. Photo by Joseph Rey Au
Jones, a technical consultant with the district, set up the webcams at both the school and Dani's home. He said Fayette County typically uses video conferencing at high schools or for specific events or projects.
Stults, Dani's teacher, says it has been wonderful to see Dani laugh and talk with her friends. But the experience has also been bittersweet. Last week, when the class logged off the computer for lunch, Dani asked to go to the cafeteria with them.
"I stayed in the room and cried," Stults recalled. "I cried because it was a cool thing that she can be with us, but its sad that she's not there in person."
Dani Pruitt, 3, has spinal muscular atrophy, and right now she can't go to preschool with her classmates. But class remains a big part of her life.