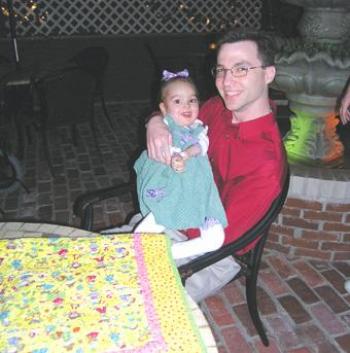 Prominent citizens are being accused of "having a big heart for Jerry's Kids." They're volunteering to be "arrested" and serve time in a mock jail at the Pontiac Elks Lodge on Thursday, Feb. 8, in an effort to raise money for the local Muscular Dystrophy Association.

All money raised at this event stays in the area to serve more than 300 families in central Illinois. The MDA Lock-Up will be held from 10 a.m. until 3 p.m.

Mayor Scott McCoy welcomes this event again into the community becuase how it hits close to home. He has a distant relative who was diagnosed with spinal muscular atrophy (a form of muscular dystrophy) on May 11, 2004. She is Pontiac resident Elizabeth Hallam, 3. Spinal muscular atrophy is the number one genetic killer of children under age two. It is among a group of inherited and sometimes fatal diseases that destroy the nerves controlling voluntary movement. Hallam's family is actively involved with MDA and receives funding from MDA to aid in her care.
More than 200 area executives and civic leaders are expected to serve their sentences "behind bars" for MDA.

According to a press release from the MDA, the organization is a voluntary health agency working to defeat neuromuscular diseases through worldwide research, comprehensive services and far-reaching professional and public health education. In addition to funding ground-breaking research, MDA maintains 230 clinics nationwide, local support groups, provides assistance with the purchase of wheelchairs and adaptive equipment and hosts a summer camp for kids with muscle-wasting diseases at Timber Pointe in Hudson. MDA is the first nonprofit agency recognized by the American Medical Association with a Lifetime Achievement Award "for significant and lasting contribution to the health and welfare of humanity."

Individuals or organizations interested in participating in the Pontiac MDA Lock-Up, or to nominate someone to go behind bars, can contact the local MDA office at (309) 693-8653.