College student has beaten the odds of her disability
Brittany Saylor is a typical college student: She likes pizza, meeting new people and spending time on the computer navigating Facebook.
Though she's quick to dismiss any differences, what sets the Wisconsin Rapids 19-year-old apart from many young adults who began classes Tuesday at UW-Whitewater is that she gets from place to place by wheelchair and uses a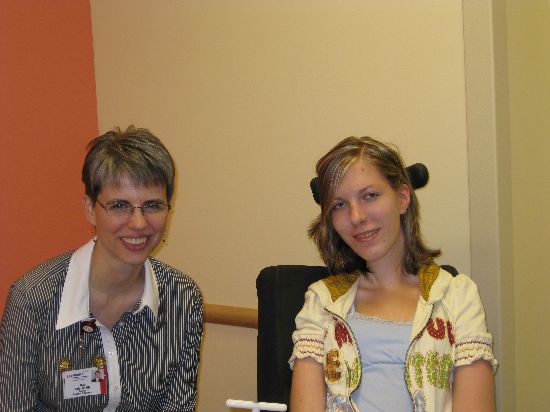 Brittany Saylor (right) was the first patient with spinal muscular atrophy whom Dr. Mary Schroth (left) ever treated.
ventilator at night to help her breathe.
Brittany was diagnosed with spinal muscular atrophy type II at 16 months old. SMA is a genetic disease that affects the voluntary muscles used for crawling, walking, swallowing and head and neck control. There are three categories of SMA in children. Brittany has Type II, which means she uses a wheelchair, cannot sit or stand without support and has an increased risk for developing respiratory infections.
Carolyn and Jim Saylor learned that charting a plan for Brittany's respiratory care was the most important factor in order for their daughter to live a long life, and Dr. Mary Schroth of the American Family Children's Hospital at the University of Wisconsin has been the major force in implementing that care for the past 14 years.
Brittany Saylor and Schroth have developed a strong bond that has been beneficial to both patient and doctor alike. Schroth, a pediatric pulmonologist, said Brittany and the Saylors served as catalysts to help her find her medical niche.
Brittany was Schroth's first SMA patient and she now treats more than 60 children dealing with the disease. Schroth is a member of the medical advisory board for Families of Spinal Muscular Atrophy (FSMA) and leads a presentation each year at the group's convention with her recommendations for respiratory care.
Prior to Schroth's work with the organization, no other doctor had placed such a priority with that area, according to Kenneth Hobby, executive director of FSMA, a national organization dedicated to advancing research and supporting families and patients dealing with the disease.
Hobby said Schroth has established herself as a leading doctor in treating SMA due to her expertise and emphasis on respiratory issues.
"She really brought in this new area to our whole SMA community," Hobby said. "Rather than just looking at the disease itself -- the nerves, the spinal cord, the muscles -- she really focused on the health of the breathing. And that's such a key thing for SMA patients. It's the thing that really makes our children sick, when they actually get pneumonia and have trouble breathing."
The familiarity and trust between doctor, patient and family were apparent in a recent appointment at the hospital in Madison. Laughter and easy conversation punctuated the end of the session in an exam room. Schroth and Carolyn Saylor agree the rapport has characteristics of a family relationship, and they credit one another for listening and being open-minded.
"I told her at the last (Families of Spinal Muscular Atrophy) conference that we were at, 'I don't want to sound egotistical, but we're the parents of your career,'" Carolyn said. "She's like the SMA guru.
"You don't often come across a doctor that you can make that kind of an impact on. Both of us connected at the right time to do some really good things not only for our daughter, but for lots of kids."
Brittany has a great deal of respect for Schroth, too, and concedes she has a comfortable relationship with her doctor.
"It's really laid-back and we talk normal, like I talk to my mom or dad," Brittany said. "It's not stuffy and business-like. It's not horribly fun because you're going to the doctor, but it's better than going to other doctors."
Prior to establishing a relationship with Schroth, it was an emotional challenge for the Saylors in discovering how to properly treat Brittany's disease. At age 4, one specialist said the youngster would never be able to functionally walk but that if she would have started physical therapy sooner, she could have stood, been fitted with a brace and learned to walk for exercise. Another specialist told the Saylors that Brittany would be lucky if she lived to age 7.
"Our hope was that if we did good respiratory care for her and taught her family how to manage her, that she would do well and continue onward," Schroth said. "The experience with kids with SMA Type II is that if they get good respiratory care early on, they will live a long life. That's our goal -- to have Brittany outlive her mom and dad."
There is no cure for SMA, and type I is the most severe of the three forms. In that category of SMA, children cannot sit without support, can never lift their head or neck, and death typically happens within the first two years of life. Symptoms of SMA type III can occur in toddlers to adolescents; children can initially walk but can develop some weakness and eventually need wheelchairs.
A critical component with Brittany's treatment has been utilization of a Cough Assist Machine that helps keep a patient's airway clear. Carolyn learned about the machine while attending a FSMA conference.
She then asked Schroth to investigate using the machine, and Schroth now is one of the biggest proponents of the Cough Assist device. Schroth established a multidisciplinary clinic at the Madison area hospital that not only treats patients with neuromuscular diseases, but also specializes in pediatric rehabilitation medicine and pediatric orthopedic surgery.
Brittany has been using the machine for 11 years.
"Brittany doesn't ventilate well because when she goes to sleep, her muscles are so weak that she doesn't take deep enough breaths to exchange carbon dioxide for oxygen," Schroth said "If we can support that with a machine to give her bigger breaths, she'll do better."
Brittany's twin brother, Brent, was not affected by SMA, and though the Saylors wanted to provide equal treatment to their children, they sheltered Brittany to a certain extent. But according to Carolyn, a can-do spirit radiates from Brittany's personality.
"She may not be able to walk, but that mouth keeps going," Carolyn said. "She's witty, perceptive and has an interesting way of looking at the world."
Since Brittany was a toddler, she never looked at herself as being different from other children and told her parents she wasn't handicapped because she "could do stuff and wasn't broken."
Though she's had setbacks, Brittany is quick to point out that she strives to live as normal a life as she can. The sophomore, who is studying marketing, transferred from UW-Milwaukee to UW-Whitewater this year.
Brittany will live alone in a dormitory. She will have fellow students help her get to and from class, and then will have an aide come by her dorm room when she needs assistance.
She aspires to work in the international headquarters of a cruise line after she obtains her marketing degree, inspired by a cruise the family took to Puerto Rico, the Bahamas and the Virgin Islands following her senior year in high school.
"It's normal to me," Brittany said of coping with SMA. "I'm the one in a chair, and my brothers and all his friends walk. I'm not affected by it, and I just don't think it's a big deal."