Emma Grace Shifflett went to Walt Disney World last summer with her mom and dad.
She touched dolphins at Sea World, rode the magic carpet ride and even had her picture taken with princesses.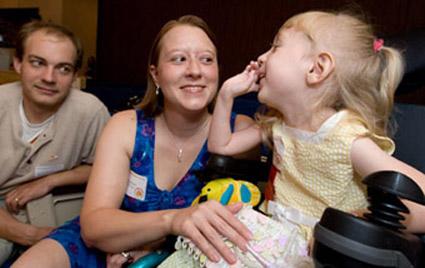 Emma Grace Shifflett, 4, whispers to her mom and dad, Brandy and Darrell, during the Children's Miracle Network telethon at the Brody School of Medicine on Saturday night.
Although meeting Cinderella would be a childhood dream to most 4-year-old girls, for Emma Grace and her family, the trip meant much more.
"This was something she really wanted to do," said her mother, Brandy Shifflett, who lives in Grimesland with Emma Grace's father, Darrell. "She loved it. I was in tears the whole time just seeing her so happy."
Emma Grace suffers from Spinal Muscular Atrophy, a genetic disease that attacks nerve cells in the spinal cord. It weakens muscles and affects the abilty to walk, breathe and swallow. It often takes a child's life before age 2.
There is no cure.
"With her condition, you don't know how long she has," Shifflett said. "I've never actually met another family going through this personally. Sometimes, you really feel like you're alone."
Emma Grace is this year's Miracle Child for Pitt County, one of three children featured by the 23rd annual Children's Miracle Network Celebration Broadcast. Her story, along with those of Ethan Robinson and Kateryah Hamilton, will air during today's broadcast on WITN from 7 a.m. to 6:30 p.m.
Rhonda James, Children's Miracle Network coordinator, says the weekend's broadcast is inspiring.
"It's really hard to describe to someone, unless you have been there," she said. "It's contagious.
"Once you get started, you want to come back year after year."
Last year, James said, the broadcast raised $1.28 million from approximately 1,400 plegdes and other sponsor donations.
The program ranks in the top five each year for dollars raised during the broadcast, even compared to larger cities around the country, James said.
"This is the culmination," James said. "This is the highlight to show what the sponsors have done."
Every dollar donated to the network goes directly to supporting programs and services at Children's Hospital, James said, including patient cardiopulmonary monitors, pediatric emergency carts and camps for sick children.
The broadcast is its largest fund-raising event of the year.
Children's Hospital serves children from 29 eastern North Carolina counties and treated 36,000 pediatric patient visits in 2007, according to a press release from Pitt County Memorial Hospital.
"By calling in your pledge, you are making an investment in a child's future," James said. "It is important to give, because you never know when it could be your child, niece, nephew or neighbor."
Shifflett echoed that point, saying families never know exactly when they will need the hospital.
She said her main goal has been to spread awareness about SMA ever since Emma Grace was diagnosed more than two years ago.
"It only takes one time walking through the hospital to make you incredibly grateful to have a healthy child," James said.