A different way of doing things
Afflicted with spinal muscular atrophy, Hayden MacIntyre has bucked the odds and is passionate about life

Mar 14, 2006
By Chris Hall
More from this author
SCUGOG -- Whizzing around his family's spacious home tucked neatly into the Oak Hills Estates subdivision, Hayden MacIntyre sports a large grin and lets out a loud squeal of excitement before tearing down the hallway leading to the family's living room.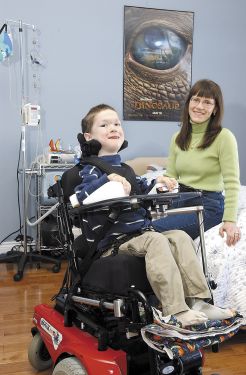 Reaching the edge of the hallway, Hayden quickly spins around, grins again, and barrels back towards his bedroom at the other end of the corridor -- stopping just short of his mother, caretaker and guests with a flick of his left index finger. Sitting ramrod straight in his red, motorized wheelchair -- complete with his own personalized Ontario license plate on the rear -- six-year-old Hayden offers to showcase his bag of tricks, particularly his wheelie stunt that causes his mother, Tina's, heart to lurch each time he attempts it.
Other than the obvious sight of a young boy strapped into a decked-out wheelchair, there is little at first glance that would tell you Hayden has been diagnosed with a rare and crippling disease -- spinal muscular atrophy (SMA) -- that, according to physicians, was supposed to take his life years ago.
"He's a pretty cool little guy," says Ms. MacIntyre of her son, as he turns his motorized chair 180-degrees and whips back down the hall towards the living room again, squealing with delight once more.
Things were not always smiles and giggles for Ms. MacIntyre and her husband Ian, both 39. Married in 1995, the couple enjoyed their time together and worked towards accomplishing some personal goals before opting to jump into parenthood. Five years later, in 2000, the couple were blessed with a little boy and looked forward to carrying out their family plans.
"He was born fine, there were no signs of (SMA) at birth. He could move and breathe fine; he was a perfect little bundle that we brought home," says Ms. MacIntyre.
Celia Klemenz / Metroland Durham Region Media Group PORT PERRY -- Hayden MacIntyre was diagnosed with spinal muscular atrophy at eight months. Hayden is joined by his mom Tina MacIntyre in his bedroom decorated with plenty of dinosaur posters. Mar. 1, 2006
It wasn't until four or five months later, when Ms. MacIntyre and Hayden were participating in a 'moms and tots' program that she began to notice something was different about her son.
"He wasn't wriggling like the other kids, he couldn't lift his head and slowly he stopped kicking and moving his arms," she says. "Something was horribly wrong."
Consultations with two pediatricians led the MacIntyre family to the Hospital for Sick Children where they got the news they never, ever thought they'd hear: On Sept. 12, 2000 -- a date burned into Ms. MacIntyre's memory -- the family was told Hayden, by then eight-months-old, was afflicted with SMA.
"You never expect that your child will have this devastating, horrible, damaging condition," says Ms. MacIntyre of the motor neuron disease.
Known as 'floppy baby disease', SMA affects the voluntary muscles that are used for activities such as crawling, walking, head and neck control, and swallowing. In Hayden's case, he has about 10 per cent of the muscle tone that an average six-year-old boy has and suffers from severe sclerosis which has decimated the muscles around his spine, leaving his backbone prone to twisting.
While it has been a trying five years or so for the family, the MacIntyre's have never given up hope for their son and have invested heavily in his well-being. In order to keep him upright and able, Hayden is squeezed daily into a body jacket that keeps his spine straight and he's also outfitted with hand splints and braces on both knees. All of this enables him to motor about in his wheelchair, a device he's been driving on and off since the age of three.
When it's time to eat, Hayden gets his nourishment through a special tube that goes directly into his stomach and he's hooked up to a special 'cough assist' machine that simulates coughing to help get secretions out of his lungs. And, when the lights go out at night, six-year-old Hayden is hitched up to a bilateral positive air pressure machine that helps him breathe and a pulse oximeter, which keeps track of his heart rate and oxygen saturation.
Told by physicians that he would most likely not make it past the age of two, Hayden has so far defied the odds and grown to be a normal boy with normal aspirations.
"He doesn't have a disability, he just has a different way of doing things," says Ms. MacIntyre of her son, who, like most boys his age, has a strong interest in dinosaurs and a dream of one day becoming a paleontologist.
"He's witty and intelligent, has a great sense of humour and wakes up happy every day. He's ready for each day and is passionate about life and the life that he has. He does not live a pitiful existence by any means."
Despite watching his younger sister, three-year-old Lauren, run around the house each day, Hayden has yet to ask his parents about his condition.
"He's never asked us about his condition, even with a second child running around he never has. He's our little professor -- he teaches us how to do things. He's a wise old soul; he's wiser then we give him credit for and he knows but he doesn't ask," says Ms. MacIntyre.
"Hayden accepts himself for who he is and we hope that's what other people will do and accept him for who he is and what he can do."
While encouraged to try everything and stretch his boundaries, Hayden's little world has limits past the family's front door. Because he is so susceptible to germs and other bugs due to his degenerated respiratory system, Hayden usually spends October to May in "lockdown" in his family's home to avoid any run-ins with colds.
"He's usually kept in a bubble during the winter months to keep him germ-free," says Ms. MacIntyre. "Getting the sniffles and a cough can turn into two weeks of serious illness for him."
All of this, continues Ms. MacIntyre, would seemingly wear on the family's youngest child. But, if it does, she certainly doesn't show it.
"For SMA siblings, they hear a lot of 'no's' because we tend to focus a lot on Hayden. They sort of have to hit the ground running," says Ms. MacIntyre. "I feel guilty and bad because she is truly the second child, but I think she's learning compassion and patience and understanding and all of those qualities will benefit her in the long run."
Funny enough, as fate would have it, Lauren was cleared of the SMA gene by physicians. Both parents have tested positive for the gene, which is estimated to be present in one in every 40 people. One in 6,000 children born are diagnosed with SMA.
"This is our normal," says Ms. MacIntyre. "The dreams we had as a young family are gone, but somehow you find new dreams.
"We live for today, because you never know what's around the corner. We've really learned to embrace those that are around you. Sure, some days are hard and you don't know how you got through the day before but we've done it now for six years.
In their situation, they can never let their guard down, but it doesn't stop life from going on.
"SMA permeates everything in your life, but you just can't let it control your life. It's always there and it won't go away. You realize you can't change the situation but you can make it the best you possibly can."
With that in mind, hundreds of people have helped contribute more then $400,000 towards cure and treatment research aimed at defeating SMA over the past four years through the annual 'Rebecca Run For SMA.' Slated to be held once more on July 8 at Fairy Lake in the Newmarket area, Hayden has been selected as the 2006 event's honouree. The run includes a one-kilometre jaunt for children, a three-kilometre family-oriented route and a five-kilometre journey.
"It'll be the biggest thrill possible to see all those people there for Hayden and to see all the other kids affected by SMA," says Ms. MacIntyre.
For more information on the 'Rebecca Run' or to make a donation, call Louise Smith at 905-836-9121 or e-mail louise@rebeccarun.com.
To see more of Hayden, visit www.caringbridge.org/visit/haydenmac.
Original Article can currently be found at - http://www.durhamregion.com/dr/regions/scugog/story/3379819p-3910507c.html