December 2008 - 4 years, 1 month!
December 31, 2008 -
Jenna is doing ok. We need to have her urinalysis and urine amino acids done, but I am sure they will come out fine. I did an at home Uristix last night and everything looked pretty good.
The girls had a nice Christmas. Jenna was able to go visiting so that was nice too. The previous week she missed out on as she was runnign a temp of 102 and had some junk in her lower lobes. She tolerated the antibiotic well and her temp came down. Well sort of. She continues to have an on again off again low grade. This actually has been going on since September. We thought it may be teething and a molar did pop thru. Her bottom gum is really swollen, so maybe it is teeth. We'll see.
Jenna received a Special Tomato Multi-Positional Seat from the Independence Foundation's Christmas Wish List Program. It is very nice for her. We will most likely be lending out her old chair to a family who needs it. Hopefully they will get as much use out of it as we did.
Prayers going out the all the sick kiddos. Especially those who are in the hospital.
Wishing you a very happy and HEALTHY New Year!
December 17, 2008 - So I spent the afternoon visiting 3 little friends in the PICU today. One has pneumonia, one is getting ready for trach surgery tomorrow, and one has been intubated for over a month and is thinking about a trach. Poor babies. I wish I could do something to make them better or heal quicker. My heart just goes out to them along w/ my thoughts and prayers.
Jenna is still trying to cut that molar. She is running low grade fevers 100.6, lots of secretions, and just very cranky. Other than that she is fine. She was unable to go to swim today and we canceled Special Ed too. We will also cancel swim for tomorrow. I hoping her fever breaks in time to spend Christmas w/ Grandma on Saturday, but I guess we'll see.
December 14, 2008 - Today is a sad day. I have just learned another SMA child (locally) has earned his wings at the age of 6 months. I hate SMA. It robs these children, their parents, and their family of such a precious life. It is just so unfair. My heart, thoughts and prayers go out to the family.

Many thoughts and prayers Shira as well. She is in the PICU with RSV. Poor thing. RSV is so nasty. And such a terrible, terrible sickness for our already respiratory compromised children. Get well soon Shira!

There are so many other kiddos sick right now too: Logan H, Leah, Taylor, Logan P, you too MJ, and any others I may have missed. You all are in my thoughts and prayers.

All in all Jenna is doing ok. Her top molar finally broke thru. She had a few days of relief and now it seems like we are going thru it all over again. She is running a low grade fever, many secretions, trouble sleeping, upset tummy (yes, from teething too!). Poor thing. I can't wait until the two bottoms ones come thru and she will be all done for a couple years.

Well we are having great success with the Independence Foundation's Christmas Wish List for Special Needs Children. We have been able to grant almost all of the wishes except for the wheelchair accessible vans. We are still working on those. If anyone has a van they would like to donate, whether it is accessible or not, please let me know!

In case I don't get a chance to update before the holidays, I hope everyone has a very merry one being with family and friends. Happy Holidays!
December 5, 2008 - Sorry for the lack of updates lately. As usual, it has been pretty busy around here. And now with the Holidays here, even busier. Jenna seems like she is doing a little better. She has not had a fever all week (knock on wood!)! This is a great sign. I also did a Uristix just to see where she stands as she went off the VPA a month ago. Can you believe that her glucose came out normal!?! And that there was only a trace of protein?! Her ph is still off, but this is major improvements!! We are really happy that the kidney involvement is correcting itself being off the meds. Surprisingly, she has not lost any strength either. She is actually doing quite well. While sitting on my lap, she is now swinging her legs back and forth and that is just wonderful to see. In Aquatic Therapy the other day, she had 1 lb weights on her ankels and was still moving her legs in the water! That is just AWESOME!!
I have been in the Holiday spirit lately, which is nice. Last year Jenna spent a few weeks in the hospital this time of year, but it is great to be home this year. Plus I am helping the Independence Foundation (
www.TheIndependenceFoundation.org
) with a Wish List for Special Needs Children. We are trying to match up families "needs" with wish grantors. So far we have quite a few families that will have their wish granted! It is amazing to see how many people really need help. And of those who are Special Needs Families, it is quite different than granting toys. Some need a ramp to their house to help their child in/out, some need a manual wheelchair. Others need simple things as bed pads, a reacher, or a gait belt. I am so happy to be a part of this wonderful program. There are so many who need.
We will be seeing Santa Clause a couple times over the next few weeks. We have a Christmas Party tomorrow and one next weekend too. The children love it as they have crafts, games, and of course SANTA! I will be posting pictures when I can.
There are SO many kids sick right now, some in the hospital some not. My thoughts and prayers are with them all!
November 16, 2008 - Jenna has been fighting a cold for the past couple of weeks. She gets and on/off fever (which isn't difference from before the cold, heart rate goes up and down and tons of junk being suctioned out. It is really just in her head and throat and thankfully not in her chest. So we are managing. I started giving her Dimetapp, this past week and it is actually helping. The secretions aren't as thick and as much with taking it. So that is good.
So far we have not seen any improvements or weaknesses since taking Jenna off the VPA. After being off for 2 months, she will need repeat tests done to see if there are any improvements and then again at 4 months.
On a good note, Jenna received her new powerchair this week. WHOO HOO! It is so very nice. It has a vent tray on the back to carry her cough assist, battery, and inverter. Again, so very nice. We had some nice weather the other day so we took her outside for a short time to het her get in and go. She did great! Of course I took a video! : )
Jenna's New Wheels!
Prayers going out to all the sick kiddos out there as there has been so many this fall.
November 2, 2008- Happy Birthday to my sweet little princess! I cannot believe you are 4 years old today. I remember when the doctors told us to take you home and love you. I thought I would never see this day. You are a strong fighter and I am so very proud of you. Love you Babydoll and Happy Birthday!
October 30, 2008 - As of today, we are closing another chapter in the book and starting a new one. Yesterday Jenna was diagnosed with Fanconi's syndrome - the tubes to the kidneys are impaired and she is losing nutrients in her urine and they are not being absorbed into her body. The nephrologist (kidney specialist) believes it is due to the VPA. Even though I thought this is what was going on with Jenna, it still makes me sad as it gave her more strength. We have the fear of the unknown - will she regress? How much strength will she lose? How quickly? I guess time will tell. After speaking w/ Dr. Swoboda, she said it doesn't necessarily mean it is from the VPA. She said she has seen this in SMA patients who are not on VPA too. I guess I am hoping it is from the VPA because it should reverse itself in 4-6 months if it is. If it's not, what does that mean for Jenna? Does that mean her kidney's will eventually fail with or without the VPA? Again, the unknown.
October 16, 2008 - "knock on wood" Jenna's leg has healed and her foot is no longer bothering her. Hopefully she will be fracture free for a very long time now! We saw the Endocrinologist this week and she agrees w/ Dr. Swoboda on IV Therapy. Typically this is done in the hospital every 3-4 months. I explained that we will not start this until Spring due to respiratory season. It seems like every time Jenna is in the hospital, she ends up catching something. So she said that they were going to see if they could set it up at HOME! Wow! Wouldn't that be great?! They have never done that before so it may take a little while to set up, but that would be FANTASTIC! We would definitely do that.
For the past couple of months, Jenna has been having some other issues going on too. She has been running low grade fevers of 99.6 - 101. All respiratory, blood, and urine cultures come back negative. She was even on an antibiotic and it didn't take care of the fever so I would guess it wasn't a bacterial infection either. Definitely not a virus because it has been almost 2 months now. She has been having some issues with glucose in her urine, so maybe it is related? We have ruled out Diabetes as her blood levels are good and we ruled out Thyroid problems. As of yesterday, the amount of glucose has increased and we have contacted a nephrologist. They are squeezing her in - in 2 weeks. My first thought is VPA-induced Fanconi sydrome, but I guess we'll see.
Well Jenna's birthday is coming up real soon. I can't believe she will be 4! We are planning a Barbie Birthday party again this year and all the kids will be dressing up in their Halloween Costumes. It should be a great time.
Prayers going out to all the sick kiddos! I can't believe how many there are! My thoughts and prayers are with you!
October 2, 2008 - One month from today is Jenna's BIG 4th birthday! Whoo Hoo!
We went to see the Ortho again this week and they did another xray of her foot. It did not show any fracture so that is good. Although it is doing a little better, she still is funny when you touch her foot.
Jenna's new power chair came in this week too! There are still adjustments to be done and will take another week to complete, but it is here! What a nice chair! She loves it too. It is hot pink base with a black chair. Due to her needs of being transported flat and needing to get into that position to suction, cough, etc, we needed to get full power (except for her legs). We gave her the controls and showed her how to go up and down and lay back, etc. Boy was she interested in that! She had it down pat. She could go from power to mode to change her position and back again. Smart girl! We can't wait until it is ready to roll!
As promised, here is the photo of Jenna on the pony!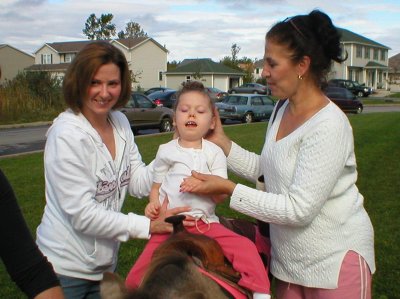 September 2008 - 3 years, 10 months
September 27, 2008 - Jenna is still having issues with her foot. I talked to Ortho yesterday and they want to see her because I have a hard time getting her AFO on without her freaking out. I am sure they will xray her again. I was also thinking that maybe we should look into Night Splints. This was she could be kept into position while sleeping. Her DAFOs are too much to wear overnight, she would get pressure sores, but the Night Splints look real soft and comfy.
Jenna is also on an antibiotic. She is starting to run low-grade fevers again. She saw the pediatrician yesterday and they heard rales in her right lung. To be cautious, she was placed on Zythromax. Everything else was good, ears, throat, etc. Besides being cranky, she is actually doing quite well.
I have to say that Jenna must be the most popular girl in her class! All the kids really seem to love her. Yesterday we were walking down the hall toward the class and a few kids started yelling, "Here comes Jenna!" They are all so adorable! It was Jenna's turn for Open House today and it was great! They had a petting zoo, pony rides, and a clown. JENNA RODE THE PONY!! She absolutely LOVED it! She was smiling and giggling the whole time. I didn't have my camera, but Ms. Darlene took a couple pictures. I will have to post them when I get them.
Still many kids out there who are sick. I cannot believe that so much is going around already and it isn't even October yet! My continued thoughts and prayers for all the kiddos and their families.
September 24, 2008 - Jenna's knee has healed. We saw the Ortho last week and had another xray done. It looked fine and showed new bone growth so that is good. Unfortunately, we are having an issue with her foot now. She woke up last Friday real cranky and we didn't realize her foot was hurting her until we put her AFOs on and all she did was cry. Even while they were on. So we took her for an xray and it was negative. I just get this funny feeling that it may still have a fracture. She still won't let anyone go near it and complains and cries when you put her AFO on. We may just have to take her back to the doctor and ask for another script.
Jenna went back to PreK this week and LOVED it! They made Friendship necklaces and painted Fall Trees and pictures for Open House, which is Saturday. They played games and sang songs and had a Bible Lesson. She really enjoys all the kids and they really seem to enjoy her too. One little girl even said "I just love Jenna". It was too cute!
Well we are slowly progressing to Jenna's addition. Paul has been working this week on taking down our back deck. What a job that is! We are tentatively looking at breaking ground the second week in October. They are also planning on it being a 6 week job so hopefully just before Thanksgiving it will be done.
Just to let everyone know, the flu has started already!! So if you haven't looked into getting your flu shot, please do! There are also SO many sick kiddos out there, it is scary! Hugs and prayers to all of you!
September 11, 2008 - Just a quick update.... Jenna was discharged late yesterday and doing ok. She still need total bedside care and cannot be transferred or she coughs and chokes. So, it will be a few days in bed with many respiratory treatments and many DVDs and books to keep her company. Thanks again for all your thoughts and prayers.
September 9, 2008 - Today I sit here in the PICU at Children's Hospital so very thankful my little Jenna is still with us. She gave us a terrible scare and left us for only a short littel time, but what seemed like forever.

Jenna called out on Sunday evening around 11:30 pm. I went to her room and repositioned her like I usually do. I could see she had a lot of secretions she was trying to deal with so I tried to suction her. It didn't help so I took her bipap off to cough and suction her. This also didn't help.
Her heart rate began to rise then her o2 began to fall. The next how many minutes felt like the end of the world. Her sats continued to fall
and now so did her heart rate. I kept coughing and suctioning while Paul was on the phone with 911. Next I knew her o2 was at 24 and her HR at 51. Looked again and she zeroed out. Zero o2, zero heart rate. All I could do was continue to inflate her lungs and wait for EMS. Thankfully, the are fairly close to our house and are already familiar with Jenna. The paramedics bagged her with o2 and we got a number. It was only 24, but it was a number. At this time, while completely shaking, I got her bipap back on while EMS kept blowing o2 at her. Once her mask was on, we bled o2
thru her bappy. Her numbers were coming back up. We hooked up her machine to the o2, inverter and battery and I carried her down to the ambulance as the paramedics made sure her bipap and o2 stayed connected. She stabilized on the way to the hospital and did ok in the ER.

Today she is doing so much better, off of o2, and a couple periods off of her bipap. She is starting with some GI issues so we'll see how that
goes over the next 12+ hours.

I decided to tell her story with detail so maybe someone will learn something from it - whether it be something to do with Spinal Muscular Atrophy, about special needs, hospitalization, or just being thankful. I also want to thank all of you for your thoughts and prayers. They mean so much to us.



September 5, 2008 - It has been a crazy week (but when isn't it?)! The girls started school on Wednesday and love their new teachers. Jenna started Pre-K today and did GREAT! She sat up in her Special Tomato Chair for almost the entire time! The only time she was down was when the kids went outside to play on the playground and Jenna was getting her stretches and ROM done. She had a great time meeting her new friends and loved the crafts, games, and centers. She cannot wait to go back next week.
Afterward, Jenna had an appointment with the pediatrician. Although she doesn't show any sign of being sick, she has been running low grade fevers on and off for a few weeks now. Today, she did not have one. We did an at home UTI stick last night and it came out positive. At the pediatrician's office it came out negative. It did show sugar in her urine so they checked her blood levels and they were fine. Her stomach is distended today so not sure what that is all about. So... we now have scripts for a abdomen xray, blood cultures, CBC, and urinalysis. It is Friday afternoon at 3:00 and she is exhauted. I cannot rush her out the door now to have them done and most places close at 4 pm. So I am on a quest to find a place that is open to handle all her needs for the weekend. Wish me luck!
Prayers going out to the sick kiddos: Lizzy, Ally, Hayron, Deedee and Gracee. Get well soon!
August 2008 - 3 years, 9 months
August 27, 2008
- Ok, ok, I will finally post an update! This is for everyone who keeps yelling at me for not updating Jenna's site!
All in all, we are doing fine. Many of you know that Jenna has a knee fracture. Well, actually a fracture of the tibia way high up. She has been complaining about her knees for awhile now. I thought it was her contractures so I was treating those. It started to swell and we finally had an x-ray done and it showed up. We saw the ortho and he confirmed the fracture and advised us to keep her knee immobilizers on. They weren't going to cast it because she is non-weightbearing. So the poor girl probably had this for about a month and we didn't even know it! Nothing even happened to make us think she might have hurt it. She already gets a calcium, Vitamin D, and phosphorus supplements everyday, but Dr. Swoboda has recommended her having IV therapy after the bone heals. We see the ortho again the middle of September for another x-ray to see if it has healed. We also go to the Endocrinologist in September for her yearly checkup. I would assume they would be the ones to set up the IV therapy.
More exciting news! Jenna went for her first real "big girl" haircut last week. They moved the chair out of the way and we just wheeled her up to the station and she sat there like she owned the place. I was waiting for her to ask to get her nails done!
With her hair being so curly, we ended up getting 3 inches taken off and it curled up even more! It looks like she had so much more cut off than she really did.
Jenna's MAW pool is complete, well except for a deck. We are going to build a deck to make it easier for her to get in and out of the pool. The heater is nice! She loves it.
We are waiting patiently for her new powerchair. It is ordered so we are just waiting now. I am hoping it will be in for her first day of Pre-K next Friday. I guess we'll see.
Happy Birthday to all the August kiddos: Charlie, Lily, Veronica, Mariah. Hope you all have a great day!
August 4, 2008 - Whoo Hoo! The insurance company reversed their decision on Jenna's new power chair! This is fantastic! The vendor and Permobile rep are coming tomorrow to do measurements and to get ready to order it! This is just great! She really is getting too big for her chair. I bet by the time we actually receive the new one, she will be totally outgrown the other. Each week she looks bigger and bigger!
We have also signed Jenna up for 2 half days of Pre-K. She will attend from September to November and then be out for respiratory season then start up again in April. This will be good for her. She really needs the socialization and interaction with those other than ourselves.
We are still working on Jenna's MAW pool. Everything is up, but we are having a difficult time setting up the heater. Hopefully today, but we will see. We are also working on getting bids for a deck, which will make it easier to get her in and out of it.
And last but not least, THANK YOU to all of you who supported us for this year's SMArt Walk for A Cure! We had a beautiful day, despite the weather forecast and enjoyed seeing everyone!
July 2008 - 3 years, 8 months
July 27, 2008 - Wow, have we been SO busy around here! We have been working so hard to get Jenna's appeal information into the insurance company in regards to a new power chair. She had to see a pediatric physiatrist on her "cognitive and physical ability to drive a power chair". We received the info from the physician and sent it on it's way. I do want to mention that on Jenna's cognitive exam, she scored as a 4 1/2 year old (she is only 3 1/2)! Way to go JJ! Also, we have been working on Jenna's MAW pool. It was postponed a couple times, but it finally was put up. Now we are waiting for the electrician/gas people to come in and do the wiring and the heater. We are also getting estimates on a deck to make it easier to get her in and out.
We just returned from our vacation at Sherkston Shores in Ontario, Canada. This is our sixth year going and the kids absolutely love it! All in all, the weather was good. The first day we were there, it rained, but there was still things to do despite the weather. Then there was only one other day it rained, but it wasn't a complete washout either.
The kids got to go swimming in the pools and the lake, which they all loved. Jenna isn't a fan of cold water (yes, 80 degree water is too cold for her!), so she wore her "wet suit", which is a great product for her. Mya and Kali wore out the waterslides too! They just loved it.
The girls also enjoyed the beach. This was Jenna's first year actually going to the beach and she absolutely loved it! We found lots of cool rocks, she got to play with the dry and wet sand, and had a blast.
We also did a camp fire and made smores - another awesome adventure! Jenna couldn't handle the smoke, so she didn't stay out too long, but Mya and Kali really enjoyed it.
There was lots of fun and games too. Jenna won the jackpot on game and was just so excited to get all the tickets. The girls ended up with their fair share too - a total of 3000 tickets! That was a treat when it came time to pick prizes! Almost everyday they had a Character Meet & Greet (which we met all of them, but only have pictures of a few) along with fun crafts.
We didn't have a chance to play putt-putt or do the paddle boats, but maybe next year!
July 10, 2008 - Jenna is doing much better. She has finished her antibiotic and is no longer on Zantac (for the irritated stomach due to increased respiratory treatments). She did have a couple plugs yesterday, but is getting back up in her Kid Kart and power chair. She is also back into the swing of things as "summer school" started this week. Boy is she tired! We have (re)started the Intal nebulizer treatment for her asthma. It is a 3-4 x/day neb treatment, but hopefully it will help and she can get outside more often.
Jenna had her exam with the Rehab physician for her "cognitive and physical ability to drive a power chair" exam requested by the insurance company. Unfortunately she was sick, but we still went. The exam went well and the physician was so very nice and helpful. Now we are just waiting for the report so we can submit our appeal. Yep, they denied us because of her "physical and cognitive" ability. We will definately be fighting this one to the end as Jenna is growing out of her chair and won't have anything to sit in soon. It is unfortunate that we, as parents, have to fight so hard for everything our children need.
Jenna's Make-A-Wish was granted! She wished for "water" so her heated pool will be installed this weekend! How exciting! It was suppose to be installed early this week, but there was a snag in the plans, so this weekend it is. She is going to be so excited! She just loves the water and it is so nice to see her in it because she can move SO much more. Yesterday in Aquatic Therapy she was actually able to open up her arms real wide and then put them around me to give me a hug! It was fantastic!
Prayers going out to Sophia who is currently in the hospital. Get well soon!
June 2008 - 3 years, 7 months
June 28, 2008
- All in all, Jenna did great in Boston. We got home Sunday and she was such a trooper for the 8 hour ride home (we ran into bad weather). Her IEP ended on Tuesday so she had jammed pack therapies Monday and Tuesday. Wednesday we were trained on how to use her Respirtech chest vest and had an allergist appointment in the afternoon. Yesterday, the 5 of us went to the zoo for Jenna's first time and she loved it! On our way home, she started sounding a little hoarse. Well, before bed her HR was slightly elevated and this morning she was sleeping at 127 Of course she had a fever of 101.5 and very junky sounding. We woke her and started a treatment right away. I pulled out some real thick junk. Her sats were ok, 96, but her RR and HR still high. She came off bipap for a short period of time and went back on. After her last treatment, she was satting 93 off bipap with her RR 50-60. We are doing Q4 Xopenex with saline nebs in between at Q2 and ALL the other good stuff that goes along with treatments. We called pulmo first thing this morning after that yucky, thick yellow stuff came out and she has started Zithromax. Hopefully we have caught it in time and she will be able to remain at home. Please say an extra prayer for her.
June 23, 2008 - It has been a couple weeks since my last update and we have been pretty busy. I switched Jenna's Zyrtec to a full dose and given at night (it makes her groggy) so that is going well. All in all, Jenna is doing ok. Her allergist appointment was moved up to Wednesday so that is great! Hopefully he can find the right combination to help combat these allergies/asthma issues.
Jenna's IEP ends tomorrow. So she will have 2 weeks off of services and then start "summer school" for 8 weeks. She is pretty much getting the same as her regular school days, except special ed will be 2 days a week instead of 3 for the summer. Tomorrow is also the last day of school for Mya and Kali too. They are both real excited.
Last week we went to the FSMA Conference in Boston. It was great. The girls had a great time and it was nice to hang out with the families again. For the most part, Jenna did really well. We brought both of her chairs so she had a great time riding around in her power chair. Friday I think she was in it for about 6+ hours and was doing great. Saturday she had some issues with junkiness and lowered sats, but I think that had to do with all the dogs in the hotel. I had to give her a couple extra respiratory treatments, but I was able to kick it before it turned into anything. Mya and Kali had a great time and loved hanging out with Annabelle. I will try to post some pictures soon - I am still working on unpacking.
We also have some excellent news! Jenna's Quick Glance communication system was APPROVED by both our primary insurance and Medicaid! So YEAH! That is truly amazing! The device was ordered so it is a matter of time now.
We are still working on the power chair. We have not heard from Medicaid yet, but our primary insurance wants a letter of exam from a pediatric physiatrist. This is going to be a challenge as she is not under the care of one and they want the report in one month. It is very difficult to get an appointment with a new physician and a report generated all within one month. Anyone who deals with specialists know this. I have been back and forth with Rehab at Children's and I am working on it.
Prayers going out to Ally and Jacob as they are in the hospital right now. Get well soon!
June 9, 2008 - Well, we are thinking that a lot of Jenna's issues are due to allergies. We have had the highest pollen count in the country over the last couple of months and I am sure this plays a big part with Jenna. Temps have been around 90 so we closed up the house and put the a/c on. Since doing this, Jenna has been much better with her secretions. She is starting to sit up for short periods of time again and doing fairly well. We have decided to take her to an allergist as Zyrtec just doesn't seem to cut it. Unfortunately, her appointment isn't until July.
Jenna has also been having issues sleeping at night. This is getting very old as I am averaging about 3 hours of sleep per night. She is cutting her molars so we thought this was the issue, but Motrin and Tylenol are not making a difference. Last night I have her Hurricaine Gel as that has helped in the past. Well not last night. She was still up. We have exhausted all our thoughts except for GI. It is probably 90% of the case when she has had trouble sleeping in the past. So early this morning, her formula was dumped and we are trying just Vivonex and water to see if this helps. She is also going to see the pediatrician today to see if they have any other ideas too. Hopefully she feels better before we leave for Boston!
June 3, 2008 - All in all Jenna is doing fine. We are still having a lot of issues with her getting junky, despite what we are doing. I looked back at the calendar and it has been on and off for over 6 weeks now. For the past week and a half though, it has been worse. She is getting crackly sounding when she gets up in her chair or potty. So, unfortunately, she is down quite a bit these days. We have switched from Xopenex to Albuterol as that seems to work better, she is still on the Pulmicort, and we have added Nasonex. So far, nothing has changed.
We have so many things going on right now for Jenna. We have submitted the paperwork for the purchase of the Quick Glance Communication Device. It seems to work well for her and in many different positions. We have also submitted the paperwork for a new power chair as Jenna has maxed out her Kid Kart. I am trying to wait patiently to hear from the insurance company on that one. : ) We are also working on getting Jenna the Chest PT Vest thru Respirtech. Our primary insurance improved it, yeah! and we most likely will be getting it in another week or two. Jenna also seen the dentist for the first time last week. She did great! Unfortunately, she has two cavities and they will need to be filled.
We will be attending the FSMA Conference in Boston this year. Should be a good time and the girls are looking forward to it too.
Prayers going out to all the sick kiddos right now and those going thru surgery: Addison, Sydney, Lizzy, Issac, Charlie, Stella and any others I may have missed. My thoughts and prayers are with you!
We had a new nurse start this month too and she is great. She is helpful and seems to know her stuff. She has a lot of respiratory background too, which is great. I really hope it works out as I can see her working with us for a long time.