March 25
We had our appointment on Tuesday and it went really well. We are still having to work on the joystick for her to drive it but she looks GREAT it in (I will post a picture at the end of the email) and I just love the seating system. I have ordered our ramp for the van so hopefully once we get the joystick settled and finish getting everything set up for her we can bring it home where I think she will do a much better job by being in her own surroundings. She really did do great but with the joystick being hard for her to reach and not being in a good postion she didn't get to drive as much as we would have liked her to but at the end she did get to spin around and around which was cute and she was so proud of herself. We are excited and can't wait to get it home where she can practice with me chasing her....*laughing*, I can't wait to be the one yelling at her to STOP NOW and her having me chase her around.
We did head out shopping on Thursday, we spent the afternoon at the mall and when she fell asleep I was able to shop for her Easter basket *shhhhh*. She is so hard to buy for because toys are useless, she shows no interest in things like dolls or anything like that plus she has everything she could ever want! So this year she is getting clothes plain and simple, while she was asleep I headed in (with her obviously) the Disney store and bought her 3 cute t-shirts then headed over to Gymboree and got 3 outfits ON SALE which are so cute and she will be able to wear when we go to Florida. Then when we went to Target for a few things she got a video (Jo-Jo's Circus which is cute and she is starting to really get into it) and a few little odd and end candy things for her to suck on and stuff. Anyway, over all her Easter Basket is an expensive one valued at around 100 or so dollars! Whew! She needed the clothes so that is fine....
She had school today and she did GREAT, matched everything the teacher gave her and really enjoyed it too! She colored a beautiful picture (all her pictures are beautiful) of Humpty Dumpty and did a great job with it, she loves to glue things and also use water color paint. Anyway, she had a great school day and that is always great!
I think since tomorrow is going to be fairly nice we will probably head out again just to get out of the house.
On Tuesday we head back up to Cincinnati for our next Powerchair appointment and hopefully we can get it all right for her and we can work on getting it home!
Hugs to all! Here are 2 pictures of Lily in her chair this past Tuesday.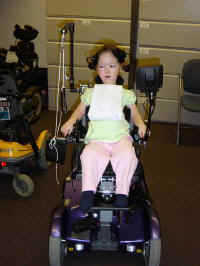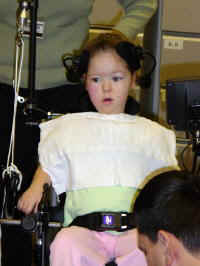 ~~~~~~~~~~~~~~~~~~~~
March 21
Well, we are off again to Cincinnati tomorrow for our next powerchair appointment *YEAH*. Again I am excited and always a little nervous as well never knowing how cooperative Lily will be ;). It will be fine I am sure and hopefully we can get the ramp in the van installed soon and be able to bring it home for her to practice with.
Nothing much going on right now, it took a few days to recoop from our big exciting trip to Columbus and get back into the swing of things. Lily had school on Friday and did a GREAT job then today she had school as well and it was a flop. She is so rotten! She just refuses to work sometimes and zones out, it is terribly frustrating because I know how smart she is but sometimes she just decides she is going to be a booger about it all and today was one of those days. Hopefully tomorrow I will have a good report for everyone about our appointment tomorrow.
I am getting excited about our big vacation in April! We are going to Florida with Noni and Pappy on April 23 for a week, I am starting to shop for our big beach outting, it will be fun and the first time Lily has been to the beach, hopefully she will enjoy it! We will be heading to Panama City where Noni and Pappy have gotten a Condo for a week so we should be living high off the hog for a week anyway!
Hugs to all and I will write more tomorrow about our appointment!
~~~~~~~~~~~~~~~~~~~~~~~~~~~~~~~~~~~~
March 15
This should be a quick one...or maybe not! There is so much to say, we have been busy, March so far has been a hectic month but thankfully illness free. Pappy is still not feeling well so he hasn't been to see Lily in ages now but she needs to stay healthy because tis the season for us to start kicking it up and getting busy, after all spring is right around the corner although you would never guess with how cold it is out...brrrrr.
Well, last Thursday we headed up for Lily's Powerchair appointment (I have named the chair Purple Power), it went really good. The chair is so cute, purple and her seat has her name in it. We had to be there by 10am so for us it was an early morning but we made it there just fine. We were there for a long time and it ended up being a very tiring day. Lily had to get in and out of the chair about a million times so they could adjust it for her, the harness broke so they have to order her another one which they should have be the next visit on Tuesday but over all it was a great day. Lily was able to drive it for a short bit but by that time she was tired, really tired but we still got a smile out of her anyway (although not for the camera of course). She did well for not being in the seat properly and kinds whopper-jawed with no harness. She went forward and backward on command which was great.
I will say I was awful emotional about it, when we first got there I was able to peek in the room where her chair was and saw it all ready to go with the plastic still on it then when we got Lily in it letting her drive it, the look on her face as we cheered her on was priceless....and of course I got tears in my eyes, this was like watching Lily take her first steps, her first little bit of independence from me and it was so wonderful to see that. She is going to do great, just great with it all. We head back up on Tuesday and this time she should be able to drive alot more than just a few short minutes. Here is a picture of her in the chair.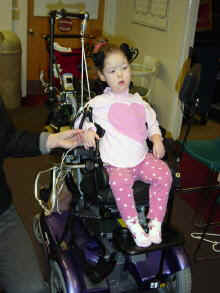 On Friday I had to get up early to start getting things packed before Lily had preschool so we could leave for Colombus for Miracle for Madison so we were very busy.
We had a great time in Colombus but we were also very exhasted from the trip to Cincy and then turn around and drive it again, Noni came with us so she could help out and I certainly appriciate that, she had to miss her basketball games to do it too, I felt bad about that. We had a great time getting together with other families as well and seeing the kids that were there. Madison was not there, she has been battling the flu now for almost a month and she was still running a fever so was unable to make it so of course we missed her very much.
It was a very successful fundraiser and we certainly appriciate everything that Madison's family does for SMA, raising money for research so they can find that cure is so important.
Lily had her pictures taken with some football players, she was asleep and would NOT wake up for anything (I think she was a bit overwhelmed and she was zoning out) but they are still cute pictures. Here is one of them with some of the handsome Ohio State Football Players.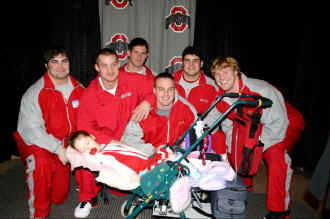 We have had to rest and relax for much of the week because we have been so tired from all of the running around but it has been fun.
Lily is doing well, bossy as ever and smart as a whip. She is still into her video's which can be frustrating but she controls what she knows how to control, I am hoping the powerchair motivates her to do something more than watch video's all day long but if it doesn't she will still love it and I only want her to be happy because of all she has to go through in life so if video's make her happy, by golly she can watch them all she wants. She isn't much into school, somedays she does well but other days (like today) she just refuses to pay attention at all which drives me nuts too because I KNOW how smart she is! Oh well.....she is the boss around here.
I am amazed that she is going to be 4, actually 4 years old! She is such a beautiful little girl and she fills my life with so much joy, she is amazing!
I am off to bed...hugs to all of you guys!
~~~~~~~~~~~~~~~~~~~~~~~~~~~~~~~~~~~~~~~~~~~
March 7
I can't believe I am doing so bad about keeping up with the journal!
We have had so much going on lately, always busy! On February 23 my Uncle Steve started painting the walls in the duplex, it is so wonderful to have fun colors all through the house and exciting too! It was alot of work, moving things from one room into the other then having to move it back again plus all the cleaning but after a week we are back to normal again and the house looks nice. We also got a new couch (actually, Pappy got us a new couch), it is leather and it has only 2 cushions on it (not a love seat, a nice long couch), we had to hunt around for 2 cushions for Lily, they seem to only make them with 3 so when we found this one we had to get it. Anyway, the kitchen is called Parisian Melon which is a pretty shade of orange, the living room, hall, and bathroom is called Stonehenge which is a pretty neutral shade, then Lily's play room is PURPLE called Naples Sunset (Aunt Dena picked it out) and our bedroom is called Yellow Bisque, very pretty. It is wonderful to add color to the walls and so nice to look around at everything nice and clean. Spring cleaning is done officially, I cleaned all the windows, blinds, cabinets, EVERYTHING in the closets are organized and not cluttery. Ahhhhhhh for a clean home! Lily's room is adorable, perfect for a princess and she loves it! It will match her Powerchair!
Speaking of powerchairs, we head up to Cincinnati on Thursday to be fitted for the chair! Yeah! Everything is in and it needs to be put together for her so we head up Thursday morning for that, we won't get to bring it home with us but then we have another appointment a couple of weeks later and that is probably when we will be picking it up. I am beyond excited!!!! Lily seems to be excited about it too and I keep talking with her about it so she gets pretty excited.
Oh, before I forget the week we were having the place painted we had a very special and wonderful guest. Kristen Webb drove all the way from St. Louis to visit with us for a couple of days! Kristen Webb is a friend who lost her little boy to SMA in November of last year, you have probably heard me talk about Cole, a wonderful little boy who fought so hard against SMA. Cole was a little over 2 years old when he passed away and is a beautiful little angel in Heaven now. Kristen is a wonderful and amazing mother. Lily took to her right away and fell in love with Kristen. It was an emotional few days where we shared stories about our both of our son's with each other as well as sharing Lily as well. You can visit Coles website at www.our-sma-angels.com/Cole. We had a wonderful time, we went shopping at the mall on Thursday and had fun there as well. Lily was perfect for her too, I miss her and hope we get to visit more with her in the future.
We have a busy week planned and hopefully we will stay nice and healthy! Pappy has the flu so I am a tad nervous, hopefully Lily and I will not catch it at all. On Thursday like I said we head to Cincinnati to do the powerchair thing and then we drive home that day, THEN on Friday we head up to Columbus Ohio for a fun event called Miracle for Madison (www.miracleformadison.org), we leave on Friday after Lily has school, get settled in that night in our hotel then on Saturday it is a busy day with heading over to the Buckeye Hall of Fame and having fun. They have a family fun fest from 11:30-3 then we go back in the evening for the dinner and auction. There will be football players from OSU and alot of fun stuff to do. We went a few years ago and we had a fun time, last year Lily had a cold so we couldn't go but we have been staying in for the last few weeks (for the most part) so we can be healthy for it and get to go again. Hopefully the flu stays away from us!
Anyway, Lily is doing well, we are back to school and Lily is doing well with that, she has been back to sitting up in her chair everyday to get her ready for the powerchair, she is getting bigger and more beautiful every single day. She is amazing and I can't believe she is going to be 4 in a few short months!
We have a busy summer planned again and I can't wait for spring and summer to get here! In April Lily will be on her first vacation to the beach! We are heading to Florida with Noni and Pappy, Panama City where mom and dad are renting a Condo for a week right on the beach. Then in August we will be heading to Virgina Beach for the 2nd Annual SMA Support Gathering and I am sure we will squeeze a few little trips here and there between them and of course Travis and Dena's wedding in June where Lily is the flowergirl, exciting stuff for my little girl! She looks beautiful in her flowergirl dress too!
Hugs to all and thanks for always checking in on us!