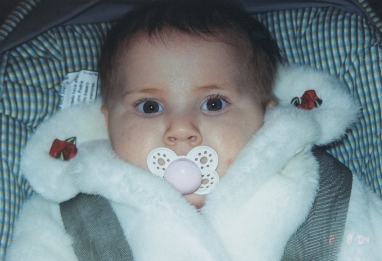 Your child has been diagnosed with SMA.
In January 2004, our baby girl Madison was diagnosed with the most severe type of this disease. Type one. She was four months old at the time. Shocked and in disbelief we chose to live our lives. After all, we couldn't love her any more than we already did.
You see, we were BLESSED with Madison 9 years after having her brother. We all wanted her so badly. Yes, she was spoiled and as you can see, she was beautiful in every aspect of the word. After Madison's diagnosis, we spent the next months of her life in and out of the hospital for issues relating to SMA. Through it all, she remained happy. You could tell by those eyes that she was content. Her story is on the SMA web site..
One night after leaving the hospital my husband arrived home to find a care package on the front porch sent to us in memory of Deirdre an SMA angel. We were so touched by the thought of someone caring enough to send some fun things for our child to play with.
We wanted to do the same thing for someone else. You.
Some of the items in this box were things we were never given the opportunity to play with. The other items in the box are things that I would refer to as Madison's favorite things. Elmo was her favorite. She could sing "la la la la, la la la la Elmo's world". She loved Sponge Bob too. She called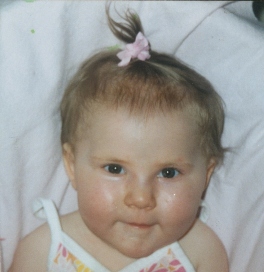 him "Bob Bob". We played bubbles and balloony-bloon all the time. Even in the hospital Balloony bloon was fun for her. We would hand her the ribbon and she would pull it down real hard and then let the balloon go flying up to the ceiling. She would do it over and over again. It was so cute. The bendable Easter bunny and the rings are things she could hold onto by herself. She would always hold them up in front of her and just look at them as if to say "boy, look what I can do" She loved to be read to.
The things this little girl taught us all is truly amazing. We miss Madison terribly and there is not one day that goes by that she is not in our thought and prayers. However, the life lessons we learned from her has touched our hearts forever!
May you have many Blessings to share with your little one.
The Vickers Family