MEET A CHILD WITH SMA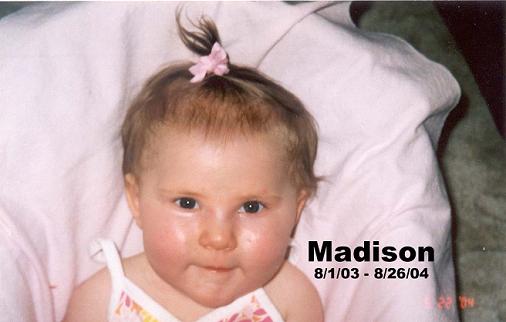 Madison, It is a lovely night tonight. Not too cold for a January evening. Mommy is sitting on the front porch. A gentle breeze is blowing. The wind chime is making the most beautiful sound. It reminds me of you. It reminds me of the days this past summer when we enjoyed the sunshine and the birds singing together. Oh, how you loved to be outside. I loved it too.
Today, I am sitting here with you, only you aren't on Mommy's lap, you are in Heaven. The devastating disease called Spinal Muscular Atrophy took you away from our family.

Our sweet baby girl was a happy girl who smiled a lot. She loved to play peek-a-boo, pat a cake, and we would sing the "Elmo" song. She loved to watch Sponge Bob too. She was a typical one-year-old child. With the exception of all the machinery that was needed to help keep her alive and healthy. In our home we had cough assist and suctioning devises, I.V. lines, BI-Pap machine and many other things that we used on a daily basis. She was involved with physical and aquatic therapy and we spent many, many days in and out of Cincinnati Children's Hospital.

Through it all, Madison remained happy. She taught our family so much in her 390 days of life, things we hadn't realized in 40 years. We miss her tremendously, I am sure she is watching down on us each and every day.