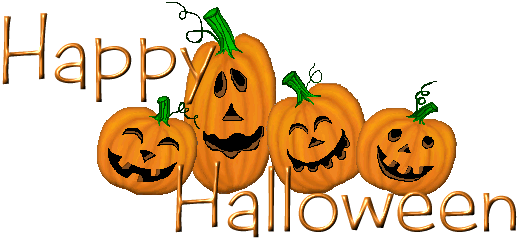 ~~2004~~
The night before Halloween we carved pumpkins. The boys (all three of them) enjoyed themselves! Colin wanted a happy pumpkin (which we were surprised about because he's been saying "raaahh", which means *scary*, for the past month because he was into scary things. Casey was the one who chose to make a scary pumpkin!
(Please click on the thumbnails to see the big picture! And, make sure you have your speakers on to hear our Haunted House music!)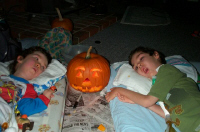 The day of Halloween we spent hanging out conserving our energy for the big night! After Nurse Julie got here we started getting the boys dressed in their costumes. Colin seemed to enjoy being the Red Power Ranger! He wasn't crazy about his mask, but tolerated it for a bit. Casey had a BLAST being Johnny Damon from the Boston Red Sox! He had a long brown wig (which Julie cut) and a mustache and beard. We drove to Aunt Chris's condo and Sasha came along. (She had to stay in the garage). Aunt Chris had lots of treats for us all. We had pizza, my favorite iced sugar cookies, chips and dip, and crackers and cheese, and drinks. She had all her decorations out and candles lit. We brought over our carved pumpkins so that everyone could enjoy them.
Our little Power Ranger!
Aunt Chris posing with the boys...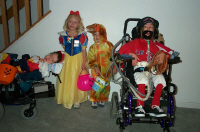 The Trick-Or-Treat crew: Colin, Alaina as Snow White, Gregory the Pterodactyl, and Casey
Jennifer, Alaina and Gregory came over (Larry is on our *list* because he stayed home to watch the PATRIOTS instead of enjoying a night out with us!) It was pretty warm out, so Snow White was the only one who needed a sweater. We went up and down Aunt Chris's road. Gregory was very brave and became our leader as he was the main doorbell ringer and both Alaina and Greg helped get candy for Casey and Colin. Some houses we could get them right up to the door, but others we didn't get very close to the door. It was a lot of fun and the kids made out pretty well with lots of loot!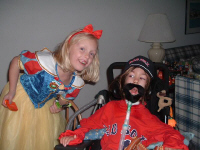 AWWWW!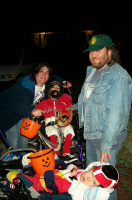 Our Family outside of Aunt Chris's condo
Happy Halloween everyone!