Mom's Stuff!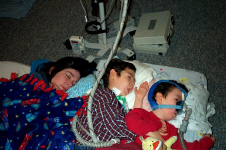 You may only be one person
to the world
but you
may also be
the world to one person.
~Anonymous~
Or in my case, I am the world to two people, how lucky is that?

"A friend bears the song in my heart and sings it to me when my memory fails."
~~Anonymous~~
When your heart is in your dreams, no request is too extreme.
~~Jiminy Cricket~~
What I love:
Casey's sense of humor.
Colin's belly laugh and giggles.