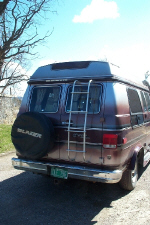 From the rear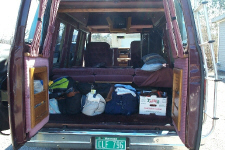 Inside rear. You can see all of our "to go" bags. We have a diaper bag equipped with diaper supplies and changes of clothes for each boy. A medical bag with backups of just about everything for each boy. And a toy bag for each boy, too. We also have our charger for our external battery, external battery, jumper cables and an extra long extension cord. we also keep our portable ramps back there, fire extinguisher, and a travel oxygen tank which is set to go.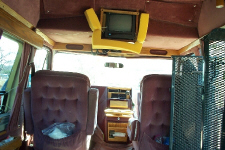 Taken from the back looking forward. The boys are side by side in tie downs in their chairs in tie downs. We also have a TV and VCR that works sometimes. LOL!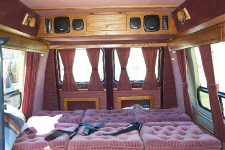 This was taken when Gene had the bench seat made into a bed. It's usually not like this but you can see how spacious it is.
I always keep pillows, a sheet, washable bed pad, hand gel, antibacterial wipes, Kleenex and paper towels back there. I also have easy access to spare g-tube extensions, syringes, cups, and distilled water (when it's not freezing out).