Jordan Lee Witzig
He will not return to us, but someday we will go to him.
August 9, 1997 - October 28, 1998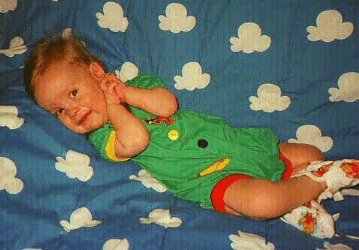 **NEW** - 11/3/99 - This is the only part of Jordan's webpage that I can update. It's been a whole year since Jordan died. It's so hard to believe - on one hand it seems like yesterday, other days it seems like forever. Daddy wrote another poem in memory of Jordan's angel anniversary:
MISSING YOU

The leaves are falling again,
and I'm missing you

I see a smiling boy at a restaurant,
and I'm missing you

It's been a year since you left,
and I'm missing you

There is a teletubby display at the store,
and I'm missing you

You smile back at me through your pictures,
and I'm missing you

I'm driving by the hospital,
and I'm missing you

I touch this cold, gray granite,
and I'm missing you

I will always be
Missing You

In Memory of
Jordan Lee Witzig

By
Charles Witzig
Oct 26, 1999
---
There were so many people that reached out to us, we'll never be able to express to them how we feel. This is a start - we've probably left someone out - we're sorry!

Our Family - without their love and support, where would we be?

Dr. Ronald Luce - a wonderful, Christian pediatrician, who took great care of Jordan, and listened with compassion.

Rev. Dr. Richard Shaw - he was right beside us, from 15 minutes after Jordan was born until today, giving us spiritual and
emotional support.

Tom & Kim Broy, John & Michelle Dierker, Dan & Debbie Macari and Helen & Randy Baldwin - great friends who were with us every step of the way.

Cheryl Buss - our advocate from Easter Seals - whatever we needed, she went out of her way to get it for us.

Bob Werkman - Chuck's boss, who was sympathetic and understanding of the time Chuck needed to be off work with Jordan.

Curt Caudill - Chuck's coworker, who put Chuck's poem to music

Laura Stants - who very patiently helped me get this webpage up!

We love you all!
---

Supported by SMA Support