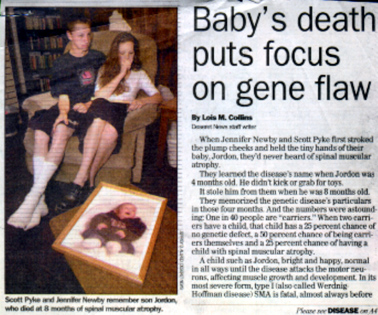 Baby's Death Puts Focus on Gene Flaw
by Lois M. Collins
Deseret News Staff Writer
When Jennifer Newby and Scott Pyke first stroked the plump cheeks and held the tiny hands of their baby, Jordon, they'd never heard of Spinal Muscular Atrophy.
They learned the disease's name when Jordan was 4 months old. He didn't kick or grab for toys.
It stole him from them when he was 8 months old.
They memorized the genetic disease's particulars in those four months. And the numbers were astounding: One in 40 people are "carriers." When two carriers have a child, that child has a 25 percent chance of having no genetic defect, a 50 percent chance of being carriers themselves and a 25 percent chance of having a child with Spinal Muscular Atrophy.
A child such as Jordon, bright and happy, normal in all ways until the disease attacks the motor neurons, affecting muscle growth and development. In its most severe form, type 1 (also called Werdnig-Hoffman disease) SMA is fatal, almost always before a child is 2 and most of the time before the first birthday.
Type II children can live to be adults. People with Type III can often walk but may need wheelchairs as they age. A fourth type, adult onset, may appear as weakness in the hands, feet or tongue and can spread.
Parents almost never know that they are "carriers" because there's no effect unless both parents are carriers.
SMA is the leading genetic cause of infant death. It has also brought together people whose paths would not normally cross.
Although his own three children are healthy, Thomas Becker's view of the world changed when he met a little girl from Denver, Allie Becker, who had the disease. A marathon bowler from Littleton who's featured in the Guinness Book of World Records (30 hours, 48 minutes), he said looking in her eyes "flipped me upside down."
When she died at 11 months, he didn't forget. Instead, he embarked on a different bowling quest. Thursday, he'll be in Salt Lake City at the Ritz Classic bowling alley to raise money for the disease. He's trying to roll 100 strikes in every state, with a goal of collecting $1 million to fund SMA research and a possible treatment or cure.
It's not out of the question. Research released in late January indicates SMA can be corrected by large amounts of SMN2 protein, which is found in SMA patients in inadequate quantities. A bioscience company is now trying to turn that information into a treatment or cure.
Newby and Pyke, as well as Pyke's mother, Tamara, will be there when Becker bowls. In memory-and honor-of Jordon.
Even after he was diagnosed, Newby had trouble accepting that something was different about her son. "He was perfect in my eyes. His personality; he was always so happy."
Doctors told them the basics:
"They said it was fatal and that he would never sit or crawl or walk," said Tamara Pyke. "He held his head up when he was a month or two old, then he lost that. But he was happy."
The diagnosis-and the fact that Newby and Pyke were both carriers-came as a shock. There was no known family history. Now their brothers and sisters must worry about it as well.
Young as he was, Jordon was talking. He said mommy and daddy and even "I love you, Mama". Tamara Pyke had the pleasure of hearing her only grandchild call her "Grandma" once.
He loved being outside, whether in the car or the open air. If he was upset, they could take his clothes off and he'd coo. And he adored his daily foot rubs and the sound of wind chimes.
In every picture in their small house, Jordon is smiling. The day he died was no different.
"He was looking at all of us like what's your problem," his grandmother remembers.
With all they have been through, Newby and Pyke agree they were blessed to have the baby in their lives. And they hope someday to have other children.
They're praying for-and helping raise money toward-a cure.
For more information about Spinal Muscular Atrophy, visit www.fightSMA.com.