My Sisters,
Shaylyn, Kalair, & Malia!
I'm a lucky boy because I have 3 awesome big sisters.
My biggest sister's name is Shaylyn. She turned fourteen ten days before I turned one! I love my big sister very much, and I wish she lived closer so I could see her more often. But she spent the summer with me, and I loved it! Hopefully I will get to see her again soon. We are working on putting more pics of her online so you can see how pretty she is and how much she loves me, so check back soon for more on Shay...
Big sister, Malia, is watching over me from heaven. She had SMA type one and passed away in 2000. We all miss her very much, but we know we'll see her again someday in Heaven. To learn about Malia, visit her website at Malia's Website!
Daddy & Malia!
My big sister, Kalair, lives with me, mommy, and my daddy. In fact, in our new house our rooms are right next door to eachother! I look up to Kalair a lot. She is lots of fun and we love to snuggle. Kalair is even teaching me how to use the cough machine now. She is 6 1/2 years old, and she has SMA (type one) also. Mommy calls her her little princess and says she is our miracle. All I know is I love being with her, and I am grateful that Princess Kalair has taught Mommy all about SMA so she was prepared to take care of me. To learn more about Kalair, visit her website at Kalair's Website!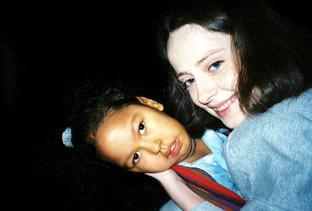 Mommy & Kalair!
Note: I have type two SMA which means right now that I can sit up by myself and roll where I want to go, things my sisters could never do. I am also on an experimental drug that my family is hoping will make me even stronger, and so far it has!