Evansville's Bi-Monthly Raffle
Here are the current winning numbers:
2002
October & November:
1st Prize-499454
2nd Prize-499020
3rd Prize-498098
Congratulations to the 3 winners and thank you so much to all that participated. This raffle was a huge success with total Raffle tickets sold: 1240 at a dollar a piece. With a total of 659 donations given along the way.
2003
January &February: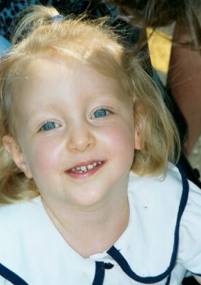 Crystal Allbritton is my daughter, age 3, affected with SMA
· SMA is the number one genetic killer of children
under the age of two.




· One in forty people carry the gene that causes this disease.


· SMA robs patients of voluntary muscle control—including crawling, sitting, walking, swallowing, and even breathing. It shows no age or ethnic preference.

You can make a difference!
To make a donation or for more information call Families of SMA
1-800-886-1762


P.O. Box 196
Libertyville, IL 60048-0196

Your donation is tax deductible
Families of SMA is 100% volunteer

Research update: Researchers are working very hard, with several different clinical trials and efforts directed toward the cure of SMA. They are reaching milestones that are leading them to a possible cure and we are all hopeful that progress will continue to be made.

Local SMA Sponsor's:



Vann Ave, Morgan Ave, & Darmstadt