The Letter
This is the letter read by a friend at Kourtney's funeral service...
December 6, 1999
Piglet sidled up to Pooh from behind. "Pooh!" he whispered. "Yes, Piglet?" "Nothing," said Piglet, taking Pooh's paw. "I just wanted to be sure of you."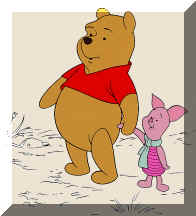 Dear Family and Friends,
While it is impossible to articulate how much our daughter meant to us and how we will miss her, we wanted you to know the profound impact she has had on our lives. Her life, though short, has changed us forever. And while the last 10 months have been difficult for us they have also been incredibly rewarding. In Kourtney's brief time with us, she showed us love, a fighting spirit and the importance of family and friends. So while we are here today in mourning, let's not forget the incredible celebration of Kourtney's short life. We would not trade this time and the experience for anything on this earth.
We would like to thank you all for holding our hands. As a result this difficult journey, we have come to realize what wonderful people we're surrounded by. Just when we're feeling our worst and wondering how we'll get through this, the phone rings, or you show up at our door. You cried with us, you sent cards and gifts, you cooked for us, you called just to check on us, you did research and made calls for us. And, most importantly, you loved our little girl and made her smile. Each person in this room has a special place in our hearts forever.
We feel you grieving with us. We've felt it all along. We know how much you, too, will miss your granddaughter, your niece, your cousin, and your special friend. We feel like Kourtney has touched so many lives. We hope she has made you more appreciative, more caring, more compassionate, and more empathetic. We hope she has brought you closer to the people you love. Never take them for granted. She made us realize how short life is and how we should be grateful for what we have. She has made us all better people.
We wanted so bad to spend Christmas with Kourtney. It's hard to imagine how we'll get through the holidays and the next several months. But we know you'll be there. And we know you'll miss her too.
Some people don't believe in angels, but we do. For we have touched one, and held one, and loved one, for 10 months.
Believe in Angels.
With Love and Gratitude,
Team Schmidt