Click on the photo to enlarge and read it. This little angel is our cousin. He didn't pass away from SMA, he had bowel/ blood clotting complications...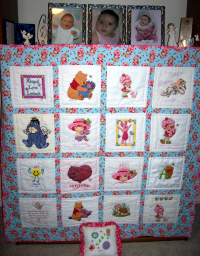 We would like to thank everyone from Cole's Quilts for the amazing work they did on Abby's cross stitch quilt. Your time and thoughtfulness will never be forgotten. To see more of the beautiful work that everyone at Cole Quilts has done please go to their link www.our-sma-angels.com/colesquilts.

Abby's cousin Megan Galbraith wrote this speech shortly after Abby's death. Megan was in Grade 5 and 10 years old when she wrote this speech.
Spinal Muscular Atrophy
By Megan Galbraith
Imagine not being able to hold your head up, move your legs, move your arms, swallowing food or drinks and even finding difficult to breath. These are most of the disabilities that are caused by Spinal Muscular Atrophy Type I.
What is Spinal Muscular Atrophy?
Well, SMA is a disease of the horn cells. The horn cells are found in the spinal cord. Spinal Muscular Atrophy affects the muscles for activities such as crawling, walking, head and neck control and even swallowing. It mostly affects the muscles closest to your body. SMA does not affect a baby's brain. Babies act smart and very happy. They also act like a normal baby. SMA is a genetic disease. If you look at the color of your eyes or the color of your hair chances are you have the same color hair and eyes ass your parents. This is genetic, and that's how diseases can be pasted on from parents to their children.
Type I
SMA Type I is not the only type of Spinal Muscular Atrophy. There is also Type II which is chronic, Type III which is milder and Type IV which is found in adults. The diagnosis of children with Type I is mostly made before 6 months of age and in most cases before 3 months. Sometimes there is less movement in the final months of pregnancy. If a baby has the disease, the baby will never be able to lift his or her head up or the parent will not be able to lift the baby up with their hands because there bodies are like rag dolls. When feeding the baby, he or she may have difficulties swallowing. Babies with problems eating may loose a lot of weight. Doctors may put a feeding tube from the nose to the stomach for feeding. Because the baby's chest muscles are so weak breathing is difficult and may cause infections leading death. Also when breathing it's difficult for the baby it may need extra oxygen using a ventilator.
Facts about SMA
Did you know that SMA is the number one genetic killer of children under the age of two around the world? More than 21,000 children worldwide are born with Spinal Muscular Atrophy every year. It's estimated that 13,000 children will die from the disease this year. One out of 40 people carries the SMA gene. It can strike any person of age, gender or race. One in 6,000 babies are born with SMA , 50 % are diagnosed before the age of 2 and will die before their second birthday. In the last few years tests have improved to identify SMA. Doctors test your DNA from your blood to find the gene. The test can be done on baby still in their mother's tummies. They can also test family members of patients who have SMA. Parents who are SMA gene carriers have a 1-4 chance of having a baby with SMA.
My Experience
My aunt and uncle were blessed with their first baby Abigail Lynn. Abigail was a cute and sweet baby. She always had a smile of her face. When she was about 2 months old, she was diagnosed with SMA Type I. this turned our lives upside down. Our family tried to spend as much time with Abigail as possible. Since the doctors gave her 6-12 months to live. She could not move her body, but she knew you were there to talk to her and make her laugh. We read her stories, which she listened to curiously, and she also loved her Strawberry Shortcake. The best thing of all she loved watching sports on TV. Abigail pasted away at 4 1/2 mths. Her life was short, but her memories will last forever. In the future I hope there will be a cure for all types of SMA around the world. Do you think there will be a cure?