Crystal's Favorites



| | |
| --- | --- |
| | This is by far, my favorite baby to play with. He is my 1 year old brother named Nicholas. |
| | | |
| --- | --- | --- |
| | | I can play with my babies for hours and hours..... |
| | |
| --- | --- |
| | Another one of my babies! |
I really like staying busy. I have lots of different things to play with and I can be creative and play with things trying to be just like the people around me.
| | |
| --- | --- |
| | I am really getting good at this bus now. I can go forward and backward. And I can stay on it without tiring for almost an hour! When I first started, I would fall off all the time so Mom would have to stay right by me, and I could only go backwards an inch at a time. |
Water is the best. Crystal can do anything she wants to, even walk. Plus there is absolutely no struggle with trying to encourage her to do it, in fact, this is the only therapy that I have to put a time limit on to avoid fatigue. Crystal currently plays in the tub every third day for 45 minutes with hopes to build to longer more frequent times.
| | | |
| --- | --- | --- |
| | Nicholas and Anthony help with me too. They provide companionship and help keep me on my toes. | |
| | |
| --- | --- |
| | Look at me!! I always wanted to ride this bike and now all my hard work is paying off. I can sit and advance forward or I can lean on the seat and walk it forward. All by myself. |
| | |
| --- | --- |
| | When I get to see my Dad, my whole day brightens up!! |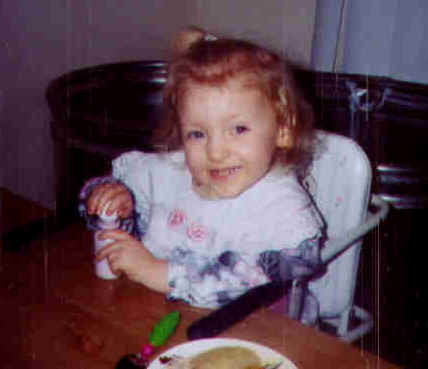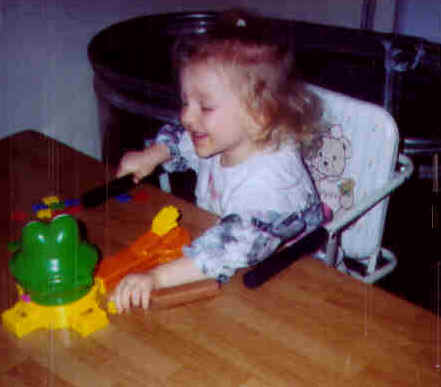 Sometimes, Nicholas just will not leave me alone. Mommy lets me sit up here so I can play with games that have little pieces. I love being able to play here, because it gives my legs a break.