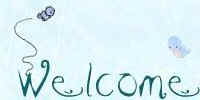 Medical Equipment cont...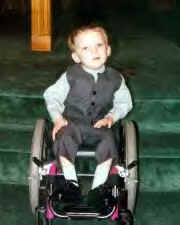 This is my mommy's new friend's son named Aschdon. I hope I can meet him someday. He has a wheelchair almost just like mine.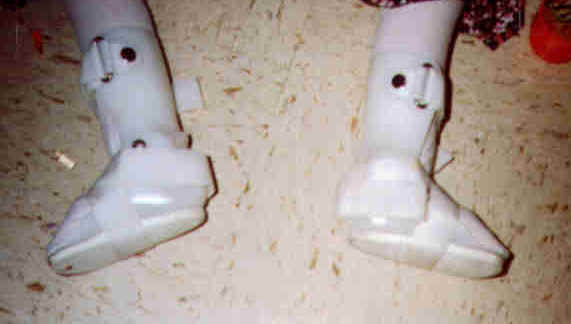 Here is our first upsetting experience with MDA. Their staff came out to my house three times having discussions with me about new braces for Crystal. I was very clear about all the different areas that needed to be supported with the braces. She assured me that the braces would be made to handle Crystal's needs. I sent them back twice after they were finally made 3 months later. They need to have this, they need to have that.... Each time they came back with inappropriate alterations. What about these braces will support her ankles? had the funniest reply, "Her muscles." I finally accepted them and sent them on their way. Crystal's PT comments, "These braces are useless." He did, however, suggest using them as shoes. Leave them on even through the night he said, "They will relax her tibia muscle in the back and prevent plantar flexion." Well it worked too. Crystal, while not wearing the braces, actually dorsiflexes her toes!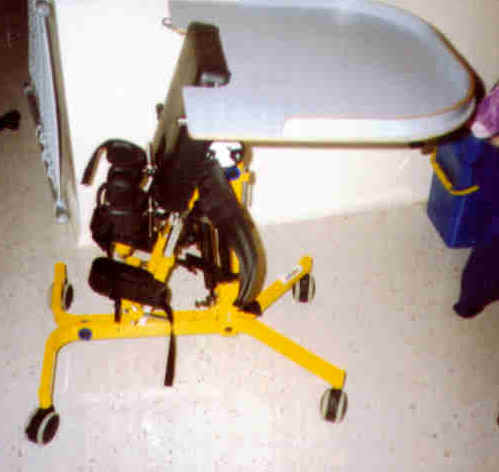 Gazelle stander. Picture didn't show that it had a bar under the crotch! The only way to get rid of the bar, meant that I would have to use the back support for her bottom. I did this and had to realign it for Crystal after the ex-PT adjusted it?? Nevertheless, the only downfall now is that she is not supported laterally or from falling backwards! We often can back her stander up against shelves or something, and we have to stay right with her. (Just in case)
| | |
| --- | --- |
| | This is a loaner gait trainer from Crystal's current PT. |
| | |
| --- | --- |
| | What you think you see is right, just pedals. Another loaner from Crystal's current PT. |
| | |
| --- | --- |
| | Crystal only uses this walker in therapies. Crystal's Dad lucked into this piece of equipment from someone he was working with. |
| | |
| --- | --- |
| | Grandma Marie gave us this chair, Bambi painted it, and Dad added safety adaptations to it. |
| | |
| --- | --- |
| | Dad found the go-cart, Mom supervised the adaptations, and Dad did all the work. She can't pedal to make it move, but we leave her braces on while riding this and the movement of the pedals give her Range of Motion exercises. Also, the movement alone causes her to work her head control and her trunk muscles. |
| | |
| --- | --- |
| | 10" Comet. |
| | |
| --- | --- |
| | Okay, this is not "medical" equipment, but it is very important to Crystal. It is new so she is gonna have to work her way up to her maximum ability over a gradual period. |
| | | |
| --- | --- | --- |
| | | |
| | |
| --- | --- |
| | Crystal is finally accumulating more and more equipment that work her legs and boy she is sure getting stronger and her will power and desire to walk is her main motivation. |
We finally got Crystal's Rifton Gait Trainer. Isn't this awesome. It has adjustments everywhere and supports her just where she needs it.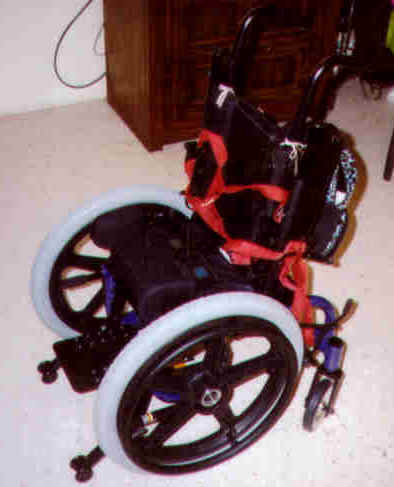 On a routine visit to the MDA clinic, we were surprised with Crystal's gait trainer and her new wheelchair. We new the P/A had been approved but were waiting for the equipment to get here. It arrived the day before her appointment with MDA.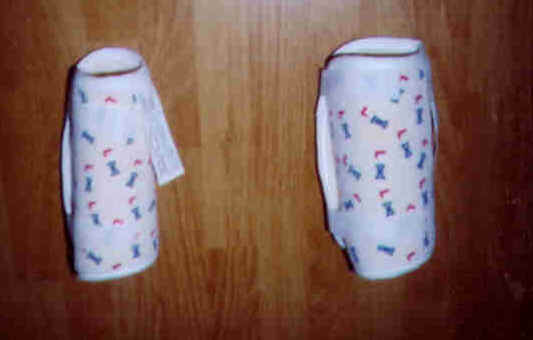 Here are the elbow splints that were previously ordered for Crystal to do weight bearing on her shoulders. After Conrad realized that I was using them for assistive crawling he said it was not good for her bear weight like that and now she does not do this activity or use these splints at all.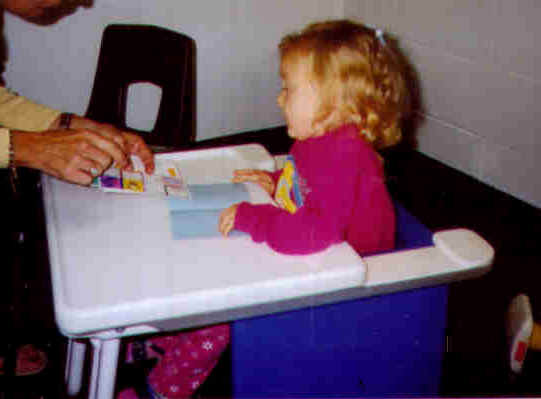 Crystal's evaluation with the school corporation. She passed with flying colors achieving over and beyond what is appropriate for her age. But I really like this seating device they use. It is completely safe, no room for her to fall and the table top is big enough for her to use even her biggest activities. The school corporation has chairs like this at the rehab center that she will be attending preschool this fall. She turns 3 on July 18th.