Evan In The News!


New wheelchair swing added to Ken Fovargue Park
By JENA SCHEUNEMAN
BULLHEAD CITY -- The air movement tickles Evan Breton's long brown eyelashes, causing his eyes to close in delight as he is propelled back and forth on a new swing at Ken Fovargue Park.
Breton's parents, Garth and Skarleth, said they are pleased that their 3-year-old son can swing now, when the family goes to the park. Because Evan cannot sit without support he cannot swing in a regular swing, which has made going to the park not much fun for him, until now.
Now, Evan can use the wheelchair swing which was dedicated at Ken Fovargue Park Monday morning. Getting the swing installed at the park was initiated by the Bullhead Area Parent Partnership for Special Needs Children.
The group solicited donations for the $1,475 swing from local community groups. River Cruizers car club, Bullhead City Morning Kiwanis, Mohave High School's Interact Club, Desert Community Baptist Church Women's Group and local citizen Pamela MacConnell contributed to the project.
"All these efforts have allowed us to provide a wheelchair swing for our precious children so that all children, with and without disabilities, can enjoy their childhood in a cooperative community where everyone has an opportunity to play together," said Partnership President Etta Hartford.
"We appreciate city council member Jack Hakim who was instrumental in getting this equipment in the park. He has truly been a blessing as our advocate to the city council," she said.
Unfortunately the new wheelchair swing, which was installed about a week ago, has already been vandalized.
"How disappointing it is to have finally raised the funds for this project and now have someone bending and breaking parts off of it," Hartford said.
The new swing has a platform that is hinged to allow a wheelchair to roll onto it and chain to hold the platform up.
"Because it is larger than a swing to sit in we are getting groups of people getting on this, bending hinges and breaking chains," said Bullhead City Public Works Director Doug Lutz.
The city has posted signs by the swing noting it is for wheelchair use only.
"We certainly request the community adhere to that because we are spending quite a bit of maintenance time repairing those," he said.
But vandals are of little concern to the Bretons, standing in the sunshine at the park, watching their son swing.
"Before the swing was here) I did avoid taking Evan to the park because frankly it was a lot of work and not as much fun for him. But, now that the swing is installed, we are definitely going to use it," Skarleth said.
Evan agrees.
"My toes touched the clouds," he said with delight, descending from his first swing ride.
With the support of Hakim, Hartford said, the city plans to use grant funds to purchase and install new equipment in Rotary Park which can be used by all children, with or without special health care needs. Wheelchair accessible restrooms and sidewalks are in the plans as well, according to Hartford.
Bullhead Area Parent Partnership for Special Needs Children holds meetings at 7 p.m. the second Thursday of each month at Bullhead City Fire Station 1, 1260 Hancock Road.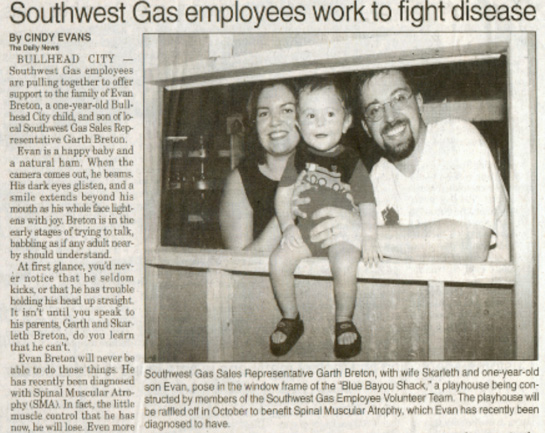 Bullhead City--
Southwest Gas employees are pulling together to offer support to the family of Evan Breton, a one-year-old Bullhead City child, and son of local Southwest Gas Sales Representative Garth Breton.
Evan is a happy baby and a natural ham. When the camera comes out, he beams. His dark eyes glisten, and a smile extends beyond his mouth as his whole face lightens with joy. Breton is in the early stages of trying to talk, babbling as if any adult nearby should understand.
At first glance, you'd never notice that he seldom kicks, or that he has trouble holding his head up straight. It isn't until you speak to his parents, Garth and Skarleth Breton, do you learn that he can't.
Evan Breton will never be able to do those things. He has recently been diagnosed with Spinal Muscular Atrophy (SMA). In fact, the little muscle control that he has now, he will lose. Even more sadly, there is no treatment and no cure.
SMA is a rare form of muscular dystrophy. Breton's pediatrician claims to have only seen one other case in his professional career and that was 17 years ago. His parents have been told that their son is the only known case in Mohave County.
The disease, the number one genetic killer of children under the age of two, destroys the nerves that control voluntary movement, which affects crawling, walking, head and neck control and even swallowing. The Bretons have been told by doctors that their son will eventually succumb to the disease. For the Bretons, every additional day provides a glimmer of hope for a cure.
According to Skarleth, she and husband Garth are carriers of the disease, a requirement for any of their offspring to be afflicted. There was only a one in four chance that any of their children would acquire the disease.
"We're coping pretty well," said Garth. "Of course, we were shocked when doctors at Children's Hospital in Phoenix explained their findings to us. And we were truly saddened when we learned that the disease is almost always fatal, especially for infants.
"After the initial shock wore off, we decided the time we had left with our son would be quality time, we want to make every minute count."
The Bretons won't have to go through this time alone. Their faith is strong and they have support from friends, including the employees of the Bullhead City District office of Southwest Gas, where Garth is a sales representative.
For the last month, members of the Southwest Gas Employee Volunteer Team (EVT) have been meeting after work to build a playhouse, called the "Blue Bayou Shack", (because of its color). The playhouse will be raffled off October 21, during the annual Hardyville Days celebration. Proceeds from the raffle will be donated to "Families of SMA", the largest international organization dedicated to eradicating the disease.
The playhouse is anything but ordinary. The structure stands 15 feet high, and sets on an eight-foot by eight-foot platform, with an open four-foot by eight-foot porch and windows on each side.
"We had to do something for Evan and we all wanted to help," said Yvonne Montoya, EVT member and project coordinator. "Evan is our Southwest Gas angel.
"The employees of Southwest Gas in Bullhead City are like a family, especially when it comes to our kids. When one of us is in trouble, we all want to help."
The Mohave Valley Contractors Association provided the building materials for the project, and Garth, along with Yvonne, Mike Higgins, Adam Nicander, and Chris Montoy have been working two hours every Tuesday and Thursday after work at the Southwest Gas warehouse to complete the project.
"This is a terrific company," said Garth. "There are so many good causes in the community. It was a terrific gesture by the employees to do this for Evan. It shows they really do care about one another and our community.
"Skarleth's sister Mariam Barth, is the only family either of us has in the community. The employees have been a tremendous inspiration to us."
According to Montoya, the committee hopes to put the playhouse on display several times during the next few months to promote ticket sales.
"We haven't quite figured out how we're going to move the house," said Montoya. "We'll have to use a forklift and a flat-bed truck to move it."
The group has 1,000 tickets printed and hopes to raise $3,000 before the playhouse is raffled off in October. Tickets can be purchased at Southwest Gas, 1705 Langford Drive, from Yvonne Montoya or Garth Breton for $5 each, or three for $10. Checks should be made out to Spinal Muscular Atrophy.