Scrapbook

This is Jamie's Bear - This was made especially for Jamie by Pattie Potruff
for being one of the two co-honourees of the 2005 Rebecca Run! Notice that
there is a Pooh-Bear where the paws come together. Abby Loebach has a bear
with a little lady bug between the paws! (best friends in heaven)
Thank you Pattie!!
Everyone Loves the little bear!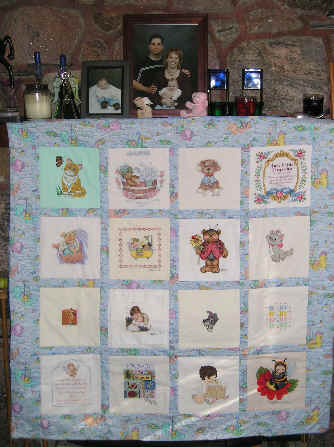 Jamie's Quilt
Stitched together by The wonderful people at Coles Quilts
Cross Stitched squares sent from all over Canada, US, Mexico and England!
Thank You to all who sent in a
square for Jamie's Quilt!
July 4/05

From Arms of Love
A darling Angel Baby,
Came to visit for a while.
Jamie had laughing eyes
And a beautiful smile.
Her parents so loving,
With so much to give.
The darling little baby
With them came to live.
I was completely blessed
To hold Jamie near.
The love in her eyes,
So warm, so sincere.
She absolutely owned me,
Love at first sight.
Jamie touched us all
So bright, a shining light.
From Arms of Love
We send this Angel home.
Lord hold her close,
Please donít let her be alone
From arms of love
Touch her family I pray.
Fill them with her love,
From above everyday.
From arms of love.
The new hit me hard
That cold sad day.
My tears stained my cheeks
As I started to pray.
Lord I am a sinful man,
I hope you hear my prayer.
Lord you must need Jamie
She is now in your care.
Now all that is,
Can we comprehend
In faith from Loving Arms
This beautiful Angel we send.
Dave Benson 2004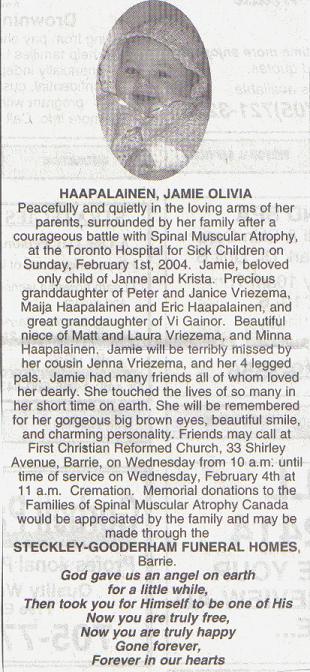 Jamie's obituary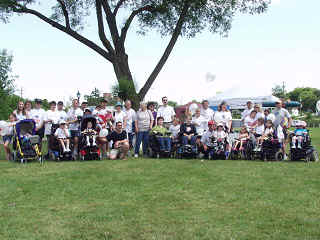 Rebecca Run for SMA
July 10 2004 Fairy Lake, Newmarket Ont.
Largest group of FSMA families ever!
It was such an awesome day. We got to meet alot of other families dealing with SMA. A bunch of kindred spirits! (www.rebeccarun.com)

Darlene Lamb's grandson, Adam, died at less than 6 months of age from sudden infant death syndrome. To help Darlene in her struggle with depression, a friend invited her to a lake as a place of refuge, hoping the peaceful setting would give her time for reflection. While taking photographs at dusk, Darlene happened to look at the sky behind her and saw the amazing image of an angel in the clouds. She quickly took the photo you see on this website, one that was to effect her life in many ways. Darlene explains this effect by saying that it taught her "not to give up on life; but to give it up", as she motions towards the heavens.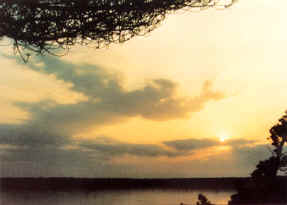 Our funeral home gave us this picture on cards and on a plaque in memory of Jamie. I was amazed the first time I saw it. I'm still amazed everytime I see it! - K