What Colin Likes...

I'm 4-Years-old now!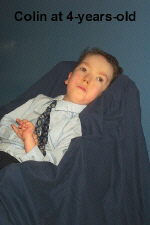 I still like my Sesame Street every morning
NOGGIN!!!
THE WIGGLES!
making my Tarzan yell
listening to books my Fisher Price tape recorder
using my arm sling to play with toys and do art projects
reading books to people using my step-by-step communicator
I have lots of words like: Dada, Mama, uh-huh, no, moo, boo, ruff, whoooooo (wolf), bye, hi, bra (brother), book, more, flip, Yaaaay!, bed, red, blue, go. Some of the words aren't really clear, but my mom and dad and nurses know what I'm saying!
making people laugh
blowing kisses
making MEAN faces (I usually end up smiling because people laugh so hard at me)
Of course, I still like most everything else, too!
brushing my teeth with my squiggle brush
oh, I like my pink toothettes, too
I tolerate Sasha!!
books, books, books, especially sound story books, pop-up books and lift-the-flap books
laying on my belly
playing on the computer with my mom
"going" to TV school
putting stickers in my sticker books
doing my Pre-school workbooks
PLAYING and SWINGING in my Make-A-Wish Room!
Waking up with Mama and cuddling in her arms while I'm half asleep and still on my bipap.

click here to see what I liked when I was 12 months and 18 months and 2-years-old
and 3-years-old!