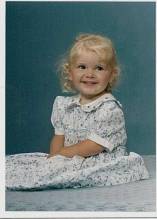 Hi! I want to tell you a little about myself before my mom does her thing. My name is Sara Mackenzie Seavers and I am 2 years old. I have a disease called Spinal Muscular Atrophy. This disease is the # 1 Genetic Killer of children under the age of 2. There are 4 different Types of SMA. Type I, II, III, Adult. Type I is the worse. I have Type II. I was walking at 8 months old holding on to my Mom & Dads fingers but then very quickly I could not even stand up or rollover. Eventually Riley Children's Hospital ran some test and told us that I had SMA. It made my Mom and Dad very sad. I now have a really cool purple wheelchair that I can chase my dog Toby with. My grandparents, aunts, uncles, and friends spoil me rotten so life is pretty good but they are trying to help find a cure for me but need your help. I am going to let my mom tell you how.
Hi. My name is Dawna Seavers and I am Sara's mom. This is a time of great hope for all families coping with SMA. We are about to cross the threshold that will lead to a treatment. This past year, the Aurora project which is funded by Families of SMA, has run over 500,000 compounds on 2 different screens and several "hits" have been discovered allowing us a greater promise for developing a drug which will have therapeutic potential for SMA. Families of SMA is currently under contract with Aurora to develop these compounds further so that they can be tested in the SMA mouse models. After their efficiency is shown in mice, we will exceed the need for over $7 million dollars over the next 18 months.
There are several ways that you can help:
You can donate to Families of SMA directly by logging on to the Families of SMA Website at www.fsma.org.

You can read about our upcoming fundraiser and donate your time.
In the next few months there is going to be a story about Sara in "The Republic", so that we can let the community know about SMA. Because SMA is so rare very few people have heard about it in Columbus. Sometime later in the year I hope to do a major fundraiser. We are still in the planning stages. If you have any ideas or would like to be on the committee please give me a call.
It is because of the support from our communities and family and friends that we have come this far, but it is not over yet. Please help us to reach our goal…….. Together we will find a cure.
Best Wishes,
Dawna Seavers
2086 Pinewood Drive – Columbus, IN 47203 **** Phone: 812-372-5403