My 11th Month:
February 4 through March 3, 2002.
February 4: I feel a little bit older, a little more mature! I had a good night. I tolerated my formula well. I think I had pears with all the other stuff. This morning I had a tub bath with Casey and we played upstairs in my room for a bit (it used to be Casey's room). Then we all went into Mommy's room (where I sleep) and I fell asleep on bipap in my bed. Casey is lounging on the bed watching Toy Story 2. Lillian is here giving Casey his Jin Shin treatment.
February 5: Elizabeth came to be my nurse today for 4 hours. It was my first real nursing care. We didn't do too much, she is still getting used to me and me to her! They tried to get me to take a nap in my crib "ugh" with bipap. No way! So they took me out and then I pooped. Eliz got a big one!
February 6: Our PT came today. Pam and Mommy talked a lot. They are discussing what type of stroller/ wheelchair would be best for me. I showed Pam how I lay on my belly. I can lift my legs off the ground!
February 7: I had my own nurse again today. Mommy actually ran to the store when Elizabeth came because Nurse Julie was here, too, so she felt okay leaving for half an hour! Elizabeth was good to me. I did not want to sleep. She played with me a lot. Then my teacher, Jennifer came, and we played some more. She dumped a whole container of puffy, pom poms on me! After all the playing, I finally fell asleep for an hour and 45 minutes! I even slept through all the excitement of Casey coming home from school. Mommy got to clean the kitchen and watch Rosie and vacuum the living room while I slept. Oh, I looked very cute today. Daddy bought me a Harley Davidson outfit complete with long sleeve orange onesie, black pants and an orange hat. Very cool. Mommy will put up a picture soon.
February 8: I am napping. I told Mommy to tell you that I am feeling good, mostly. Sometimes I get lots of stinky gas, but other than that, I feel great! I had a little dip this afternoon when OUR teacher was here for Casey. I was a little jealous so I cried and dipped a little. Aunt Chris came early for her this afternoon but didn't feel good so she fell asleep on Casey's couch. Then she went home when she woke up. She's no fun! But I have a bad enough belly, I don't want to get sick! I demanded a lot of attention tonight. Someone held me all afternoon and all this evening. I am so relaxed and calm when I get what I want.
February 9: You'll never guess where we all went today, so I'll tell you! We went to the Mardi Gras parade in Burlington. Mommy wasn't too thrilled about going--I think she was nervous bringing me. Anyway, she decided to go for it and off we went. Casey rode in his wheelchair, Nurse Julie sat next to Casey, Daddy drove, and Mommy and I sat in the back. I was in my car bed. I was perfect the whole ride down! I had just taken a nap on bipap so I felt good. We had a hard time finding a good handicap spot, but Julie got out and talked to a fake police man and he let us go down a road that was blocked for the parade. We weren't too far from City Hall where they had a handicapped viewing area. Some really nice parade volunteers got us a good spot right in front. When I first heard all the noise and heard the loud music and all the yelling, I didn't know what to think. My SATs dipped to 93% and I cried a bit. Daddy took me out of my stroller and held me and then I wasn't scared. I was PERFECT the whole time. Casey was a little puzzled with the whole parade. I think he had fun, though. We got TONS of necklaces and candy and chocolates and hot chocolate packets and whoopie pies. We saw some really wacky, strange people and lots of cool floats. The best one was a bunch of people in hot tubs with lots of suds. They were stopped in front of us for a while and they threw lots of bubbles and suds at us! Oh, just for the record, I was very fussy this morning. Mommy gave me Tylenol twice. The second time right before we left just to make sure nothing was hurting me. We got back late this afternoon and I'm very tired but won't sleep. Had a nice lavender bath and warmed up and now I'm hanging out.
February 10: I slept pretty well last night. I was TIRED! I did want my bipap off at 2AM. And later I fussed so Mommy put me in-between her and Daddy. I slept good! Then, Mommy woke up and there was formula all over! Daddy put a towel over the worst of it and Mommy went and slept on the couch. I was happy this morning. Not too fussy. Mommy bought me a tiny mylar Valentine's Day balloon on a stick. I love winging it around! I took a cat nap. Aunt Chris came over. She entertained me while I lay on my belly for a really long time. I love it because it feels so different and I can play with my legs. I can lift them way up off the ground. Mommy was frustrated with me this afternoon. Lately I have been fussy, fussy, fussy at times. Sometimes it's gas but sometimes it's something more. She couldn't console me or get me to wear my bipap or sleep. Well, I pooped and then promptly fell asleep in the big bed with Daddy for 2 hours! I was happy after that.
February 11: My poor brother has an ear infection! He's been a little quiet lately and he's been fussing/crying when he's been on his right side. Mommy kept asking him if his belly hurt, or his leg hurt or his ear hurt. He blinked yes for his ear lots of times. He doesn't always cooperate when anyone asks him things. Our doctor is out of town, but Nurse Peggy is at the office as well as Madeleine Mann, NP. They came out during their lunch hour and checked out Casey's ears. He had lots of soft wax, which she removed, and his ears looked pink/red. Not really, really bad, but enough to call an ear infection! So he will take amoxycillan through his g-tube for 10 days. Oh, and we had a dual bath again this morning. Ahhh, I love it! Then I fell asleep on bipap. Then I sat with Casey in the bean bag for a long time and helped him make Valentine's for the nurses and put some chocolates, a lollipop, a Valentine tube of Avon hand cream, and the Valentine in a baggie. I liked playing with the Hershey hugs and kisses and the leftover construction paper. This afternoon I rocked with my Mommy on bipap and took a little nap. It was sooo nice! We're all going to be early tonight. It's really cold here so we're snuggling down for the night! Good night!
February 12: Rough night for me. I woke up in the middle of the night crying and hot and full of stuff in my nose. My heart rate hit 204 a couple of times. That is NOT good. Ugh. Daddy had to suction me and calm me down and comfort me a lot. I had lots of gas, too, even though Mommy hooked up my Farrell Valve bag that's supposed to help with that. Mommy and Daddy thought for sure I had a cold. Then, in the morning, I was fine. No suctioning all day long! They did give me Tylenol a lot since they thought I was achy. I had my own nurse for 4 hours today. Nancy, who comes and weighs me, did my shift today. Mommy was very tired and at the end of her rope so she was glad for some help. I wasn't too cooperative, though. I did finally sleep in my crib on bipap for a while. Mommy thought she had it made...but then she went downstairs to put in a load of laundry and get a drink and when she came back up I was awake and fussing and off my bipap. So we all went downstairs and I played with Nancy while Mommy straightened up a bit. Casey is feeling a little better. He said his ear didn't hurt anymore. Oh, at 8:30 PM I was in Daddy's arms asleep in "the chair" when all of a sudden I got really chokey and yucky. Then I cleared up. Whew.
February 13: I slept well, I guess, last night. Mommy told me that at 3:30 AM she checked me and I was red and hot and my heartrate was in the 180s! She gave me some Tylenol and moved me around. I didn't even know it! I didn't complain about bipap hardly at all, I was so tired! Daddy and I slept in a little bit. Mommy took advantage of it and got up and did some things around the house. A nursing student, Jed, came today. He mostly learned about Casey's care. Whenever he looked at me I bawled! Mommy actually went to Hannaford's for half an hour while Nurse Sue and Jed were here. Aunt Chris didn't come tonight. It's her class night. Nancy had was Casey's evening nurse. We just hung out and watched TV. I was a good boy. Daddy put a special Irish Claddagh ring on Casey's finger and had Casey call her over and wiggle his thumb. It was Mommy's Valentine's Day present. How come the big brother gets to do all the cool stuff?
February 14: Happy Valentine's Day! Quiet morning. Daddy went in to work early and came home at noon. Casey went to school. Mommy had to go to the dentist. Daddy and I worked on his computer. I fell asleep for most of the time Mommy was gone. Casey got lots of Valentine's from school. I played with the ones that I got in the mail. I got lots, too. But Casey got more since he goes to school. I hung out with Aunt Chris a lot. She brought me and Casey some cool gifts. I got a Valentine Elmo board book and a CD of nursery rhymes and some little toys for me to hold on to and wave around. Mommy gave me a nice bath and snuggled me in pajamas. I stayed up until almost 9 PM!
February 15: I slept really well last night. I was on bipap lots. No gas or fever or grumpiness. Pretty quiet day. I fell asleep on Nurse Sue and Mommy brought me upstairs and put me on bipap. Then Aunt Peggy called and woke me up (after 10 minutes). I was energized from my catnap. Went downstairs again and played. Casey got his Jin Shin treatment from Lillian and I had a mini one. Then Mommy brought me up again and she had to fight with me for an hour to get me to sleep. On bipap, off bipap, on, off, left side, right side, change poopy pants, on bipap off bipap, then, finally I fell sound asleep on bipap. This time Daddy woke me up when he came home from work at 3PM. Oh well. I played for a while and dozed on Daddy's lap. I love snuggling with my Daddy. Casey never napped. Mommy let him watch Rosie from his bed, which is taboo. Aunt Chris came. She was tired because she's stayed up every night watching the Olympics. Oh, and I was jealous tonight because Mommy got to talk to Lily on the phone and no one offered to let me talk. Good night. Off to bed go me and Mommy.
February 16: Well, I didn't have a great start to the day. But, I ended up doing good. Guess what? Mommy and Nurse Darla used the in/ex on me and I didn't desat at all and my heartrate didn't skyrocket, and they got that crappy stuff out of my throat. I mean, I don't love the machine, but I don't think I will hate it---at least when I know I need it.
February 17:
February 18:
February 19: Let's see. I was pretty good when I woke up. It really helps having that syringe venting my tube at night. Mostly it bubbles up with air when I'm on bipap, but even when I'm off it does it sometimes, too. I am a gassy boy! So, I did pretty good this morning, which is lucky, because we had to go on a road trip for me to try out a special stroller. Mommy and Daddy packed up all my stuff and off we went. I was on bipap in the car on the way down. We met Pam, the PT there and Tom the chair guy and a new chair lady. I tried out a Kid Kart Express. It felt good and I looked pretty good, even if it wasn't fit exactly for me, we could get an idea of how it would look. The Kid Kart Express can lay flat so it will be comfy for me. And, they can put a tray underneath for all my stuff. I had to be suctioned a couple of times we were there, but not too bad. I was great all the way home. Then Mommy and I took a two hour nap upstairs. AAAAhhhhh. It felt so good. Daddy didn't go back to work. He stayed and did some work from home. Aunt Chris didn't come because of her class. So we had a mellow evening.
February 20: I was okay this morning. But I did have lots of secretions still. Got suctioned during the night more than usual. I hung out with Casey some and watched TV in the morning. I fell asleep and Mommy put bipap on me. Later on in the morning some news people came to interview Mommy about Special Education and to see Casey get on the bus and see him at school. It was okay. I slept through the beginning of it. Then Nurse Elizabeth came for me so she entertained me while they interviewed Mommy and all. It was raining hard so they interviewed Mommy inside and then followed Julie and Mommy pushing Casey out to the bus...very slippery!! Then I had tons of secretions and I cried a lot. I had lots of yucky poops, probably from the medicine I am on. I wasn't very into it when Jennifer came to play and teach me. I let her rub my legs, but that's about it. Then we got set up in the living room and I fell asleep rocking with Mommy on bipap. Ahhh! Casey came home and did not want to nap. He seemed very excited, probably because of all the commotion at school. Casey got a back rub and I hung with Aunt Chris and Daddy. I had one bad chokey spell. Finally I perked up. Then we went to bed!
February 21: Last night my venting tube came out of my tube! Ugh. What a mess! Daddy was downstairs and Mommy and I were sleeping. She woke up around 11 something and noticed there was formula all over. She and Daddy had to change my whole bed and my bottoms. I thought it was funny...then I went right back to sleep. I had an okay start to the day. I had a grumpy start to the day. I needed a little bipap to get me back to feeling good. Since then I've done great! Mommy hasn't had to suction me except for this morning. Casey's teacher came. I got to play with them, too. (She's my teacher also, but we see her different days.) I played parachute with Casey, Mommy and Jennifer. Casey and I were laying on his pillow and Mommy and Jennifer would put this colored parachute over us. One of us would have to "use our voice" and then they would lift it, and then we'd use our voice again and they'd cover us up! Then, we played "body ball". We used the lunar (very soft and flexible soccer size) ball and Mommy had Casey's arms, Jennifer had his legs and Nurse Sue had one of my arms and legs and we batted the ball all around and tried to score points! We ended up tied! Then Daddy came home early because we had no evening nurse. So I rocked with him on bipap and we both slept. Mommy put lots and lots of clothes away and Casey watched Happy Day's. When I woke up I was sooooooo happy! I feel much better. I guess I had a cold or bug or something. I haven't had a lot of goopies and I haven't had to be suctioned. Mommy gave me a bath. I had so much fun winging my head around and catching the rubber ducky and the wind up shark. I also played with my cup and wash cloth. I feel so refreshed! Aunt Chris has had me laughing so hard my belly is shaking! Then, I got so tired I was fussing. Mommy brought me to bed but I didn't want to give up. It took an hour of playing with my balloon and Mommy rubbing my fingers to get me to sleep! Good night!
February 23: Guess what? Guess what? Guess what? I was on bipap from 8:30 PM until 6:50 AM this morning! I would have stayed on longer, but Mommy thought I was fussing because I was ready for bipap to be off, but I was really only fussing because I had gas! Mommy flipped me and moved me around and never even had to take my bipap off for even a second. I feel great this morning. I am smiling and playing with my gym with lots of energy! Mommy, Mommy, why did you have to say how good I was doing? I was doing well...I was hanging out with Daddy. Casey was still sleeping. He got up to suction Casey and turned around and saw my O2 drop. I went down pretty far. He suctioned me and got the O2 and Mommy came in and in/ex'd me. I came up pretty quickly and now I am great again. Really, I am feeling better!
Oh, HAPPY 2nd BIRTHDAY to my friend, Kalair! We haven't met in person yet, but I know we'll have lots of fun together when we meet in NJ. Will May ever come???
I ended up having an okay day. I had lots of secretions from my mouth, but I didn't do any more funny stuff. I played a lot and slept on bipap. I wanted to be held a lot in the afternoon and evening so Mommy and Daddy took turns!
February 24: I am proud of ME! I slept on bipap all night again! I was on from 8:10 PM until after 7 AM this morning. Mommy flipped me and moved me around and I hardly peeked at her at all! My SATs have been so good today. My heartrate was a little high though so Mommy gave me Tylenol. I took a nice tub bath this morning. I played and played and splashed. Then Mommy and I played in my room. Then she and Daddy put me in my bed on bipap and I was out like a light! Daddy is sleeping with me...I had a good afternoon, being rocked and entertained. Grandma and Grandpa O'Neill came over for supper. Aunt Chris is on her way to Florida. I got kind of grumpy and then fell asleep for a bit. Then I got grumpy again and had a bad poop. My butt is red, and it hurts! Time for bed, I am a sleepy-head!
February 25: I did it again, slept all night on bipap! I was a little more restless because I had lots of gas going through me. Mommy turned me a lot and kept me as comfy as she could. So it was an okay night! I had a good morning hanging out with Mommy, Casey and Nurse Julie. Then I took a nap on bipap downstairs. Then I had my own nurse. We read books and played and did stretches. I spent some time on my belly. Later I fell asleep on bipap rocking with my new Nurse Nancy L. I woke up crying later because no one was right with me. I got over it quickly and have been having a great evening! I'm not my usual grumpy, demanding, rock-me-now-self.
February 26: Quite the busy day today. I slept on bipap again all night. Kind of restless because of all the gas...but I slept okay. We got up a little later than normal. Nurse Elizabeth was here for Casey. At 10A Nurse Nancy R came for me. And, Mark Woods, who does stuff with switches, came for Casey. Jennifer came to see it, too. And, there was a student nurse here too. Lots of adults around! It was so nice that Mommy wanted to take us for a walk, so we got all of our stuff together and walked up the road to the pond. Casey threw some rocks in. Then we started to go back towards the house and I got chokey. It was hard for me in the baby stroller because it was so sunny and I was being jostled around...I kind of liked it but I got too spitty. Of course we had my suction and O2 so I felt better really quick. Then I went inside with Elizabeth and the student, Tracy, and Nancy and Casey did some more strolling. I had a tub bath this afternoon and got in my PJs. Nurse Nancy got Casey all cleaned up and in his PJs. Now it's just me, Casey and Mommy and Daddy until Julie comes tonight. Ahh, nice family time!
February 27: I was a little restless last night. I had to have my nose suctioned a couple of times, but bipap went right back on! Mommy flipped me and moved me around a lot, but I just wasn't quite right. She was not happy with my SATs, either. They were running more like 994-97% instead of the 99-100% that I had been doing the past several days. I was kind of fussing in the AM, but all of a sudden I felt better. Mommy did get some goobers out of me. Maybe that helped. I took a nice nap upstairs on bipap. Then I hung out downstairs and demanded attention. I didn't feel like being on bipap at all, even when I seemed tired. Oh well, we'll have those days! Oh, guess what? I went from 14 pounds, 11 1/2 ounces to 15 pounds in one week! I think it's because I've been so good about bipap at night--it gives me a good break at night so I don't have to work so hard, and because Mommy was really pushing my "mixture" this week!
February 28: Great day today. I slept pretty well last night, so that helps! Of course I had to do a little fuss today, especially when my Mommy didn't want me to...Casey was getting ready to go to the mall on a special bus with Nurse Julie and Mommy wanted to help them get ready, but I wanted attention! And, I had a new nurse today. She was just starting her shift when all this was going on so it was stressful on Mommy. I didn't mean to do that! So then new Nurse Rachel and Mommy brought me upstairs to my room--not where I sleep with Mommy and Daddy, but my real room. They worked hard to get me to sleep, but I finally slept peacefully for an hour on bipap. Then we all went downstairs and played and I watched The Best of Elmo and Baby Mozart. Oh, Lily, would you mind copying some of your favorites for me? I spent about 10 minutes on my belly, did some stretches and was happy. Then big brother Casey came home! He had lots of fun at the mall. He played games at the arcade. Julie's nephew, Joseph, and Julie's Mommy met them there and hung out. Even Daddy went and hung for a while! Then Mommy got us all set up in the rocker/recliner and I fell asleep on bipap watching Rosie snuggling and rocking with Mommy. I slept for 2 hours! Then I hung with my Daddy. Nice day today! Since I slept kind of late this afternoon, Mommy brought me upstairs early, but let me hang out in my bed without bipap for a while and play while she watched Survivor. I had fun playing with my balloon, foam dolphin, cap from my feeding bag and my yellow doggie. Then she and I snuggled and I fell asleep at 9:30!
March 1: I was a bugger this morning! Well, I didn't sleep so great last night. I was restless and had lots of gas. Then, this morning, Daddy found the cap to my feeding bag under my back and it left a mark! Ouch, no wonder why I couldn't get comfy! I had lots of poops this morning. Mommy couldn't get me to take a nap. I was on bipap, off bipap, on, off. Finally she took me upstairs which is what I wanted. I didn't care that she wanted to get some things done downstairs today--I wanted my snuggly bed! So I slept for a long time. Ahhhh. Then I got up and played and we did our Rosie ritual again. Then Mommy gave me a nice tub bath and got me ready for bed early. I didn't talk with Aunt Chris on the phone tonight, but Casey did. She comes home on Sunday!
March 2: I guess I was a grump today. Not much made me happy. I didn't even have much gas or anything. I did one "dip". The best part of the day was having a tub bath even though I had one last night! Casey and I had fun playing in the tub. He washed my hair. Mommy went with Nurse Julie and Casey to Kinney Drugs and Brooks in Milton. I stayed home with Daddy and napped. I was kind of fussy in the evening, too, on and off. Mommy and I went to bed early again.
March 3: I was a good boy today! I fussed a little in the afternoon, but it was because I was tired and didn't want to sleep. MY AUNT PEGGY visited us today! It was fun. I really like her. Casey really had fun with her, too. She brought us lots of presents. They're really for Easter, but she gave them to us now, since Easter isn't too far away and she doesn't know when she'll be up again. She also brought up her new baby doll, Miss Kitty. She had the same doll when she was little and thought it would be cool if she could have one again because somehow her original one got lost. She bought me a doll with a hooded towel that can go in the bath tub and she brought Casey a colorful bath mitt. We also got 3 different scenes for our felt board! I loved playing with it. I almost could put the pieces on the board, but then I'd decide not to, and I would pull back and wave the felt around! We also got a little red wagon, very cute. And we got two board books, The Wheels on the Bus and There Was an Old Woman Who Swallowed a Fly. Aunt Peggy played with us a lot and we laughed and smiled and acted silly. Uncle Steve was working and Cousins RJ and Tyler were at their dad's house. It was nice to have Aunt Peggy all to ourselves! Aunt Chris is home, Aunt Chris is home! She came over this evening and we were glad to see her. She is tan from being in Florida! She brought us presents, too. We got t-shirts and really cool bathing suits. We each got a book. Mine is about kitties and Casey's is about whales. And she brought us back an eagle that flies about in circles!

What I Like:
holding toys (or for that matter anything) in my hands and waving them around
I even like to "bonk" myself on the head with things like my wooden spoon or my Valentine's Day balloon on a stick
sucking on thin pretzel sticks
tasting melon and pineapple
of course I still like all the same things that I've like these last couple of months...I especially like being rocked and snuggled and talked to

What I Don't Like:
taking naps--well, really, I do, when they are MY idea
having things fall out of my hand and out of my reach...I cry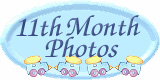 I have a few photos now!