Medical Equipment!
Rifton Gait Trainer: Crystal will finally be getting one maybe mid March 2002.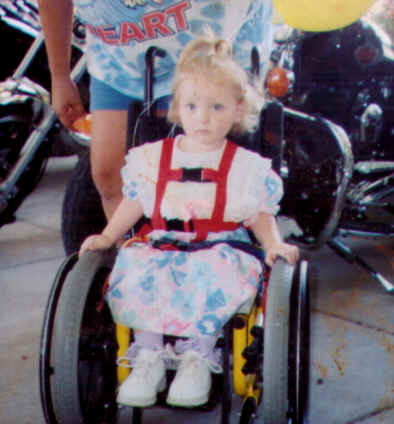 This chair was a gift from heaven. Like most SMA children they are so very weak that they are primarily put in power chairs. We added a weekly therapy session of Occupational Therapy and said it would be for mobility training. The Rehab Center that Crystal goes through owns this chair. The first session we put her in this chair. She was scared, but better than later when we put her in power chairs, then she was terrified. Nevertheless the next session, we put her in this chair again and she was curious and began moving it around. Very slowly, she could only move it forward and backwards on tiles and even slower on flat carpet. Well that's all we needed to see to let her use this chair as a loaner. As she used it, everyday she got stronger and stronger and was able to make some of the trickiest maneuvers. She compensates in the chair just like in the weakness in her head control, whenever she sees a incline coming she speeds up or if she can avoid it she will go the other way. With her only being two I decided that keeping up with her peers wasn't as much of an issue as keeping those arms from atrophying as much as possible. So the OT submitted a P/A for a chair just like this one. It was approved and she should get it mid March of 2002.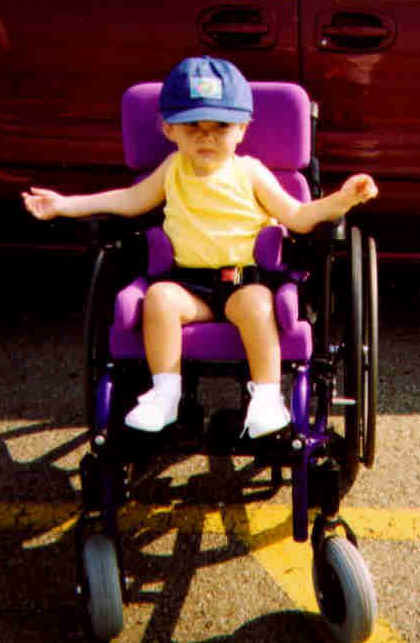 This is Sara Seavers, who has SMA type 2 just like Crystal. She is also 2 1/2 just like Crystal. We saw this chair for the first time when we met them. We were impressed with the chair itself as well as the way Sara was able to manipulate turns and not run over things. Her mom says she bumped many walls and cabinets while she was getting used to the chair. She also stated that the chair is great, but it sits too high up above her peers. And she would like to see her closer to eye level with them.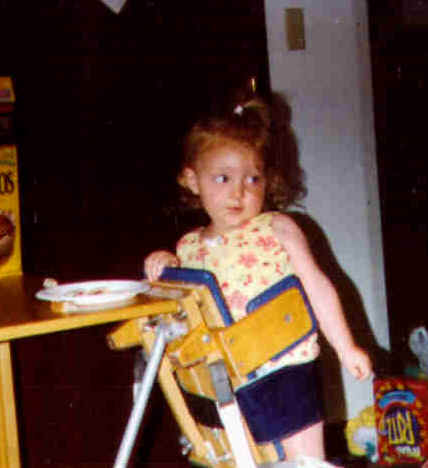 This is the all too much dreaded stander. But as we all know the importance of standing for the development of bones and joints, we go ahead and insist our children participate in this activity. Crystal really gave me a hard time with this one. She just couldn't get it off her mind that she was uncomfortable. I would play hard with her to keep her mind off of it, but not even her favorite activities would entertain her long enough to do sufficient time in the stander. Well, at this point she was still eating really good, and because of swallowing issues, she always took a long time to eat. Since she was not interested in doing any other more interesting activities at the time I thought maybe she would do well then. I tried it and never had another problem out of her. I began putting her in the stander at every meal. Breakfast, lunch and dinner she would stand for an hour. And then snacks morning, afternoon and evening, she would then only stand for 20-30 minutes. We had a small disputer with her past Physical Therapist about her braces. I said they were too small and hurting her feet and she said they were fine her feet were just developing calluses?? Nevertheless, her standing times began to decline dramatically and as I had to research on my own other options to getting her braces she received a set of braces from ....(another source) that were just unacceptable. They brought them out to the house 3 times and I repeatedly had to remind them of the supports she needed and they said they would fix it and bring them back with only one of the requests completed. I didn't realize that this service was so generic to this field since they supposedly specialize in it. I accepted the braces and then asked Crystal's current Physical Therapist for assistance. I adapted her old braces some and was able to get her to tolerate standing again some, but she's only up to 45 minutes at just breakfast and dinner. She is back to walking with assistance in them as well.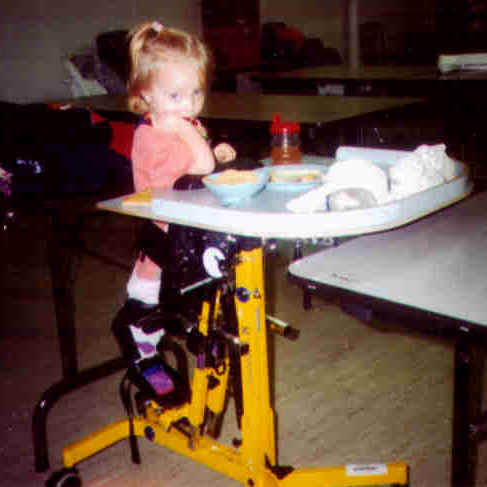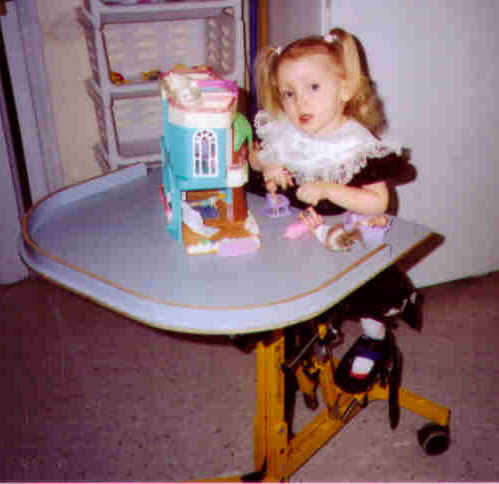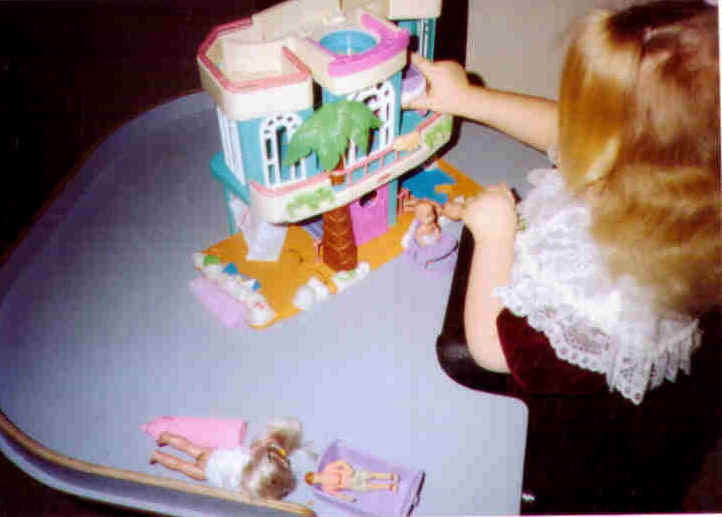 Here are some pictures of Crystal in her new stander. Primarily, she does her standing during breakfast, lunch and dinner. But the last couple of weeks she has really enjoyed the peace away from her little brother, Nicholas, while she is up high where he can't reach and has been asking to play with her little babies in her stander. We push standing because of bone and joint development. Once you stop and think exactly how much a normal two year old is up on their feet running around, you will see how little these SMA children are up. Especially the hip joint and the femur depend on weight bearing to be able to grow and develop properly. Even after being so aggressive with Crystal's standing and walking exercises, she still suffers from subluxation of both hips.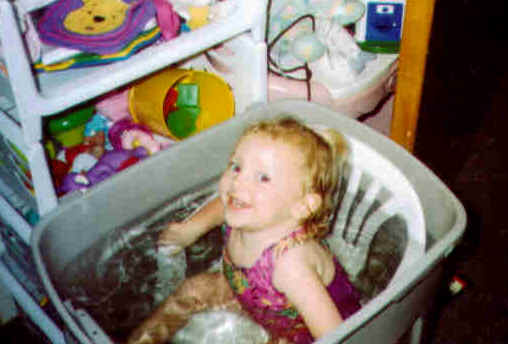 One of Crystal's favorite ways of working on keeping all those little muscles active. This is another area that we are really aggressive in because of how close it gets Crystal to feeling normal. She can basically function almost like a normal child in the water. She loves being able to turn and lift her feet. We start this session with her standing and then as she tires we add the chair to let her play for a while. It continues to work on her trunk and arms as she is reaching and playing. We currently no longer have a tub like this because this one busted. Guess it couldn't handle the weight of all that water. It has been suggested that a horse's troft, as silly as it may sound, would be an excellent replacement and possibly more durable as well.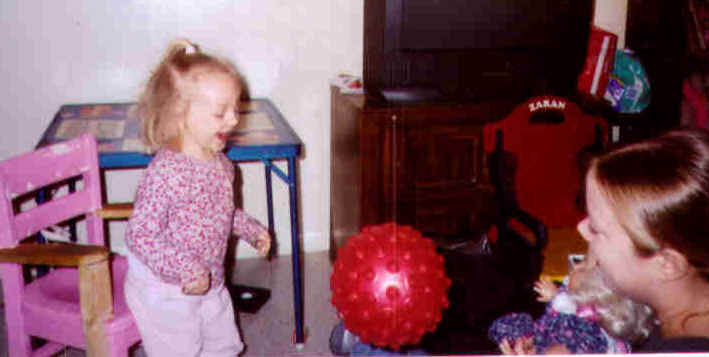 This chair was adapted by Crystal's father. We use it for a number of therapies. We especially like it because it is so incredibly sturdy. Doesn't slide very easily and it doesn't shake or rock at all. Included in the picture is Crystal's Developmental Therapist, Jill Cannon. This play idea was came from one of her more recent sessions.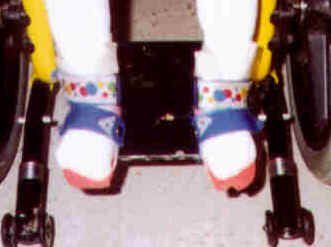 Here are Crystal's SMOs. A physical therapists from the Rehab Center made a cast from her feet and sent it off so these braces would perfectly mold to her feet. She has ankle, arch and toe support in these braces. She also has some movement with dorsiflexion and plantar flexion. Once she received these braces, her standing time doubled and she no longer acted as though it was painful to stand. However, they have been getting too small for some time now. I removed the "pringles" that gave her additional padding and the therapist pulled the toe support out a little. She now tolerates them better with less marks. Her original therapist and I had a disputer on whether or not they were getting too small. I said they were leaving new marks on her and she is not tolerating them as well, believing they were getting small. The therapist didn't see the marks as being a threat to Crystal's comfort and said that her foot was just forming calluses' as her feet are adapting to the fit of the braces. Of course, she had already had these braces for 6 months. So I went over her head to MDA clinic to get there specialist to assist me in getting replacement braces. And that is a whole other story which will be featured by the MDA braces picture.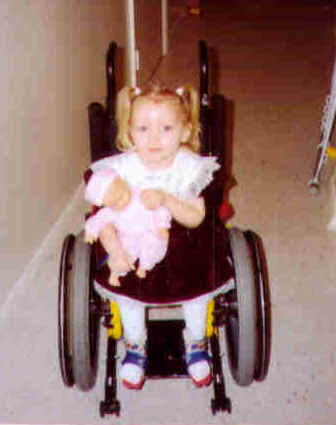 This is the same wheelchair you have already seen. Crystal just wanted you to see her baby who she carries and cares for sometimes.