The Journeys of Mr. Bear!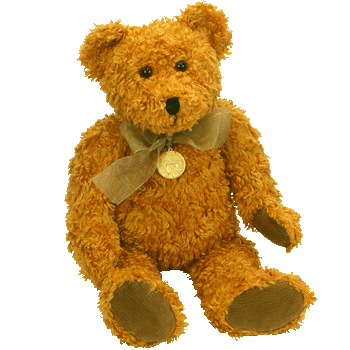 Mr. Bear's FIRST PAGE of Travels Is HERE!
Mr. Bear's SECOND PAGE of Travels is HERE!
Mr. Bear's THIRD PAGE of Travels Is HERE!
Mr. Bear's FOURTH PAGE of Travels Is HERE!
Mr. Bear's FIFTH PAGE of Travels Is HERE!
To View Mr. Bear's Touring Schedule to Date, Visit his Tour Page!

I am getting so excited about my trip. I can hardly wait to go visit all of my new friends. Today was a pretty exciting day.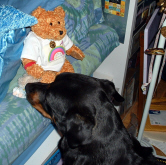 20 October 2005
Today, Wyatt, MJ's dog was crazy! MJ's dad went away for the weekend and Wyatt cried. He sounded funny.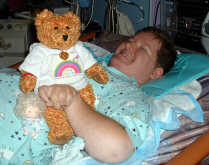 When MJ woke up, she got a huge surprise. Brenda noticed a van in the driveway and went out to see what was going on. MJ's new bed arrived without warning. MJ had to get dressed and up for the bed to be set up. I got to lay with MJ. Her bed does Chest PT and vibration. It feels funny. MJ and I think that if feels like you are sitting on a cloud. Tonite, I helped Brenda pack up 2 more blankets, for Madelyn and Kaitlyn. I just wanted to jump in the blanket box and snuggle down.

21 October 2005
Guess what?!? I heard about a cool event going on in Oklahoma next weekend. They are having a party called Boo-Ha-Ha Days. I convinced MJ and Brenda to let me leave today to start my adventures. I am off to visit The Houser Family. Here I come!!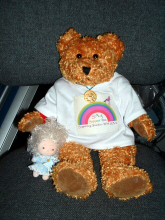 October 22, 2005
Well, I'm headed out of New York toward Oklahoma. Rather than take the highway, I think maybe this first time out I'll take the scenic route. Maybe catch a few sights along the way. Wonder where I should stop the first day? I don't want to make any specific stops I guess, because I'm not sure which family I'll be visiting later and if they have any plans to visit there, so maybe I'll just cruise along and get a nice view of all the colors. I'll try to make it through Pennsylvania today at least.
October 23, 2005
I'm in Ohio today. I'm getting a little lonely already. I'm sure glad I have my guardian angel with me.
October 24, 2005
Mars? Did I make a wrong turn or am I dreaming???
October 25, 2005
Indiana today … I'm getting hungry (I think).
October 26, 2005
Today I went through Illinois and Missouri. I sure hope nobody is missing me. I think it's time I speed up a bit and get to Oklahoma to see Jensen, Kameron, and Mitchell. I think I've seen enough on my own for now. It just isn't as much fun seeing everything alone as it is seeing new things with friends.
October 27, 2005
I've made it through Oklahoma to almost the Texas border - Lawton, Oklahoma. It's a military town - lots of camouflage here. Jensen, Kameron, and Mitchell live way out here though (really quiet) …
October 28, 2005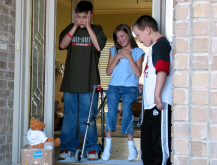 … HERE I AM!!! I'm SO glad I made it in time to go with them to stay with their family in Sapulpa, Oklahoma. They were really surprised to see me … you should have seen their faces.
We stopped at McDonald's on the way to Sapulpa, and we a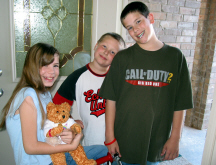 re going to spend the night tonight with their Nana. Tomorrow is the big parade (lots of candy). And they gave me my name during my Halloween visit … Mr. "Boo" Bear. I like it!
October 29, 2005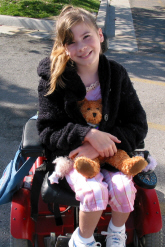 Nana made us waffles and bacon for breakfast (YUM!!!) and then we went to the mall for a Halloween costume for me so I could wear it to the Boo-Ha-Ha Parade. Jensen is going to be Mulan and Kameron is going to be Batman. Mitchell - he said he's just going to be himself (that's scary enough).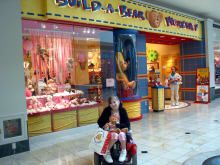 We found my costume at this place called "Build-A-Bear". Jensen picked out a pumpkin costume for me - it fit perfect! Then we went to pick up Jensen, Kameron, and Mitchell's Mimi and we went to go eat at a Chinese restaurant before the parade. Mimi had never eaten Chinese food before!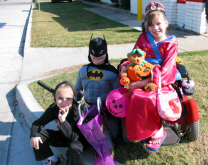 The parade was a LOT of fun!!! There were lots of people in costumes, animals in costumes, cars in costumes, everything, everyone, everywhere was in a costume. And candy … lots and lots of candy.
We went back to Mimi's house and watched movies (Bewitched and Fever Pitch) and ate "mummy" ham-and-cheese sandwiches and dirt cups with gummy worms. It was a really fun night, but now I'm REALLY tired!!! We're going to spend the night with Mimi tonight.
October 30, 2005
Mimi made us a yummy breakfast this morning - omelets, ham, and toast. I'm stuffed!!! :o)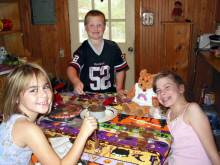 We watched t.v. for a little while, but then we decided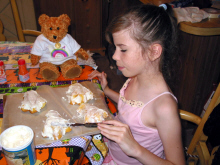 to make some chocolate candy and chocolate suckers, and Jensen decorated a skeleton cake and some little ghost cakes.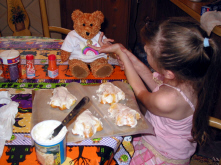 She even let me try some of the icing!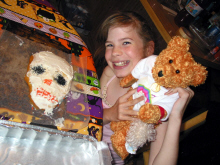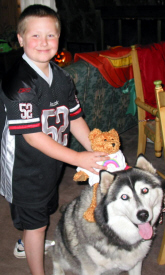 I also got to take a ride on their dog, Blue!!!
I also got to go and meet Jensen, Kameron, and Mitchell's Papa and Aunt Jaime. Papa is building a house all by himself.
But then we had to say goodbye to everybody and drive back to Lawton.
October 31, 2005
HAPPY HALLOWEEN!!! The kids had to go to school today, so I'm getting to sit on Bra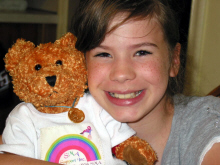 ndi's desk and watch her work while they're gone.
I think I'm going to have to cut my visit short here though and skip trick-or-treating tonight so I can get to Miss Lily's house in time.
I said goodbye to the kids after school and gave them each a big bear hug and a soft bear smooch and headed toward Miss Lily's house … here I come!!!

November 2, 2005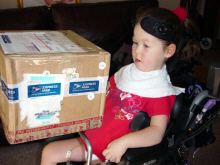 I have made it to Miss Lily's house, it didn't seem to take nearly as long as I thought it would to get from Oklahoma to Kentucky. Lily and Amy were so excited to see me on their doorstep though and while I was tired Lily wanted to hold me and drive me around the house in her powerchair. I made sure I told Lily to read my journal to see all the fun things I did with the Houser family.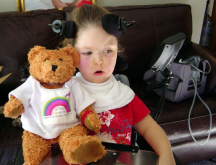 I did get to watch a movie called "Rolie Polie Olie" with Lily then we headed off to the Louisville to pick some supplies up for Lily and her machines. I napped in the van being tired from my trip. I am excited to be here and from what I understand we are going on a weekend trip to Gatlinburg Tennessee this weekend so I am quite excited. Time to rest up for a while.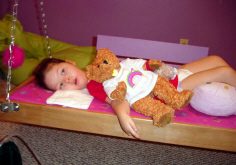 By the way, Lily told me purple was her favorite color so I used the purple pen. I think Lily and I am going to be good friends.
Busy day with Amy packing for our trip to Gatlinburg. I kept Lily company and we had a good day together, we even got to chit-chat about all the things we like. We are very excited to go on our trip! I think Lily is excited to be taking me along.
November 4, 2005
We are settled in our hotel room, boy is it pretty here. Lily and I had a wonderful ride down, we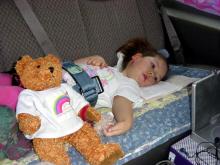 watched movies, watched out the windows for the trees and cars. We left around 10am and got to the hotel around 6:30, it took a lot longer because we made a lot of stops. We were happy to finally get there.
Lily's mom carried Lily and me outside on the balcony so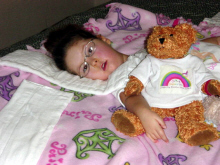 we could see the pretty creek and all the pretty trees. We snuggled in with some pizza for the evening. Do you think I might see a bear around here? There sure are a lot of bear statues!
November 5, 2005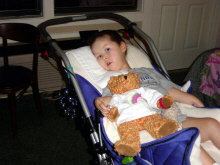 Fun day! Lily was so excited she woke us up at 5:30am. Amy tried to get her to go back to sleep but she refused. We ended up getting up and dressed and went out for a walk around 10am. I loved riding around with Lily on the stroller.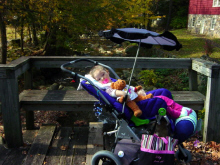 We walked down to the creek and Amy took some pictures of us on a big rock then we went to visit Lily's Uncle and Aunt in their room.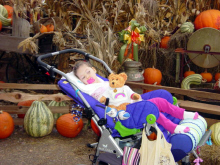 Then Lily and I took a nap in the stroller until we walked down to Gatlinburg. We did a lot of shopping and I even got a cute pair of socks at a place called Bear Feet Socks. We walked around for a while then headed back to the room to rest up until the evening. In the evening we went back down to Gatlinburg to see all the Christmas lights, they were beautiful! We stayed for a couple of hours then went back to the room to sleep.
Today Lily and I spent the day walking around all the pretty places at the hotel while Amy went to Pigeon Forge to go shopping.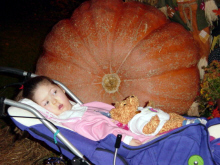 I stayed with Lily's Grandparents for the day.
We all went back down to Gatlinburg at dark to see the lights again and eat dinner. We stayed out until 10pm!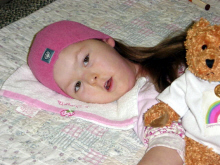 It was fun. Lily's Grandparents took Lily and me back to the room while Amy, Travis, and Dena went and played putt-putt golf, we didn't go to bed until 12am!
Lily and I snuggled down finally and went to sleep.
November 7, 2005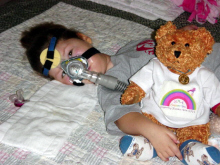 Nothing much to report. We left Gatlinburg this morning and drove home. We left at 11am and got home around 4pm. We have just been relaxing tonight.
November 8, 2005
Boy, it is amazing how tired you get from a trip! We slept in this morning then had a late breakfast. I haven't gotten to write about my sleeping arrangements yet but it has been nice. Lily sleeps with a lamb named Natie who is named after her older brother who is in Heaven so I have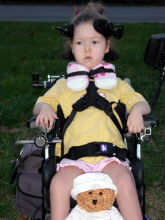 my own bed. I certainly don't mind that Lily sleeps with Natie, I understand completely. Natie is very nice too and I am glad he keeps Lily company.
Lets see, today Lily took me on a wild ride on her powerchair outside, she is a speed demon! She loves to bounce around in the yard, it was like being on a ride at an amusement park! It was fun though and and of course Lily was laughing so that made me smile too. We all snuggled alot on the bed today too, and I watched Amy and Lily wrestle around on the bed too, but I stayed out of that one.
November 9, 2005
I am packed up to go visit with another family so this is my last day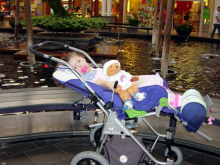 with Lily. I will be leaving this afternoon from Louisville. We are planning to go to an appointment then run over to the mall. I am getting ready to head out now. We had such a good time together today, the perfect go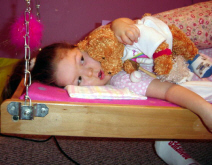 odbye day. We went to Lily's AFO appointment then to the mall, it was so much fun! Lily and I even rode a simulated roller-coaster at the mall! I gave Lily a kiss and said goodbye. I am on my way to South Carolina to visit with the Smiths!

November 12, 2005

It was getting late and I was starting to think I'd be stuck in a warehouse till Monday, but the nice mail carrier lady worked overtime and I made it to the Smith's house tonight. They were so happy to see me! I got lots of hugs and kisses. We're planning a trip to the mountains tomorrow. In the meantime, I'm tired from my trip and am going to take a nap.


November 13, 2005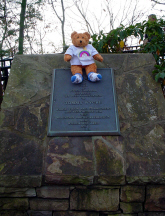 Clemson won yesterday, so I'm writing this with my orange pen. We went to Caesar's Head today (or "Big Rock" as James calls it!)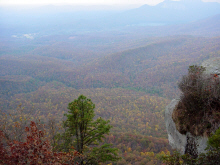 The views were gorgeous and I've never seen so many colors before!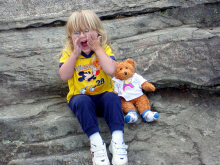 James and I napped in the back seat on the way there and woke up just in time!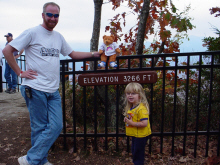 Steven and Andrea bought me a souvenir coin and gave me a brochure all about the mountain, so I'll always remember.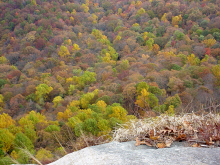 We took lots of pictures too! We stopped at McDonald's on the way home - YUM! Right now, we're watching a football game, but it's half-time, so I took a break to write an update.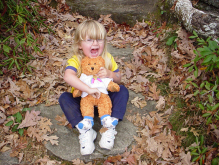 I'm very tired from our trip to Caesar's Head and really want to get to sleep. I wonder if James will let me sleep with him tonight?
November 14, 2005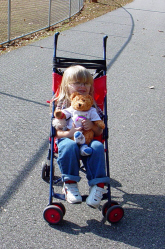 James and Andrea talk so much about his "foster grandparents" that I was very excited to meet them. We went up to the local Hardee's (I got sniffed by a big, friendly Golden Retriever named Honey on the way) and ate french fries. We also went shopping for some new cars for James' impressive collection and watched his favorite show: "Max and Ruby." James still won't let me sleep with him, but I think it's because he knows I won't be here forever and he doesn't want to get too attached.

November 15, 2005

Lucky me! Steven had jury duty today but wasn't needed, so he was able to take me on a tour of downtown Greenville!
We saw all the places where the SMA kids hung out at the first SMA Support Gathering. It was very exciting! Of course, we took lots of pictures. Now we're getting ready to watch a hockey game. I have no idea what that is, but judging from how excited everyone is over it, it must be good!

November 16, 2005

James was misbehaving today and spent a lot of the day in "Time Out", so I hung around with Andrea, watching her write the Angel Times and make a lot of phone calls. We were hoping to go for another walk today, but the weather was so horrible - gray and damp and windy. Oh, well! Tomorrow is supposed to be wonderful, so I'm sure we'll make up for it!

November 17, 2005

Today the weather was much nicer, so I got to go out front and play for a while. James was acting up again, so we didn't get to go to Hardee's, but we got to watch lots of cool movies like Charlie and the Chocolate Factory and Madagascar instead. I've had lots of fun here in SC, but I have to leave tomorrow or I'll never make it to Casey and Colin's house on schedule! I'm looking forward to the trip - I wonder if it's snowing there yet?