Article Last Updated: 05/06/2007 03:39:05 PM EDT
FAIRFIELD — Ethan Takacs, 22 months old, lay on a blanket of stars in his bedroom, watching a cartoon on a flat-screen TV.
His tiny arms and legs rested in slings hung from a wooden beam above his bed to give him a feeling of weightlessness. Ethan was motionless, but his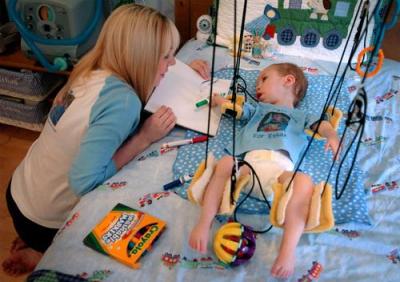 Kelly Takacs of Fairfield has rigged her son Ethan's bed with special slings that allow him to move his arms and legs. Takacs said she is compiling a portfolio of her son's drawings. Ethan, 22 months, suffers from Spinal Muscular Atrophy. (Brian A. Pounds/Connecticut Post)
head was turned toward the TV and his large brown eyes followed the animated action.
Ethan, diagnosed when he was 4 months old with Spinal Muscular Atrophy Type 1, hasn't had an easy life, but he's proven he's a survivor.
A doctor in October 2005 said he believed Ethan wouldn't reach his first birthday. But his parents, Kelly and Jason Takacs, have helped their first child approach his second birthday, when children with SMA Type 1 begin to have far greater chances of reaching adulthood.
"If you want to fight, look at what you can do," Kelly said.
Jason, a detective in the Fairfield Police Department, said that SMA, a genetic disease that weakens children's muscles and immune systems, is rare.
So the Takacses were lucky to get in touch with a specialist, Dr. John Bach in New Haven, to help their son's fight for life, the father said.
Kelly said she and Jason heard about Bach from another Fairfield family whose child was diagnosed with SMA.
"Dr. Bach has always stressed if we get him past the age of 2, the chances of him living a longer, fuller life are much better. The numbers are astronomical after that," Jason said. "They're older, so they're a little bit stronger and not as
susceptible to falling prey to the average colds."
Jason and Kelly also are drawing inspiration from a 19-year-old woman with SMA who also is a patient of Bach's.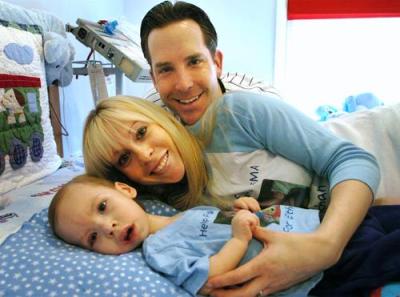 Jason and Kelly Takacs of Fairfield are looking to raise money to help with son Ethan's fight against Spinal Muscular Atrophy. (Brian A. Pounds/Connecticut Post)
She is able to talk and use her fingers, which enables her to operate a wheelchair and computer, and she created a Web site for Ethan and T- shirts that bear his likeness.
"She's our main motivator, what she's been able to do, and we hope to mimic that with Ethan," Jason said.
SMA is a genetic disease that affects voluntary muscles used in crawling, walking, moving the head and neck and swallowing. The gene that produces protein critical to the survival and health of motor neurons, which activate those muscles, is missing or mutated in a person with SMA.
Kenneth Hobby, executive director of Families of Spinal Muscular Atrophy in Chicago, said one in 6,000 children is born with SMA in varying degrees of severity. Type 1, Ethan's type, is the most severe, Hobby said.
One in 40 people is a carrier of SMA, and if both parents are carriers, there is a 25 percent chance the disease will appear in their child, Hobby said.
Researchers have yet to find a cure or treatment for SMA, though work is ongoing, Hobby said.
Clinical trials are being done with drugs approved to fight other diseases to see if they can slow down or stop SMA, and research also is being done to develop drugs that can treat the disease directly, Hobby said.
"We are getting very close to a treatment & This is a lifetime treatment that somebody would be taking," Hobby said. "Cures are a little further out. If you're going to cure it, you have to bring back cells that have died, which is very tough to do."
Jason said Ethan's diagnosis in October 2005 came as a shock because neither he nor Kelly knew they were an SMA carrier and everything had gone well with Ethan's birth. News of Ethan's diagnosis was devastating, Jason said.
"The one encouraging thing about this condition is it doesn't affect the brain or the brain stem in any way. His mind is unaffected," Jason said.
Ethan loves to read, be read to and play with toys and his computer.
Kelly said she's also found software that will enable Ethan to read a page on a computer and then turn to the next page by pressing a switch.
Ethan also likes to draw on his computer, which he does by pressing a button to choose colors, Kelly said.
"I think things are going to be good for him because he's so smart," Kelly said.
Jason said he was surprised when Ethan was able to operate a demo power chair in their front hall.
"We put his hand on the control, just for kind of giggles at that point, and he moved himself and he knew he was doing it. The fact he was able to figure it out that quick was kind of neat to see," Jason said.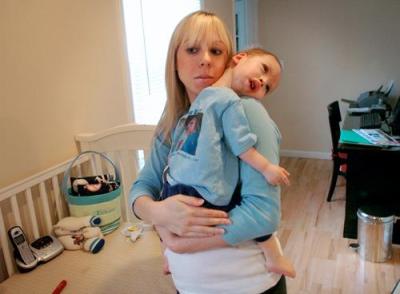 Kelly Takacs holds her son Ethan, 22 months, in her Fairfield home. Ethan suffers from Spinal Muscular Atrophy, a rare motor neuron disease. (Brian A. Pounds/Connecticut Post)
Kelly said she was amazed when Ethan vocalized an entire verse of "Twinkle, Twinkle Little Star" for his music therapist. "I almost fainted right there," she said.
Children with SMA tend to be smart because they can't get distracted, Jason said. "All he's really able to do is focus and take stuff in," he said.
While SMA doesn't affect Ethan's mind or ability to feel, it does affect even routine movements, such as swallowing, coughing, breathing and talking.
Ethan is fed through a tube in his stomach and communicates with his parents by looking at something he wants and then looking at them.
Children with SMA tend to breathe with their abdomens instead of their chests so Jason and Kelly put Ethan on a ventilator at night to give him a break.
One of the toughest parts of Ethan's daily regimen is loosening fluid in his body, Jason said.
Most people cough to loosen fluid, but Ethan can't cough, so Kelly or Jason tap Ethan's body and then use a suction machine to remove the fluid.
Jason believes that process must be especially tough for Ethan, so the parents distract him with a video of "Clifford the Big Red Dog," which is Ethan's favorite cartoon.
"You put Clifford the Big Red Dog on and he loves it. It turns something that normally would be traumatic into no big deal," Jason said.
Jason said his and Kelly's relatives help out a lot by stimulating Ethan's mind and taking care of him. Because Ethan can't move on his own, someone has to help him engage his mind. "Ethie helps because he's so easy to love," Kelly said.
Kelly, who is pregnant with twin boys, said she expects Ethan to enjoy having brothers because he loves when little children are around.
Kelly and Jason Takacs are sponsoring a "Walk for Wheels" fundraiser today to help cover Ethan's medical expenses and pay for a power wheelchair and a vehicle that can better accommodate the boy's medical equipment.
The fundraiser is from 10 a.m. to 1 p.m. in Roger Ludlowe Middle School's gymnasium at 689 Unquowa Road.
Kelly and Jason said they hope today's fundraiser also sheds light on SMA and allows parents of newly diagnosed children to know the disease can be fought.
"That's going to help the next Kelly and Jason Takacs who don't know, so we're hoping to get awareness out there," Jason said.
Today's fundraiser will include a walk, family-friendly music, games, entertainment, a raffle and a silent auction. Ethan's doctors and nurses will be on hand to talk about the boy's condition and day-to-day activities. Registration for the walk, payable at the door, is $10 per person or $25 per family.
For information about Ethan, visit his Web site, www.our-sma-angels.com/ethan.