August 26- Hello all! We are back from our big trip to Greenville, SC. We had such a wonderful WONDERFUL time! We left on Thursday morning, got to Greenville on Thursday afternoon and then the fun began! We had such a wonderful time (have I said that enough), Lily was Miss Social Butterfly and didn't quit smiling other than when she was sleeping at night.

I could go on and on but I just really wanted to say that we are home safe and sound and had a great time. I have been so tired all week and am still catching up on sleep!! Please excuse me, I will update tomorrow and let you all know how much fun we had but for now I have to get to sleep and just really wanted to let you all know that we are here, just tired! Before I go though here is a cute little picture of Lily in Greenville eating of all things a lime! She LOVED it (other than the fact that I was shoving it in her mouth over and over so everyone could get a picture). Anyway.....more later! G'nite!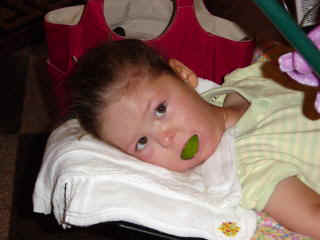 ~~~~~~~~~~~~~~~~~~~~~~~~~~~~~~~~~~~~~~~~~~~~~~~~~~~~~~~~~~~~~~~~~~~~~~~~~~~~~~~~~~~~
August 15- Quick update on how Lily's day with her 'father' went (and I use that term very loosely)....I woke up DREADING the day, feeling sick to my stomach and all that jazz. I just wished he would call and cancel, really! Anyway, 11:00, no Brian. At 11:15 his sister calls and lets me know that Brian had asked her to call and said, "Brian wanted me to let you know he is coughing and hacking up crap (not in those words..the crap was something else) and he feels that he should stay away for the baby. He said if he felt better later in the week he will call and might stop over"...HA! Number 1 we will NOT be here later in the week and number 2 he won't call anyway...I am used to his lies and excuses BUT for once I was truly THANKFUL for that! Lily and I were able to have a GREAT day without him hanging around messing it up. I almost jumped up and down for JOY when his sister called! YEAH! Anyway, we spend the day boating with Noni and Pappy and had a GREAT time. A truly wonderful day, we snuggled and chatting on the boat, she laughed and had a GREAT time with the wind whipping through her hair (after all, she LOVES to go fast), and now we have settled down here at home with her watching a movie and me catching up on things. It has been a wonderful peaceful day around here.
Just thought you all would like to know! HUGS from a happy and blessed mommy to have such a wonderful little girl to love on. Her daddy just has NO clue what he is missing out on does he????
~~~~~~~~~~~~~~~~~~~~~~~~~~~~~~~~~~~~~~~~~~~~~~~~~~~~~~~~~~~~~~~~~~~~~~~~~~~~~~~~~~~~
August 14- It has still been a good week, Lily has just grown UP all of a sudden and has been so much fun this week.
We haven't done anything exciting this week BUT still it seems like it has been a big week anyway. We are working on using the computer and I have the smart nav set up on her tumbleforms tray and she sits on the couch in her beanbag chair and plays with the computer. She is doing fine but getting her in the right postion is hard, really hard but we are still working on it and I know she will get it soon. She is so darn smart, really and she loves watching the computer and doing things on it if I could get the darn thing in the right postion. *sigh*, I will get it, trust me.
I am dreading tomorrow, really bad. Lily's absent father is coming over to see her, again. Gosh the last time he visited with her was this spring, back in March and before that it was September. He really gets on my nerves with the whole darn thing! His oldest son Adam and wife just had their baby a couple of weeks ago so that makes him a grandpa (Brian) so I guess he is once again feeling guilty about NOT seeing Lily (really ANY of his children) so he is going to once again make an effort. I hate to be this way but once again i am sure it won't last over a couple of weeks. Heck, I didn't even TELL Lily he was coming over tomorrow because really you never know, he might not show up so why do that to her. She is getting older and will start understanding more and more so I will have to 'be nice' tomorrow, put on my smiling face and pretend everything is 'just fine' but you can believe I will NEVER lie to her. If her dad doesn't show up when he says he will, I will be honest with her about it (as her age dictates to her) because I watched his other kids get upset and frustrated at their dad over that. Zach refuses to even see Brian, he won't call him dad he just refers to him as Brian. It is really sad....oh well. Not much I can do about it, until Lily TELLS me she doesn't want to see him I will let him drift in and out of her life and just be there for her. I love her but I never want her to be able to look at me and tell me that I wouldn't let her dad come and see her so my door will always be open as long as she isn't in any physical danger with him. Enough about that!!!!
Just a few more days and we are OFF TO SOUTH CAROLINA!!!! I am excited, really I am! It will be so much fun to be with my friends and hang out with others who know what all the machines are and things like that! And to see all the other kids....I am excited!!!!!
Not much else to report on right now. While Brian is here tomorrow with Lily I plan on sending Laura some new pictures over to put up on the website. If she can't get to it before SC then they will be up after I am sure. She is quite busy planning things right now (she IS SMA Support who is planning the get together) so I hate to make her life more hectic. In fact I will probably wait until we get back but will get all the pictures I have to send in a folder I can email to her. Lots of things to do.....
HUGS to all!!!!
~~~~~~~~~~~~~~~~~~~~~~~~~~~~~~~~~~~~~~~~~~~~~~~~~~~~~~~~~~~~~~~~~~~~~~~~~~~~~~~~~~~~
August 12- What a GREAT week this has been! The weather has just been beautiful, expecially for the month of August! Today it was in the 70's and is actually quite cool tonight and you can't ASK for anything better than that!
On Sunday we headed up to Northern Kentucky for our family get-together. We had such a great time, Lily literally spent the whole day in the pool only getting out so that I could eat then we headed back in again. I haven't been in a swimming suit his much in AGES if ever. She had such a fun time in the pool I just couldn't make her get out and it is always great to watch her be able to move around a bit more. She floated on a raft for a bit playing bumper boats with her friend Drew (better known as Doobie) who is Dena's (Travis' fiance) nephew. Along with our family being there Zachary (Lily's half brother) and Donna (his mom) came along with us. Zachary didn't get out of the pool all day either. We all had a great time and it was a beautiful day and of course Uncle Danny has a beautiful home with a nice pool that he had toasty warm for us too.
Monday and Tuesday were pretty typical days for us. Wednesday though Lily really shined! My ex-husbands step-mother came over to visit for a bit with Lily and I, and while we were chatting about things I turned on the TV for Lily. Now mind you, Lily has watched NOTHING except Oswald and Rolie Polie Olie now for years, she won't even HEAR of anything else. She watched Blues Clues for a bit and Dora but HATES them now (I know I know...I need to CHANGE the website AGAIN) so we have been stuck with Rolie and Oswald. Well, low and behold while Donzetta and I were chatting MY daughter watched the Disney Channel for HOURS! That may not seem like such a huge deal to most people but for me it is HUGE! Yeah! She watched the Wiggles, Jo-Jo's Circus, Stanley, and the Adventures of Lilo and Stitch. It was so much FUN to know she was not crying and really actually watching a few shows that she could LEARN something from! Yeah! Big girl! That afternoon we headed to Louisville for her hair appointment at 3pm. I have to tell you, I made a HUGE mistake! I had them CUT OFF her hair! It has been cut a HUGE 3"!!!!! I told the woman to do it but it doesn't look as good as I wanted it to, it is so hard to cut her hair since she can't really sit up in a chair to do it and I have to stop every few minutes or so to suction her out. It is pretty choppy with way more layers in it than it should have. I can still get it back in a pony tail but it is a small pony tail! It is fine, it will grow and you could actually buzz her hair off and she would still be beautiful! But it is short, way to short! She cried the whole time, but so were most of the other kids getting their hair cut too but I imadgine it is sorta scary for her because I am having to put her in postions she isn't used to. *sigh* she has short hair!!!
Today (Thursday) has been a good day too. It is almost like she has grown up over night. She is paying more attention to me, watching me do things, and wanting to be with me without crying. She has been watching other shows beside Rolie and Oswald again today, AND she played her FIRST board game with me not just once but twice today. She really didn't know what she was doing but she LOVED spinning the wheel for her turn (with my help of course) and I LOVE spending the time with her doing things like that. I felt like such a good mom!!!! She played for a long time on her computer today too, we are still working on getting her used to it, but we also had plenty of outside time today too snuggling on the swing, talking, it was alot of fun and I feel all warm and fuzzy!!!! Yeah! Go Lily!
I am really getting excited about our next big trip, it will be so much fun to see all my friends and to have Lily get together with other kids like her too. We leave in 1 week!
One more thing before I go....tomorrow (well actually today it is actually early Friday morning) is a wonderful friend of mine little boy's birthday. His name is Cole Webb and he will be 2 and he has SMA type 1 like Lily. They do not do the same things that I do for Lily (like bipap) but he is a miracle and a beautiful little boy and Kristen is a wonderful mother as well as a very dear friend. I love little Cole and his mother so much and I am so happy for them to celebrate this birthday with him. 2 is such a HUGE milestone for all of our SMA children but expecially for Cole! Way to go buddy, my Bongo Boy!!!! I am SO proud of him and Kristen (and Dan too). Please if you get a chance to pay his website a visit and wish him a Happy Birthday that would be so sweet!!!! His website is www.our-sma-angels.com/cole
Hugs to all! This has been a WONDERFUL week!!!!! Thanks for letting me share it with you all!
~~~~~~~~~~~~~~~~~~~~~~~~~~~~~~~~~~~~~~~~~~~~~~~~~~~~~~~~~~~~~~~~~~~~~~~~~~~~~~~~~~~~
August 7 -Tonight we lit our candles at 8pm, it was beautiful. My mom was here so we all gathered around the candles and said a few prayers for all the kids as well as Lily (of course). I had our 4 candles lit in memory, honor, and for the future and the big candle is in memory of Nathan and in honor of Lily, my 2 biggest hero's in the world. We did take pictures, and so did many other people! Laura will have a page on the website www.smasupport.com that you can view them from people all over the country and world really. This is an annual thing so hopefully next year everyone will be able to light them again and spread awareness.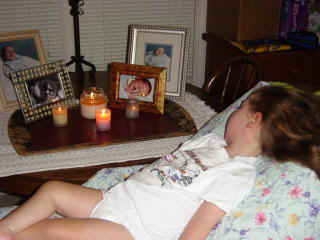 Lily watching the candles burning......
Not much else happened today, we did get to enjoy some outside time earlier today then again this evening, it was so beautiful outside so we sat out on the swing and watched the cars go by, sang, played, and just spent the day relaxing together. Tomorrow we head up to Northern Kentucky for our family get together so it should be fun. We are going to try and go swimming if the water isn't to cool for us.
Heading off to bed now...God Bless and make sure if you took pictures of the candle-lighting to send them into me.
~~~~~~~~~~~~~~~~~~~~~~~~~~~~~~~~~~~~~~~~~~~~~~~~~~~~~~~~~~~~~~~~~~~~~~~~~~~~~~~~~~~~
August 6- Well, tonight I can't sleep so I thought I would just do some writing here if you guys don't mind. There is just to much going around in my head tonight (not putting it in writing...just some frustration with a certain ex-husband of mine ;)) so I am here to burn off some steam.
Lily and I did make it to the Zoo on Thursday, the day was BEAUTIFUL, perfect weather! We headed there in the afternoon and it is official, Lily doesn't like the Zoo. I have suspected it for the last few times we have been but she really was an unhappy camper on Thursday, poor little thing. I really don't blame her, I never really liked to zoo, it was always boring, the animals are NEVER out where you can really see them and if you can they are doing nothing but standing there or sitting there. It is a stinky place and really, Lily can't see anything from her stroller for the most part. So we ended up leaving. She would rather be shopping really but MAN we gotta quit shopping! I always end up buying stuff we don't need (well I THINK we need it but we really don't) then I am always broke. Window shopping isn't my favorite thing either..but it is going to HAVE to be! Anyway, we left and headed on home. Soooo I am going to have to slack off on taking her to the zoo so much.
We didn't really do much today either, we just hung around the house and this afternoon we did have to do some running around so when we got home we just hung out on the swing outside. It was another beautiful day, the kind of day that you wish just wouldn't end! It was almost a little on the cool side which is odd since it is August usually the HOT month!
Donna and Zachary (Lily's half brother) came over for a bit tonight, Zach always has such a good time with Lily and he is so SWEET with her. She watched the Wiggles while he made her legs and arms dance around, it was so cute and sweet. She just laughed and laughed at him. They are so cute together.....
I guess we are gearing up for the candle lighting tomorrow night so don't forget at 8pm to light your candles! Take pictures if you want and send them to me, Laura who runs SMA Support (www.smasupport.com) will be making a web page to display them on so if you would like to send them into me I will be happy to pass them onto Laura to put up.
I really look forward to the day when NO more candles need to be lit for future children. Of course all our angels will always have a place in our hearts but I will be so thankful when SMA is NO MORE. When no more children have to die from this disease...what a wonderful day that will be and I KNOW it will come. I have learned more about life from SMA though and while I am not thankful for SMA, I am thankful for all the wonderful things that have been brought into my life through SMA. I have found such wonderful amazing friends through this and have formed bonds for my whole life. I love all the kids, pray for all the kids and families, cry with them, laugh with them....they have all added so much to my life! Thank you guys!!!!
Well...I really have nothing else to add :) This cheered me up and I think I can hit the bed again. Thanks to all of you who read this..sometimes I tend to rattle on and on but it means alot that you come to check up on us like you do! We LOVE you!!!!
~~~~~~~~~~~~~~~~~~~~~~~~~~~~~~~~~~~~~~~~~~~~~~~~~~~~~~~~~~~~~~~~~~~~~~~~~~~~~~~~~~~~
August 4- Funny funny story to tell! On Tuesday morning I went to weigh Lily before I started her first feeding of the day so I make sure her belly is really empty. Anyway, she had been up for a couple of hours and I took her off her bipap. I had her scale set up on the table, because she still gets weighed on the infant scale I have to turn it to the side then dangle her legs off the table because she is just WAY to big to squeeze on the infant scale. Anyway, I got her all undressed and took her into the kitchen and laid her on the scale. I had put down a new blanket that I got, really pretty one to keep in the car and it was close so I had grabbed it to put it on the scale, anyway, I got her on the scale then I picked her back up. I have to weigh her 3 times so that I can get it accurate so I zeroed the scale out and laid her back down, she weighed the same as the last reading which was 26.14, about the time I read it she started giggling and I looked at her and she was PEEING and it was SHOOTING out of her! She peed a bit on the new blanket but that was NOT the funny part! She had a RIVER flowing across my kitchen floor *YUCK* and then I read the scale...it was going down as she was peeing, she finally ended up at 26.10! 4 whole ounces gone like that! There was NOTHING I could do or else I would have gotten wet too!!! I ended up just grabbing handfulls of paper towels....anyway she thought it was so darn funny! She is such a funny 3 year old!
On Monday we went and got fitted for her new AFO's for her precious little feet, I could really tell we had been slacking off on the stretching so it is back to being anal about it again. Anyway, we ended up in the office for 2 hours!!! Ugggg! I am SO thankful we have the mini dvd player, it helped HER to pass the time away without fussing so I was the only one bored. She picked out a cute pattern for the boots and we will get them in 2 weeks (well less than 2 weeks now).
Tomorrow it is supposed to be nicer so I might end up taking her to the Zoo tomorrow night OR Friday night for a bit as long as it is not sticky hot like it has been. It would be nice to be able to go outside and do something and the Zoo is a nice place to walk around even if your not into animals (like me). She loves to go, really just to ride the merry-go-round for the most part! Funny girl! We have been spending time back in the play room since it is so darn hot out and thank goodness Pappy made that swing, it passes alot of hours.
Oh yeah *drum roll please*, I have been making Lily watch a NEW movie or show EVERY SINGLE DAY, she hates it, she is still stuck on Rolie Polie Olie (UGGGGG, after almost 3 years of those shows I can barely stand it!!!) and guess what? She is now liking the WIGGLES! YEAH! I have to sit with her the whole time and make her dance but heck, I am thrilled she isn't crying and she is watching something else! YEAH for her! I am thrilled and believe it or not I actually like the Wiggles and think they are pretty funny myself! Maybe I am weird and probably I will get tired of them too BUT I am just happy she is watching something other than the Octopus and the Robot's! Ha ha!
I was going to write something for SMA Awareness month last night but didn't get around to it but here is my speech for it right now. This is really important, there are so many wonderful things going on in the SMA world. If you would like to learn more about the research or what is going on please visit www.smafoundation.org, they are a great org doing so MUCH for our kids with SMA. I really look forward to a day that I don't have to live each and everyday breathing SMA. A cure would be AWSOME but right now a treatment would be wonderful too. I would love for Lily to have a little more control over movements, I would love for her to sit up alot more, I would love for her to be able to drive a powerchair.....but we can't do that without awareness being spread. SMA is a very common genetic disease, much more common than anyone would think. If you haven't read the facts in a while here they are...SMA is the NUMBER ONE genetic killer of children under the age of 2. It is estimated that one out of every 40 people are carriers of the gene that causes SMA so if you think about it YOU could be a carrier and wouldn't even know it! Also it is estimated that 1 out of every 6000 live births results in SMA as well. While there are different types of SMA (type 1, type 2, type 3, etc.) Lily has the worse one, the infantile form. Things have changed from when Nathan was born and many kids are now living and beating the original diagnosis BUT of course it is never and easy battle. I miss all the things that Lily can't do and while she is happy I would love to see this disease OUT OF COMMISSION! Not another child to be lost to this disease would be WONDERFUL! So with all that being said, if you get a chance at anytime this month when talking to someone tell them a few facts about SMA, give them the website I put above www.smafoundation.org or www.smasupport.com and give them a few facts about a disease that is common yet never heard of.
I sat down today and wrote letters to different malls around Louisvlle and sent them asking them to donate all the change in their fountains to one of the SMA Foundations and of course raise awareness, hopefully something will come of it.
I do have one other thing to talk about...I am a helping hand in the newly formed SMA Coalition. Here is a link to check it out and I will talk about it later on as well but visit this link and if it something anyone would like to help with please let me know...please copy and paste it on your web browser OR you can go to www.smasupport.com and you will see the sign with SMA Coalition, you can click on that for more information about what it is all about. It is HUGE really and amazing things will happen through the SMA Coalition, I am proud to be with a group of people who are moving forward to END SMA!!!! Ok you can copy and paste this too if you want....and I am signing off now...LATER! http://www.smasupport.com/smac.htm#whois
~~~~~~~~~~~~~~~~~~~~~~~~~~~~~~~~~~~~~~~~~~~~~~~~~~~~~~~~~~~~~~~~~~~~~~~~~~~~~~~~~~~
August 1- Wow, it is already August! The summer is going by so fast and before long it will be fall then (uggggg) winter! In just a few short weeks we are off on our last trip of the year to Greenville. I am terribly excited about it and can't wait to see all my friends again! Lily will have a BALL with everyone.
Before I go on I wanted to tell everyone (or remind you for those who already know) about the First Annual Candle-Lighting on Saturday August 7th at 8 pm. Here is the discription of it :
August is SMA Awareness Month and we would like to honor all of our SMA children. The Annual Worldwide Candle Lighting will be held every year on the second Saturday in August, at 8:00 PM in every time zone. People all around the world may light a candle in h onor of all children with SMA. As candles burn down in one times zone, they are lit in the next, creating a 24-hour wave of light that encircles the globe. We ask you to join in this special day in honor of our SMA children by lighting a candle, wherever you are.
Hopefully next year maybe we can have a public candle-lighting in honor and in memory of all our children with SMA who are here and who have passed on and be able to spread awareness for the Genetic disease that many children are dealing with. I plan on lighting 3 different candles, one in Memory of all our SMA angels in heaven, one in honor of all SMA angels on earth, and one in honor and in memory of Nathan and Lily so please join us and please if you have a chance to spread awareness for a disease that is so very common yet so little is known about it please do.
Today will be another lazy day around the house! We plan really on doing nothing much, it is really to hot to take Lily outside and I am just to tired to pack her up and take her anywhere. Tomorrow we have an appointment with our Orthopedic guy to get Lily new DAFO's (the shoes she wears to prevent drop foot) so I plan on taking her to the mall or something afterward so tomorrow she will have something to do but today it is just snuggling and playing around the house! I am still recouping from our whirlwind trip to Columbus!!! Shows I am getting old I guess!
Nothing else much to say, Lily is doing fine, growing like a weed each and everyday! She is just amazing to me. She is so beautiful! She was having some trouble with her secretions for a few days but hopefully today she will be much better.
Tomorrow I am calling again to scheduel her appointment for a Wheelchair clinic, I want to get in a Powerchair!!! She looked so good in Madison's that I want her to be able to have a good time in one as well. Keep your fingers crossed that it won't be a HUGE battle with insurance. A powerchair can run as much as 30,000 dollars so it is nothing to be taken lightly! I am sure her's will be quite expensive because of all the gadgets and gizmo's she will have to have with hers but it is worth it for her.
Hugs to all....